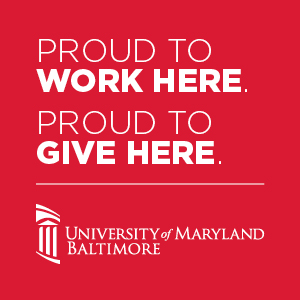 The Office of Philanthropy invites all University of Maryland, Baltimore (UMB) faculty and staff members to show their workplace pride for a chance to win one of six UMB-branded prizes by submitting a #ProudtoWorkHere selfie or photo.

Submitting is simple, with three easy steps to secure your entry:
1. Print or open the Proud to Work Here, Proud to Give Here sign.
2. Take a selfie or photo at your telework location or campus workspace showing the sign.
3. Submit your entry using this form.
Three winners will be selected at random by the Office of Philanthropy on both Dec. 15, 2020, and June 15, 2021. Winners will be announced on UMB's Facebook and LinkedIn pages.
Your submission enters you into both prize drawings. You only need to enter once, but consider submitting early to increase your chances to win!

For Proud to Work Here, Proud to Give Here campaign FAQs and ways to make your annual donation, visit www.umaryland.edu/philanthropy/proud.