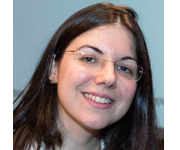 Dr. Luana Colloca, director, University of Maryland, Baltimore (UMB) Institute for Clinical Translation Research (ICTR) TL1 Pre- and Postdoctoral Scholars' Program, will present "TL1 scholarship: Advancing Excellence in Clinical Translational Research and Leadership."
This UMB ICTR Enrichment Seminar will introduce the basic aspects of the TL1 program, which provides predoctoral and postdoctoral fellows with one to two years of support to learn about translational principles, complete a focused didactic training on clinical research, and conduct mentored research. It will conclude with an overview of the past three years of the TL1 program at the University of Maryland through a collaboration with Johns Hopkins University. This is a great opportunity to start planning for a 2022 TL1 application.
Register here for this one-hour Zoom webinar at noon June 8. Read the Flyer PDF here.