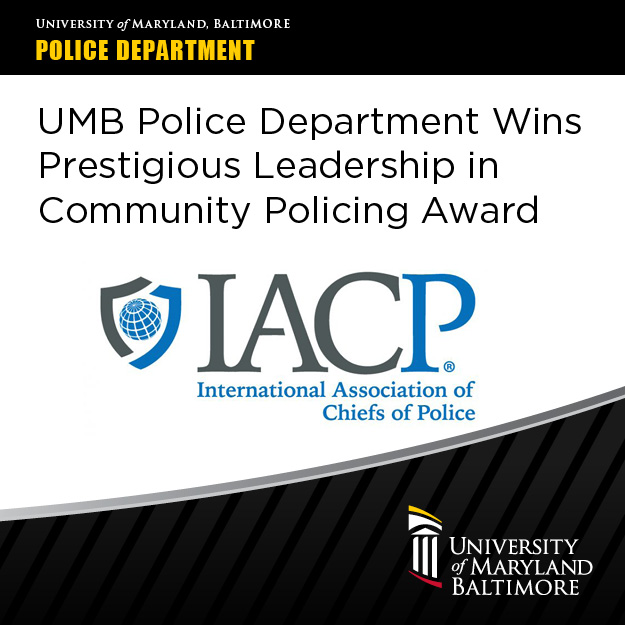 Affirming its commitment to community-oriented policing, the University of Maryland, Baltimore Police Department (UMBPD) has won a 2021 International Association of Chiefs of Police (IACP)/Walmart Leadership in Community Policing Award.
"The University of Maryland, Baltimore Police Department is an exemplary police agency and leader in the field of community safety," IACP president Cynthia Renaud said in announcing the award, which honors agencies for having programs that exemplify the principles of community policing and strengthen trust through active and inclusive collaboration. "On behalf of IACP, I thank you for your service and congratulate [UMBPD] on this achievement."
Founded in 1893, IACP is the world's largest professional association for police leadership. According to its website, IACP has more than 31,000 members in over 165 countries and is committed to advancing safer communities through thoughtful and progressive police leadership.
Police agencies from around the world apply for IACP awards, and there are three winners in the Leadership in Community Policing category: small, midsize, and large. UMBPD won in the midsize agency category and will be recognized at the IACP Annual Awards Banquet on Sept. 14 in New Orleans.
"Community policing isn't about just one thing. It's not just about 'checking the box.' We're continuously learning and evolving," UMBPD Interim Chief Thomas Leone said. "We're collaborating with social work interns this fall so we can better provide resources to vulnerable populations. We're forging partnerships at UMB so our officers have more training that's focused on diversity, equity, and inclusion. Our comfort K9, Lexi, was one of the first in the country at a university police department. But even as we take these strides, we know it's just one step in a long journey."