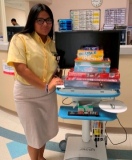 The University of Maryland Medical Center's Volunteer Services Department is actively recruiting for the following volunteer positions:
Wayfinder Volunteer provides wayfinding information and customer services to patients and visitors of the Medical Center.
Gaming Volunteer provides gaming activities at the patient's bedside. Gaming activities include PlayStation 4, Wii, UNO, board games, and more.
Senior Support Volunteer provides comfort and support to senior citizens at bedside. Patients may suffer from dementia, stroke, or other degenerative illnesses.
Palliative Care Support Volunteer provides support at the bedside of palliative patients through compassion, empathy, and companionship.
We require a minimum one-hour shift per week. Peak hours are Monday through Saturday, 10 a.m. until 7 p.m. Interested applicants should email Volunteer Services at Volunteer_Services@umm.edu. Once we receive your inquiry, we will follow up with detailed instructions, training, and other requirements.