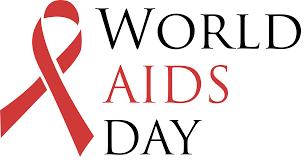 The School of Medicine's infectious disease, global health, and LGBTQ+ student groups are pleased to invite you to a World AIDS Day discussion with patients, health care providers, and social workers. This will be an interactive, multidisciplinary session exploring the social and health implications of living with HIV.
The discussion will be held Tuesday, Dec. 3, 2019, noon to 1:30 p.m., at Leadership Hall in the Medical School Teaching Facility.
Pizza will be provided to all who sign up via the Google form.
World AIDS Day programming will continue with a documentary screening, Fire in the Blood, from 5 pm. to 7 p.m. in the Eva Dodge Room, located on the second floor of Health Sciences Research Facility I.
The film will be followed by an informal discussion among students and faculty about the global response to the AIDS crisis, access to medicine in developing countries, and the interweaving roles of patients, providers, and community organizers.
An eco-friendly dinner from a local minority-owned vendor will be served. For the documentary and dinner, space is limited to the first 10 students who sign up.