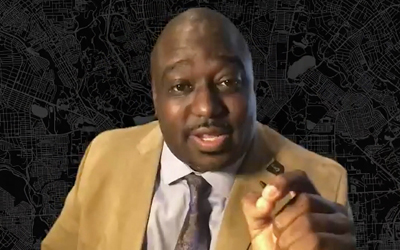 Lawrence T. Brown gives keynote speech at UMB event, which also celebrated the University's Diversity Recognition Award winners.
---
The Rev. Dr. Martin Luther King Jr. was an everyday person who had a dream — but he also had a plan.
That was a theme of the speech given by Lawrence T. Brown, PhD, MPA, at the University of Maryland, Baltimore's (UMB) Rev. Dr. Martin Luther King Jr. and Black History Month Celebration on Feb. 8. The live virtual presentation by Brown, an author, educator, equity scientist, and urban Afrofuturist, was attended by more than 400 people.
"We've almost put Dr. King on a pedestal. We've almost turned Dr. King into a Marvel or DC superhero. And Dr. King was a regular human being," said Brown, who does research for the Center for Urban Health Equity at Morgan State University. "We also have a responsibility. No matter how regular you may be, everyday people can and must do great things."
Brown, whose book "The Black Butterfly: The Harmful Politics of Race and Space in America" examines Baltimore's history of segregation and its impact on Black residents, said when King moved to Chicago in 1966, he had a plan to eliminate slums called the Freedom Budget.
"He was about action, not just dreaming, not just wishing, but having a plan for action. This is Dr. King's vision. This is the concrete plan he was working on — the Freedom Budget — to eliminate slums, impoverished conditions in the greatest, wealthiest country in the history of the world," he said.
Brown also talked about Baltimore's role in segregation. It was the first city in America to pass a residential racial zoning law in 1910, and he showed a newspaper headline: "Baltimore tries drastic plan of resegregation."
He said, "This tells us that racial segregation was not just some event that, oops, kind of happened. It wasn't artificial, like it's just always existed. People work to make racial segregation and racial domination a reality. Domination, not just of people, but domination of space."
The policies affected not just where people lived, but they also segregated schools, churches, and pools.
"This was a cleaving and an apartheid, segregating and separating Black Baltimoreans from white Baltimoreans completely, system by system, domain by domain," he said.