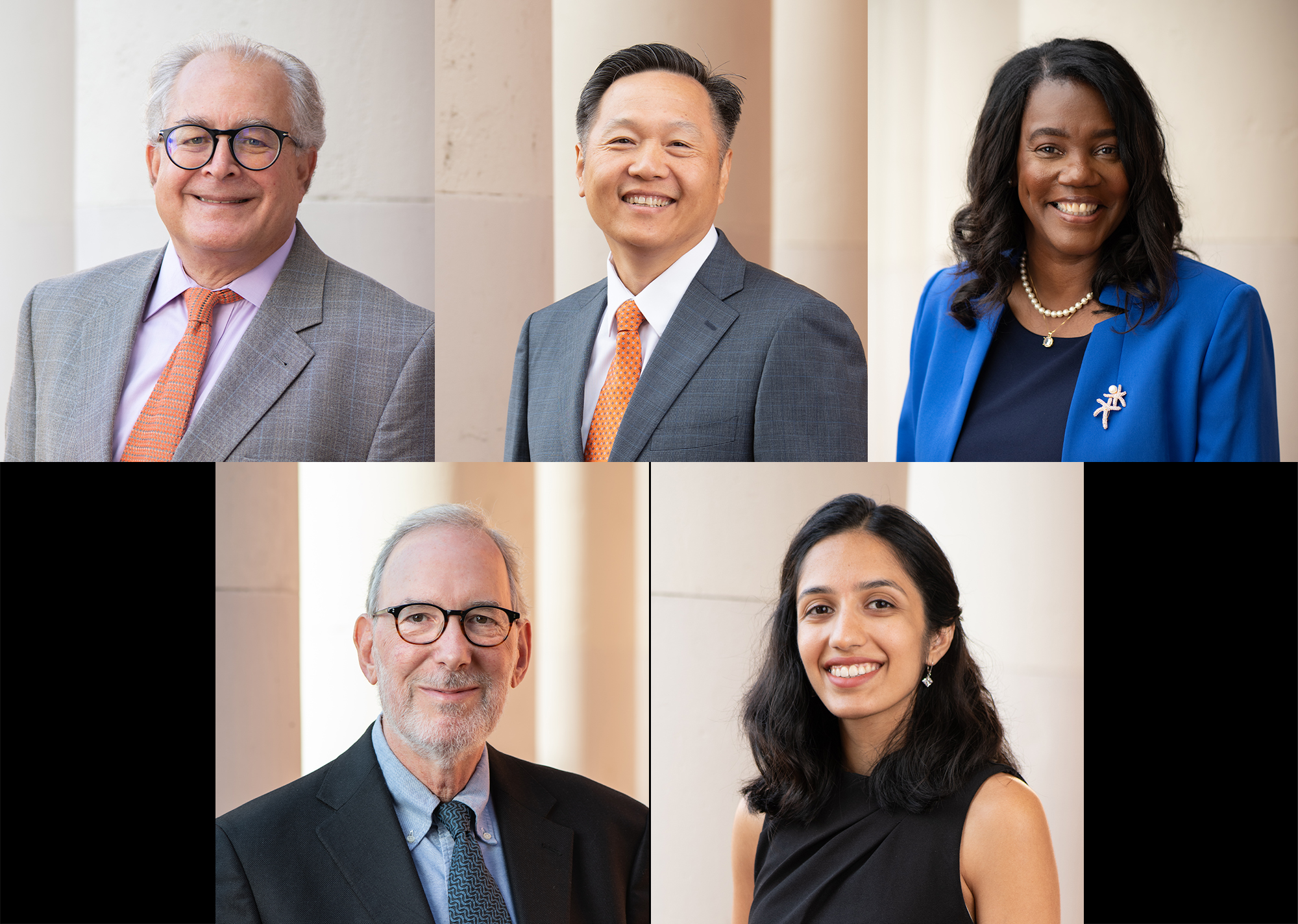 UMB recognizes the outstanding work of its faculty, staff, and students each year with awards for Entrepreneur, Researcher, Public Servant, Educator, and Student of the Year.
---
Every fall, the University of Maryland, Baltimore (UMB) commemorates our rich history and celebrates the future we're building together during Founders Week, which this year runs Oct. 24-28. Among the highlights of Founders Week is recognizing the extraordinary work of our faculty, staff, and students with awards that signify outstanding accomplishment in academics, public service, research, entrepreneurship, and education. Leading up to Founders Week, we will highlight the award winners on The Elm.
---
DAVID J. RAMSAY ENTREPRENEUR OF THE YEAR
Allan Doctor, MD
School of Medicine
Professor, Department of Pediatrics
Director, Center for Blood Oxygen Transport and Hemostasis
Dr. Doctor is a pediatric intensivist and nationally recognized physician-scientist who led the Pediatric Critical Care Division at Washington University and St. Louis Children's Hospital for 10 years before transitioning to UMB in 2019 to focus on a rapidly expanding research program and the development of a novel biosynthetic artificial red cell.
Dr. Doctor's laboratory studies the role of red blood cell-based signaling in the control of regional blood flow, related pathophysiology arising from acquired red cell injuries, blood substitute design, and translational transfusion medicine in critical illness. He directs the School of Medicine's Center for Blood Oxygen Transport and Hemostasis, which works to advance the development of an artificial blood product for use in rural areas or trauma settings such as battlefields that don't have easy access to donated blood for transfusions.
In 2016, Dr. Doctor co-founded KaloCyte, Inc., to commercialize ErythroMer, a dried, bio-inspired artificial red blood cell based on his research. He served as KaloCyte's first president and is currently chief scientific officer. KaloCyte, which is supported by nearly $10 million in federal grants and investor funding, moved from St. Louis to Baltimore along with Dr. Doctor in 2019. It employs eight staff members at Health Sciences Research Facility III and collaborates extensively with UMB on federally sponsored grants.
Dr. Doctor earned his bachelor's degree in neurobiology and his medical degree from the University of Virginia. After a residency in emergency medicine at the University of Pittsburgh, he went to Boston Children's Hospital and completed additional residency training in pediatrics as well as fellowships in pediatric emergency medicine and critical care.
---
RESEARCHER OF THE YEAR
Man-Kyo Chung, DMD, PhD
School of Dentistry
Professor, Department of Neural and Pain Sciences
Interim Assistant Dean of Research
Co-Director, UMB Center to Advance Chronic Pain Research
Dr. Chung is a distinguished dentist-scientist noted for his research on the molecular mechanisms of oral and craniofacial pain and the neural regulation of alveolar bone remodeling. He has been on the School of Dentistry (UMSOD) faculty since 2008 after serving a six-year postdoctoral fellowship at Johns Hopkins University School of Medicine.
He has received numerous National Institutes of Health grants during his time at UMSOD, including a prestigious eight-year, $8 million Sustaining Outstanding Achievement in Research grant, which is given by the National Institute of Dental and Craniofacial Research to mid-career professionals in recognition of outstanding research, leadership, and service. Widely published in scholarly journals, Dr. Chung's writings have been cited almost 3,000 times.
Using multidisciplinary approaches, Dr. Chung and his research team have made great strides toward understanding the peripheral and central neurobiological mechanisms underlying dental pain, craniofacial muscle pain, and neuropathic pain.
Dr. Chung is an expert in the electrophysiological, biophysical, and genetic analysis of nociceptors and nociceptive ion channels, including transient receptor potential vanilloid 1 (TRPV1), a receptor for capsaicin (an active component of chili peppers), and he studies how capsaicin receptors produce and alleviate craniofacial pain. His other research focuses on how TRPV1 afferents modulate the remodeling of alveolar bone under pathophysiological conditions such as periodontitis and orthodontic tooth movement.
As co-director of the Center to Advance Chronic Pain Research, Dr. Chung is passionate about facilitating vibrant and collaborative environments at UMB for basic, translational, and clinical pain research that will improve the well-being of chronic pain sufferers in the United States.
He received his Doctor of Medicine in Dentistry degree and PhD from Kyung Hee University School of Dentistry in Seoul, South Korea.
---
PUBLIC SERVANT OF THE YEAR

Yolanda Ogbolu, PhD, CRNP-Neonatal, FNAP, FAAN
School of Nursing
Associate Professor and Chair, Department of Partnerships, Professional Education, and Practice
Co-Director, Center for Health Equity and Outcomes Research
Dr. Ogbolu has dedicated her career to addressing health disparities and inequities in disadvantaged local and global communities, integrating all aspects of her academic life — research, scholarship, teaching, mentoring, clinical practice, advocacy, and service — to her mission.
She has contributed leadership and advocacy in Maryland and nationally on issues that address the needs of underserved populations and the social determinants of health. Her research and scholarship has forged new understanding of the root causes of health care disparities and fostered strategies for addressing them from West Baltimore to Brazil, Nigeria, Rwanda, and beyond. Her teaching and program development also has broadened service-learning opportunities locally and globally for the next generation of health professionals.
Dr. Ogbolu also serves as chair of the Social Determinants of Health Taskforce of Baltimore City, which is charged with identifying and examining "the negative social factors that cause hardship for Baltimore City residents; span generations; and are cyclical in nature" and for developing and implementing solutions that improve the social, material, economic, and physical conditions of residents.
Dr. Ogbolu grew up two blocks from the UMB campus, excelled academically at Western High School, and obtained her nursing associate's degree from Baltimore City Community College. She served as a registered nurse in the neonatal intensive care unit at Mercy Medical Center, obtained her neonatal nurse practitioner (NNP) certificate from Georgetown University, and continued to practice at Mercy and then Johns Hopkins Bayview Medical Center for a total of 23 years as an NNP.
Fifteen years after becoming a nurse and while continuing to practice, she returned to school and earned her bachelor's, master's, and PhD from the School of Nursing.
---
EDUCATOR OF THE YEAR

Richard Boldt, JD
Francis King Carey School of Law
T. Carroll Brown Professor of Law
Professor Boldt has been a passionate and dedicated legal educator for more than three decades, having joined the Maryland Carey Law faculty in 1989. He is admired and respected by his students, who have selected him to be their Student Bar Association chapter's Teacher of the Year multiple times.
Professor Boldt regularly takes on full teaching loads and is willing to teach as many courses and students as needed in a particular year. He teaches subjects that comprise the core of the law school's curriculum: Torts; Advanced Torts; Constitutional Law I: Governance; Constitutional Law II: Individual Rights; and Criminal Law.
He also teaches a popular Mental Disability Law seminar, in which he supervises students with advanced writing, and has a special research interest in the legal issues surrounding drug use and drug use disorders. His work has been published in leading law journals, including the Maryland Law Review, Journal of Health Care Law & Policy, Washington University Law Quarterly, Criminal Justice Ethics, Michigan Law Review, University of Pennsylvania Law Review, and more.
Professor Boldt received his bachelor's degree from Columbia College and earned his law degree from Yale Law School, where he served as an editor of the Yale Law and Policy Review. After practicing at the Legal Action Center, a public interest law firm in New York, he began his academic career at Northern Illinois University College of Law. He also held a faculty position at City University of New York Law School at Queens College and was a visiting professor at Brooklyn Law School. Professor Boldt served as associate dean at Maryland Carey Law from 2002 to 2006.
---
STUDENT OF THE YEAR

Aishwarya Iyer
School of Medicine and Graduate School
Ms. Iyer is a fifth-year MD/PhD student in the Medical Scientist Training Program, on track to earn her PhD in 2024 and her medical degree in 2026. While excelling academically, carrying a 4.0 graduate school grade-point average (GPA) as a biochemistry PhD candidate, she also finds time to enthusiastically engage with various on-campus organizations and initiatives.
She received numerous honors as an undergraduate at the University of Maryland, Baltimore County, including the Meyerhoff and Creighton Memorial scholarships and an NCAA Division I Intercollegiate Tennis Association Scholar-Athlete Award. She is currently a trainee of a National Institutes of Health research training program in gastroenterology and hepatology, working under the tutelage of Katia Kontrogianni, PhD, professor of biochemistry and molecular biology in the School of Medicine, for her thesis work.
Ms. Iyer's extensive research experience in biochemistry and structural biology accumulated throughout her high school, undergraduate, and graduate training has enabled her to build a strong foundation in discovery and translational science, deliver presentations at numerous national and international conferences, and earn co-authorships on research papers published in Science and the Journal of Molecular Biology.
At UMB, she was secretary (2020-21) and president (2021-22) of the University Student Government Association and continues to serve on working groups under the Office of Sustainability. She has worked with University leaders to address student food insecurity, sustainability, COVID-19 issues, and safety concerns, in addition to serving on search committees for UMSOM's dean and UMB's provost and executive vice president.
During medical school, Ms. Iyer has volunteered as a CURE Scholars Program mentor, engaging with middle and high school students from West Baltimore in educational activities to cultivate their interest in the STEM and medical fields.
UMB President Bruce E. Jarrell announced the winners in a letter to the UMB community Aug. 31. In closing, he wrote, "I'm so grateful that we have Founders Week to showcase these remarkable individuals and their tremendous achievements. This year, Founders Week will be celebrated Oct. 24-28, and the award winners will be recognized during my State of the University event Nov. 9. I offer each winner my heartfelt thanks and congratulations."
(In photo, clockwise from top left: Allan Doctor, Man-Kyo Chung, Yolanda Ogbolu, Aishwarya Iyer, and Richard Boldt.)