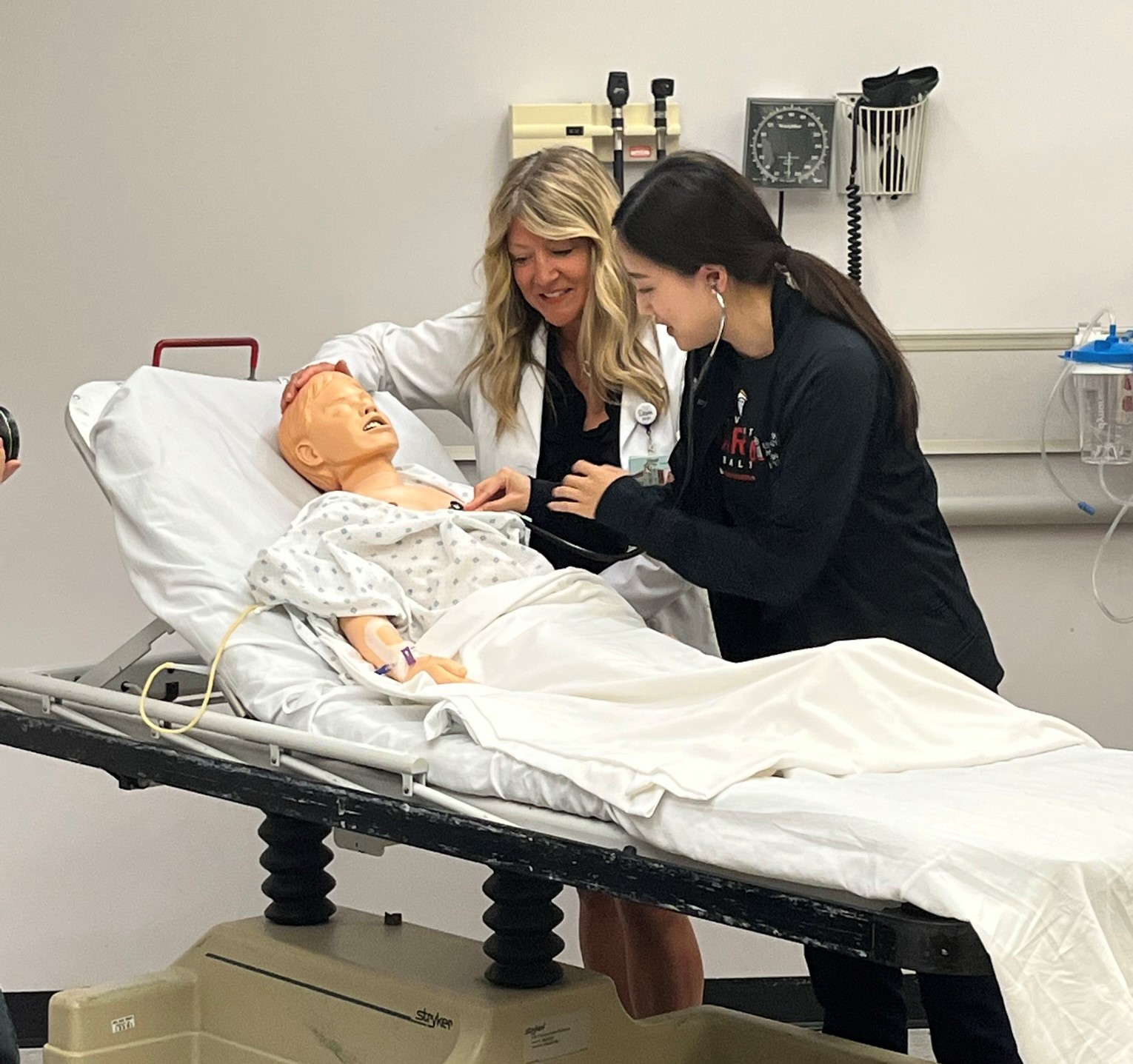 UMSON faculty share how the school is implementing the American Association of Colleges of Nursing's new "The Essentials: Core Competencies for Professional Nursing Education."
---
Dawn Mueller-Burke, PhD, CRNP, NNP-BC, assistant professor and chair, New Essentials Curricular Revisions Taskforce
Bimbola Akintade, PhD '11, MS '05, MBA, MHA, BSN '03, ACNP-BC, NEA-BC, FAANP, associate professor and associate dean for the Master of Science in Nursing Program and co-chair, New Essentials Curricular Revisions Taskforce
Maeve Howett, PhD, APRN, CPNP-PC, CNE, professor and associate dean for the Baccalaureate Program
Shannon K. Idzik, DNP '10, MS '03, CRNP, FAANP, FAAN, associate professor and associate dean for the DNP Program
The American Association of Colleges of Nursing (AACN) released in April 2021 its new The Essentials: Core Competencies for Professional Nursing Education, a blueprint of the necessary curriculum content and expected competencies of graduates at all academic levels to transform nursing education.
UMSON's faculty share how the school is implementing the new Essentials:
What is different about the new AACN Essentials vs. those issued in 2011?
Akintade: In 2011, we moved the advanced practice registered nurses master's program to the Doctor of Nursing Practice (DNP) level. The new Essentials impacts all nursing programs, including the Bachelor of Science in Nursing (BSN), Master of Science in Nursing, and the DNP.
Mueller-Burke: The new Essentials lay the blueprint for nursing education to move toward a more competency-based approach. They outline the important domains that create the 'discipline of nursing.'
How will UMSON implement the new AACN Essentials, and who is involved?
Akintade: UMSON established a New Essentials Curriculum Revision Task Force, chaired by Dawn Mueller-Burke and myself, to work with program leadership and other faculty, staff, and external stakeholders to evaluate, revise, and implement the new curriculum.
Mueller-Burke: All units at UMSON are involved in making this a successful and transparent process. We'll also meet with UMSON's partners at the University of Maryland Medical Center and other clinical partners to garner input and support. Seminars and forums will expose UMSON faculty and staff to diversity, equity, and inclusion, one of the pillars of the curricular revisions.
Akintade: We're working closely with AACN; the University of Maryland, Baltimore; the Maryland Higher Education Commission; and the Maryland Board of Nursing. We've also been part of conversations about the Essentials with external entities, including the Big Ten Academic Alliance.
What is the timeline for Essentials-driven curriculum changes to be enacted?
Akintade: The planning work has commenced, and courses at all program levels are being evaluated and updated to serve as the foundation for our curriculum revision. The tentative timeline for the rollout of the new curricula is fall 2022 for the BSN program and fall 2024 for all other programs.
How will the new Essentials change the future of nursing education?
Akintade: The changes provide a more standardized approach and a more predictable expectation of the level of care and competency our graduates are able to demonstrate upon graduation. This will provide opportunities to better support our graduates and elevate their performance in the clinical area.
Mueller-Burke: Stakeholders have shared that graduates across the country vary in preparation and competency. UMSON has always provided top-notch, evidence-based graduates, and we want to move that needle to a graduate who is truly 'practice ready.'

Howett: With the new Essentials, there is an emphasis on public and community nursing, informatics and system approaches, as well as resiliency and wellness. We also plan to address social determinants of health, reflective practice, and conversations about systemic racism.
How will students be better prepared for the workforce?
Howett: Students will demonstrate competencies across multiple settings, populations, and patients. Their confidence to provide safe, reliable, evidence-based nursing care should improve as they see their knowledge applied and clinical judgment tested repeatedly in safe, supervised experiences. A typical competency might be introduced, then taught, then reinforced before a student demonstrates it in a lab, on a test or assignment, in simulation, and then in direct patient care.
Idzik: The shift to competency-based education means that students will need to demonstrate competencies, not just complete a number of hours. This should level the playing field and expectations that employers have.
Why is the implementation of the new Essentials important?
Mueller-Burke: UMSON is leading the way in transforming what and how we teach and most importantly, what our students can do. We will continue the hard work to make our curricula experiential in a way that transforms our graduates to be uniquely prepared to succeed as integral members of the health care team.
Howett: All schools of nursing will be making this change to remain accredited by AACN. UMSON's community can be proud that UMSON is one of the national leaders and will be one of the very first to implement a revision.
pictured above: Mueller-Burke with Anny Park, Doctor of Nursing Practice Pediatric Primary Care Nurse Practitioner specialty student
---
Domains for Nursing
1. Knowledge for Nursing Practice
2. Person-Centered Care
3. Population Health
4. Scholarship for Nursing Discipline
5. Quality and Safety
6. Interprofessional Partnerships
7. Systems-Based Practice
8. Informatics and Health Care Technologies
9. Professionalism
10. Personal, Professional, and Leadership Development
---

Pictured above, l. to r.: Mueller-Burke, Akintade, Howett, and Idzik
---
THIS ARTICLE FIRST APPEARED IN THE SPRING 2022 ISSUE OF NURSING FORUM MAGAZINE.