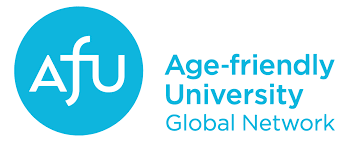 They want the University to emphasize hiring and retaining experienced employees, flexible work schedules, and resources for caring for aging parents and spouses.
---
About half of working baby boomers expect to or are already working past age 70 or do not plan to retire, according to an October 2022 survey by the Transamerica Center for Retirement Studies. Perhaps most telling: Only 59 percent say their employers are age-friendly.
At the University of Maryland, Baltimore (UMB), baby boomers, the generation born after World War II between 1946 and 1964, represent 19.7 percent of faculty members and 19.3 percent of staff. In addition, about 50 UMB faculty and staff members are part of the Silent Generation, born between 1925 and 1945.
UMB was designated an Age-Friendly University (AFU) in fall 2019. The designation means that UMB has endorsed the 10 AFU principles that resulted from the work of an international interdisciplinary team to identify the distinctive contributions institutions of higher education can make in responding to the interests and needs of an aging population. The endorsement of the AFU principles means that the University is committed to a culture of age-inclusivity in its programs and policies.
Jay Magaziner, PhD, MSHyg, professor of epidemiology and public health, University of Maryland School of Medicine, and director, Center for Research on Aging, is not only an expert on aging but also a baby boomer. He said that while employees who want and can afford to retire should, there are benefits to working later in life.
"The benefit is a meaningful role in life, a reason to get up in the morning. To stay healthy, mentally and physically, one needs to remain productive. And one needs to have a connection with the world that they live in," he said. "If continuing to contribute to the educational, research, and service mission of the University allows this connection, it would make sense to continue working in an organization that values the contributions that can be made as a result of accumulated knowledge and experience."
A sampling of UMB faculty and staff members who are baby boomers think that UMB is on the right path to age-friendliness but still has work to do.
Colette Beaulieu, office manager, Health Sciences and Human Services Library, and a past president of the Staff Senate, said one way UMB can become more age-friendly is by placing a premium on hiring and retaining experienced employees.
"A couple of years ago, when I wasn't sure the grant I worked on would be renewed, I panicked. How would I compete for jobs on campus where other candidates are younger than me? Would my experience be valued? At times I was not so sure," she said. "I felt someone younger or willing to work for less money to get experience would override my years of experience and service to the campus.
"Luckily our grant did get renewed. But what about others on campus whose departments might be downsizing, for example, and now are at the latter stages of their careers but still have a lot to contribute and want to work? UMB should make sure that hiring practices place a high value on experience and work hard to keep more experienced employees engaged and thriving even as they might be winding down their careers."
Michele Carter Hunt, MA, senior consultant, Organization and Employee Development, Human Resource Services, agreed, saying UMB can be more age-friendly by "educating managers and supervisors to see that older workers are good, reliable workers. And not to discriminate based on their own biases."
Growth Opportunities for All
James Reynolds, MBA, assistant vice president, Fiscal and Academic Affairs, Office of the Provost, wants to see an emphasis on employee development.
"A University is age-friendly when it values older workers for their experience and dedication and provides them with continued opportunities for growth and advancement," he said, adding that UMB can ensure that all generations feel valued and included by "providing advancement and professional development for all employees, recognizing employees who continue to work at a high level, encouraging all employees to acquire new skills and competencies, and creating an environment that promotes respectfulness and civility."
Magaziner said UMB and its students can benefit from experienced faculty members.
"In terms of research and teaching, we've got a lot to gain from our older faculty. Some leaders have been very comfortable letting older faculty drift off rather than looking for ways of engaging them in the organization," he said. "And oftentimes, it's a low-cost way of engaging people who may not be in it for the money as much as for the opportunity to be involved in and contribute to the academic enterprise."
Magaziner said caregiving and work flexibility are two things that are important to support as an age-friendly university.
"We need to recognize age-friendliness on a lot of different planes. Many of our employees have older relatives that they care for. And we need to acknowledge that there's caregiving responsibilities that go beyond caring for a sick child. While caring for parents is allowed, we need to make it part of our culture — that's just what we do," he said.
Expanding Resources and Telework
Beaulieu and Hunt said they would like to see more resources available to help employees who are caregivers for aging parents and spouses.
"Like me, employees in the later parts of their careers are finding themselves in roles they never imagined. Many still want and need to work; I know I do. It's a lot to juggle sometimes," Beaulieu said. "I see resources available for younger employees, like assistance with day care and maternity and paternity leave. Still, you rarely see any programs or additional leave practices targeted at employees who are caregivers for aging spouses and parents."
A flexible work schedule was also important. Reynolds said he has felt supported as he transitioned to working three days a week.
And Beaulieu said UMB has changed for the better by allowing telework.
"If there is any upside to COVID, it has been that the University had to pivot fast at the beginning of the pandemic to accommodate a workforce that suddenly was forced to work from home. For many of us, the shift in policy to allow for working more from home has been a life-changer," said Beaulieu, who expects to retire in a few years.
"I hope that the University continues to support a work atmosphere where if you can function at your job at the highest level while working from home and want to work from home, you are encouraged to do so. My teleworking schedule is probably the one thing that has kept me from wanting to retire, and I don't think I am the only one."