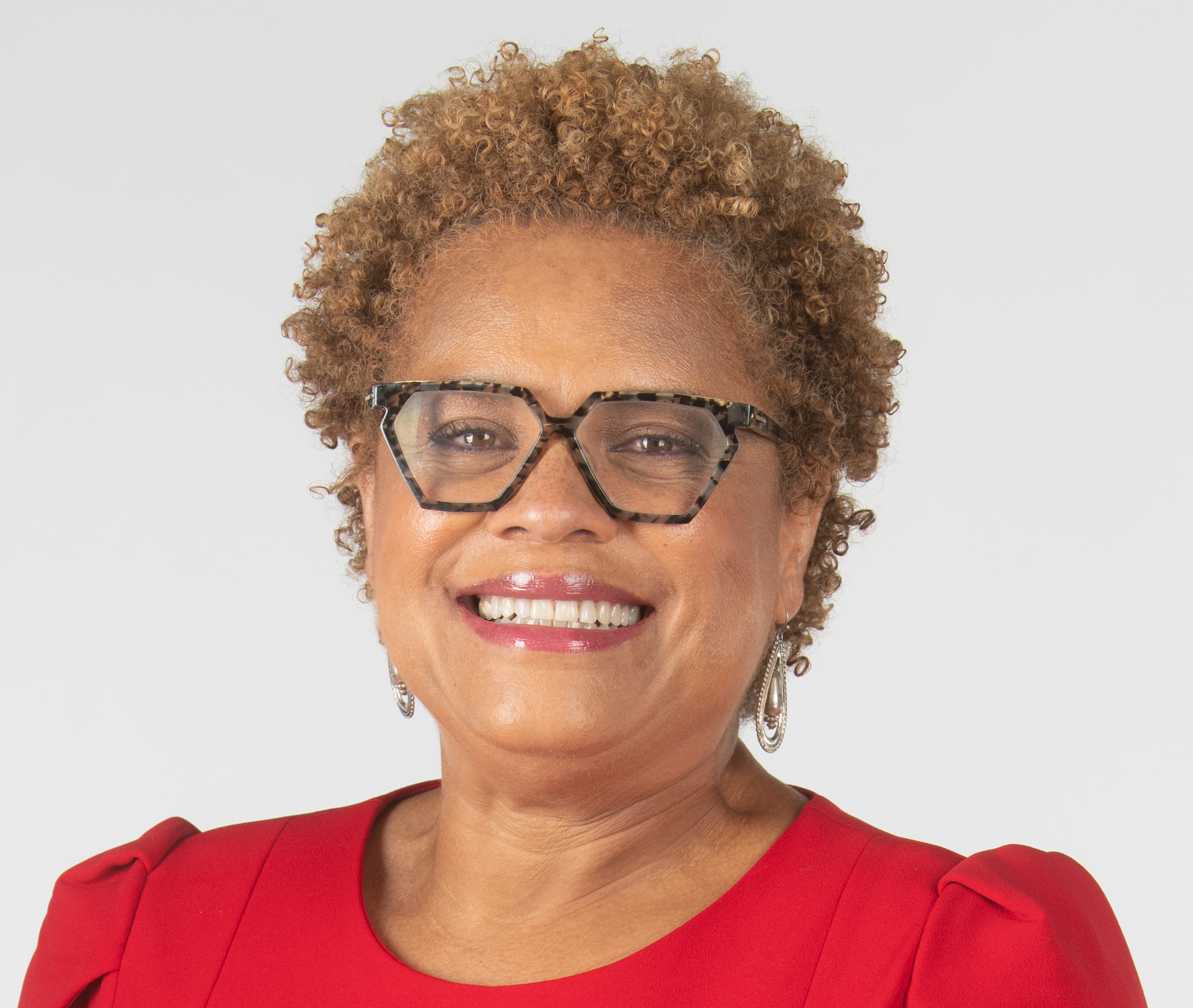 The interim associate vice president for Human Resource Services is proud of the work she has done with the community including helping to launch UMB's Workforce Wednesdays.
---
This is the latest in a series from the University of Maryland, Baltimore's Diversity Advisory Council (DAC) highlighting a student, faculty, or staff member. Read previous DAC Spotlights.
---
Juliet Dickerson, MS, the University of Maryland, Baltimore's (UMB) interim associate vice president for Human Resource Services (HRS), is proud of her work in the community.
Six years ago, she helped launch the Workforce Wednesdays initiative, a collaboration between HRS and the UMB Community Engagement Center. The program aims to empower West Baltimore job seekers through one-on-one career counseling, career training workshops, and resources to help connect them with employers.
Dickerson's responsibilities included coordinating the team that staffed the initiative, designing the first program from HRS, and creating the first schedule for the staffing specialists. The program has opened the door for candidates to be hired at UMB, the University of Maryland Medical Center, and elsewhere.
Last year, she helped support UMB's COVID-19 vaccine clinic as part of the team that met with Faculty Physicians, Inc. and the staffing agency to ensure that staffing needs were fulfilled.
"My most satisfying work has been in support of the establishment of the vaccine clinic," Dickerson said. "It was a critical need at the time, and working on the team that rolled out the vaccine to Maryland's health care professionals is something that I will look back on with pride."
Over the past year, Dickerson also has assisted in managing the vaccine compliance program on a weekly basis for the University, which requires on-campus students and employees to be fully vaccinated against COVID-19.
In her current role as interim AVP, she has been involved in all aspects of HRS including labor/employee relations, compensation, staffing, Human Resources Information Services (HRIS), benefits, and learning management.
She will resume her duties as director of HRIS, staffing, and the HR Service Center on May 1, when the new AVP for HRS begins.
"Juliet was very instrumental in the initial work of the vaccine clinic. Additionally, she oversaw bringing new services to campus during COVID, hired a new director for employee labor relations, and has been intensely involved in both AFSCME and the Fraternal Order of Police union negotiations," said Dawn M. Rhodes, DBA, senior vice president and chief business and finance officer of UMB.
Dickerson has been part of an HRS team that has led or partnered on equity, diversity, and inclusion efforts at UMB. She has served on the Diversity Advisory Council, supported the Gallup campus climate survey for employees, and championed Universitywide diversity events.
She started working at UMB in 1998 as a staffing specialist. In that role, her responsibilities included recruitment activities. She then moved into the role of director of HRIS, staffing, and the HR Service Center. She led the implementation of the Taleo applicant tracking system and designed and implemented the Universitywide onboarding initiative that centralized the new hire experience across all schools and departments. The onboarding initiative includes a one-day orientation led by HRS that more than 700 new hires have attended, with 95 percent of participants saying they found it beneficial.
Dickerson also manages HRIS, overseeing accurate reporting and application development and collaborating with Central Information Technology Services. She supervises the team responsible for the daily processing activities of new hire and job actions for faculty, staff, and students including oversight of immigration work authorization.
"Looking to the future, I will be dedicated to implementing the new campuswide HRS system," she said. "It is an important project, and one that will transform HRS. I have had the pleasure of working on HRS systems during most of my career at UMB, and I enjoy it immensely."
She is a 2014 founding member of UMBrella, which supports the success of women and those who identify as women at UMB by building community and helping them achieve their personal and professional goals.
Dickerson earned her master's degree in human resources management from the University of Maryland University College, a bachelor's degree in English from Towson University, and a bachelor's degree in marketing from Hampton University.
"I learned early in my career that human resource professionals tend to be problem solvers," she said. "In each of our areas of expertise, we gain immense satisfaction from helping employees get the answers they need to make important decisions in their lives. I have been fortunate to have great teams and great bosses in my career at UMB, all inspirational in their own way."