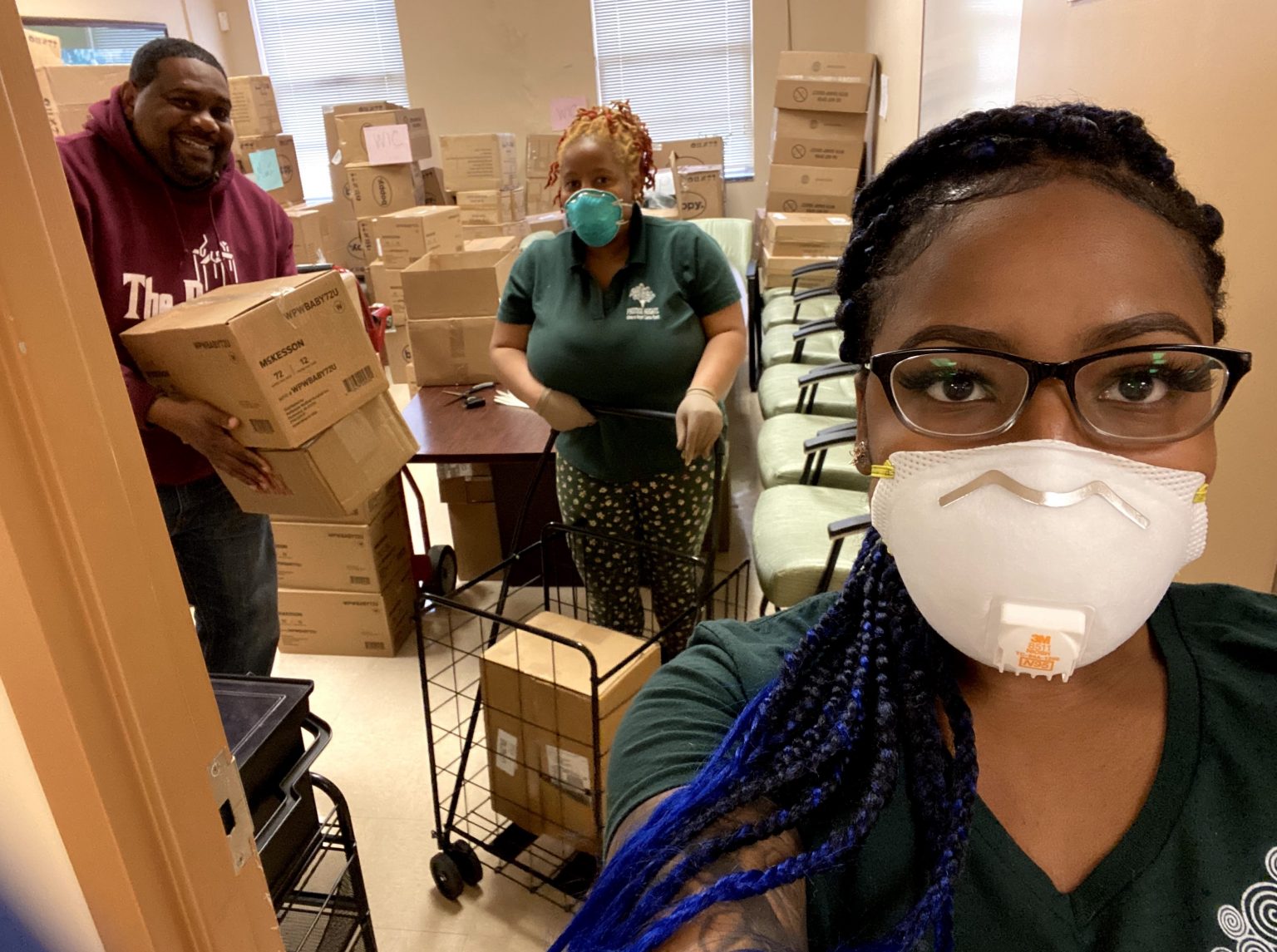 The School of Social Work initiative has played a significant role in improving Black maternal and infant health. Read more in "CATALYST" magazine.
---
Jameka Hansen wishes she had had advice and support groups available to her when she was breastfeeding her four children, who now range in age from toddler to teenager.
Because of this, Hansen feels a strong sense of empathy for the women needing answers about breastfeeding whom she has assisted with B'more for Healthy Babies (BHB), a place-based initiative through Promise Heights designed to improve the infant mortality rate in the Upton and Druid Heights neighborhoods. Hansen repeatedly made important parenting choices without outside advice or guidance and now recognizes how community support would have helped when she made the decision to breastfeed each of her children.
"I'm from Baltimore, but I lived in Pennsylvania for 10 or 11 years, so my first two kids are technically from Pennsylvania. It was just me and my husband at the time — I didn't have any other family there, so I'm not even sure how I made the decision to choose breastfeeding," said Hansen, a BHB advocate in the program's parent-led Community Achievers group. "I guess I wanted to be as natural as possible. I had natural births, so I wasn't thinking about formula or anything."
Since launching in 2009, BHB has played a significant role in improving Black maternal and infant health by offering and supporting choices made by Black families in Upton/Druid Heights. Among its many programs, BHB promotes breastfeeding by providing community-based breastfeeding groups and one-on-one lactation support services, connecting mothers with lactation services and support, while also providing breast pumps, pillows, and other tools that moms and babies need.
'A Lovely Journey'
Hansen reflected on her own experiences when she arrived at BHB, something that many Black mothers have encountered: a realization that everyone brings their own family traditions, rituals, and knowledge. She reiterated a concern that due to these realities, many Black women can be unprepared for or face resistance about breastfeeding options.
"I was also surprised to hear how many people weren't supportive of women wanting to breastfeed," Hansen said. "I mean, it was surprising to hear the nonsupportive stories of people [criticizing] women who were thinking about breastfeeding. That's why support groups are so important!"
At the same time, the BHB team knows that many mothers find that they're not able to breastfeed, and that deciding to choose breastfeeding is a matter shaped by culture, opportunity, time, and family and community support. They've maintained a consistent focus of aiding a range of family needs, and when the COVID-19 pandemic lockdowns made it difficult to provide in-person services, BHB quickly shifted to virtual platforms to remain accessible to potentially isolated families.
Deniya Chapman reached out to BHB for help when she was unable to produce milk.
"Breastfeeding is a lovely journey that may not have been meant for me," Chapman said. "My body failed me twice by my milk drying up no matter what I did."
With BHB's help, she was able to breastfeed her daughter for at least four months.
Read more at CATALYST magazine.
---
You can read the Spring 2022 issue of CATALYST magazine, which highlights the incredible work done by School of Medicine scientists and clinicians who successfully transplanted a genetically modified pig heart in a patient who survived for two months. We also share stories about Gregory F. Ball, the new vice president for research; Wendy Shaia, executive director of the School of Social Work's Social Work Community Outreach Service; the UMB CURE Scholars Program's first cohort going to college; the 50th anniversary of the School of Pharmacy's Maryland Poison Center; and much, much more!