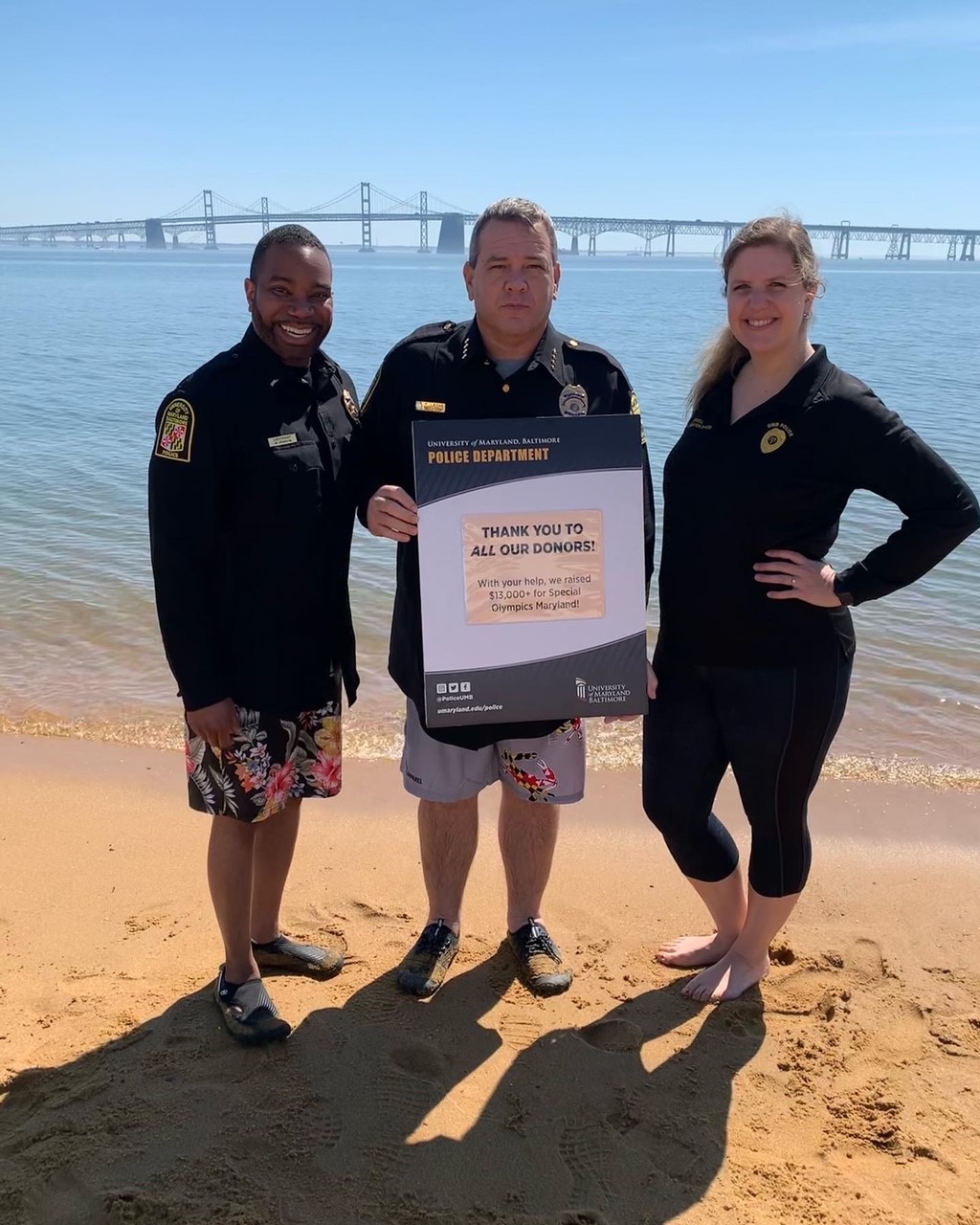 UMB's police chief raises nearly $11,000 for Special Olympics Maryland.
---
"Oh, Lordy, that's cold," shouted University of Maryland, Baltimore (UMB) Police Chief Thomas Leone, MSL. He dipped his toes into the frigid 44-degree waters of the Chesapeake Bay. "Here we go!"
With that, Leone started the first of 24 plunges into the bay in 24 hours as a "super plunger" for the Maryland State Police Polar Bear Plunge benefiting Special Olympics Maryland. Dozens of super plungers joined Leone starting at 10 a.m. Friday, March 18, and went in every hour until 9 a.m. Saturday, March 19. While Leone had participated in countless plunges in the past, this was his first time super plunging.
The Plunge is originally scheduled each year in January but was postponed due to COVID-19. Super plungers are required to raise $10,000 before taking the first plunge. With the help of the UMB community, Leone raised $10,869 to benefit Special Olympics Maryland.
"It meant the world to me to see our community come together to support this great cause," Leone said. "Whether it was a few bucks or a big chunk of change, I am thankful for every donation."
Lt. Matthew Johnson, who raised $3,512, joined Leone for several plunges. Public information officer Carin Morrell joined Leone for the full 24 hours to take photos and post on social media — @PoliceUMB on Facebook, Twitter, and Instagram.
Plunge organizers released themes for each hour of the plunge. To help raise money, Leone held a costume contest. Four winners helped choose costumes and props for Leone to use during the superhero, Hawaiian, crazy hat, and inflatable themes. The winners were Anna Borgerding, Bonnie Bissonette, Tricia O'Neill, and Dawn Rhodes, respectively.
"Anna and the Office of Sustainability really had fun with their superhero costume," Leone said. "I got a recycling bin costume, complete with actual recyclables. I had a mask and a cape that said 'Waste Warrior.' It was very creative."
Leone got into a quick routine: Take a frosty dip into the bay; hang his wet clothes on a drying rack; put his wet shoes next to the heater to dry; gather the costume for the next plunge; take a few minutes to rest, talk, or grab a bite to eat; and head back outside for another dip in the bay.
A DJ played music inside a large tent with round tables where super plungers and their supporters spent time between plunges. As the sun went down and the temperatures plummeted, plungers tried to grab quick naps on cots set up in separate men's and women's tents. Not Leone.
"I'm up!" he said. "I might as well just keep going."
For the final plunge, Leone donned a polar bear hat — the mascot of the Polar Bear Plunge — and jogged into the water. As he came out for the last time, he raised his hands in triumph.
"I'm proud of what we accomplished," Leone said of he and the other super plungers who helped raise a whopping $530,000 for Special Olympics Maryland — a record for the organization. "But next year, I think we'll just do the regular police plunge."