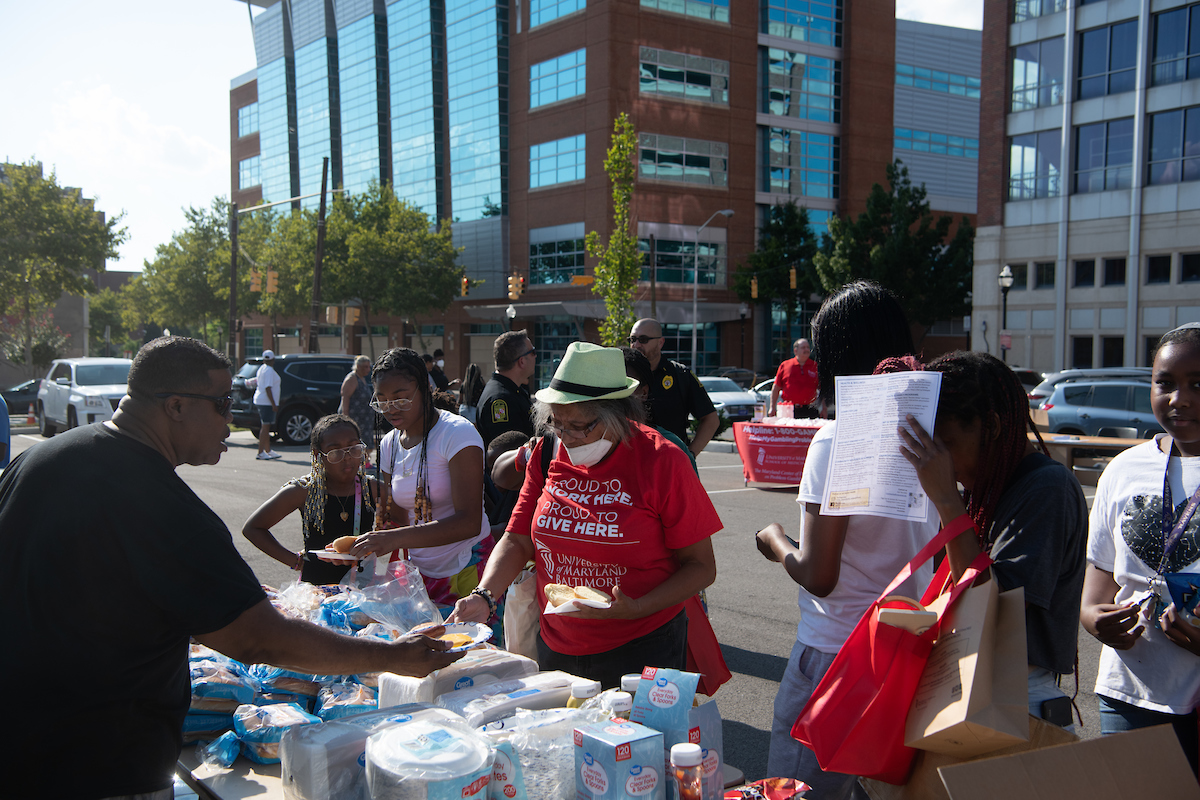 UMB Police Department and Community Engagement Center co-host annual community-building event.
---
National Night Out at the University of Maryland, Baltimore (UMB) featured a new location, more community vendors than ever, and a huge community turnout. Hundreds of people came out for the community-building event hosted by the UMB Police Department (UMBPD) and Community Engagement Center.
"It gives you the opportunity to see the positivity in the community that everything is not all bad — whether it's the residents or the police — but that there's good in everyone," said community member Theresa Thomas.
Held on the first Tuesday of August each year, National Night Out promotes positive police-community partnerships. This year, the event was held at the corner of West Baltimore and South Poppleton streets from 5 p.m. to 8 p.m. UMBPD served more than 700 hamburgers and hot dogs, plus chips, potato salad, water, and soda during those three hours.
"National Night Out is an opportunity for community members to meet the police in a casual setting," said UMBPD Chief Thomas Leone, MSL. "It's a great time to get the community and the police department together. We can enjoy some good times and we can get to learn a little bit more about each other."
As a progressive, community-oriented police department, UMBPD is proud of its robust year-round community engagement. The Community Outreach and Support Team leads programming, including a Police Athletic/Activities League (PAL), a comfort K9, and outreach and intervention services in conjunction with the University of Maryland School of Social Work. UMBPD won the 2021 International Association of Chiefs of Police /Walmart Leadership in Community Policing Award along with several other local and state community policing awards.
"Our community has been overpoliced and underserved for years, and it's time that we start to rebuild the trust and the whole sense of community with each other," Leone said. "It's really about getting mutual respect to our community. It's not that we police the community. We police with the community."
UMBPD's many community partnerships were represented at National Night Out: The Baltimore City Fire Department, Baltimore Market Center Association, Behavioral Health System Baltimore, Community Builders, Community Health Education Center, Downtown Partnership, Fight Blight, Gambling Anonymous, HeartSmiles, Patient Program, PEACE Team, SONS of Phoenix, and the UMB Office of Emergency Management handed out resources at tables surrounding the event.
UMBPD Pfc. Kevin Gaskins brought his children to National Night Off during his time off.
"It's good to come out and enjoy the community when I'm off duty so they can see me outside of uniform, get to talk to people personably," Gaskins said. "It's about showing people that we're human, we care. We care about them, we care about our community, we care about their community, and we're not just strictly police. We like to have fun."