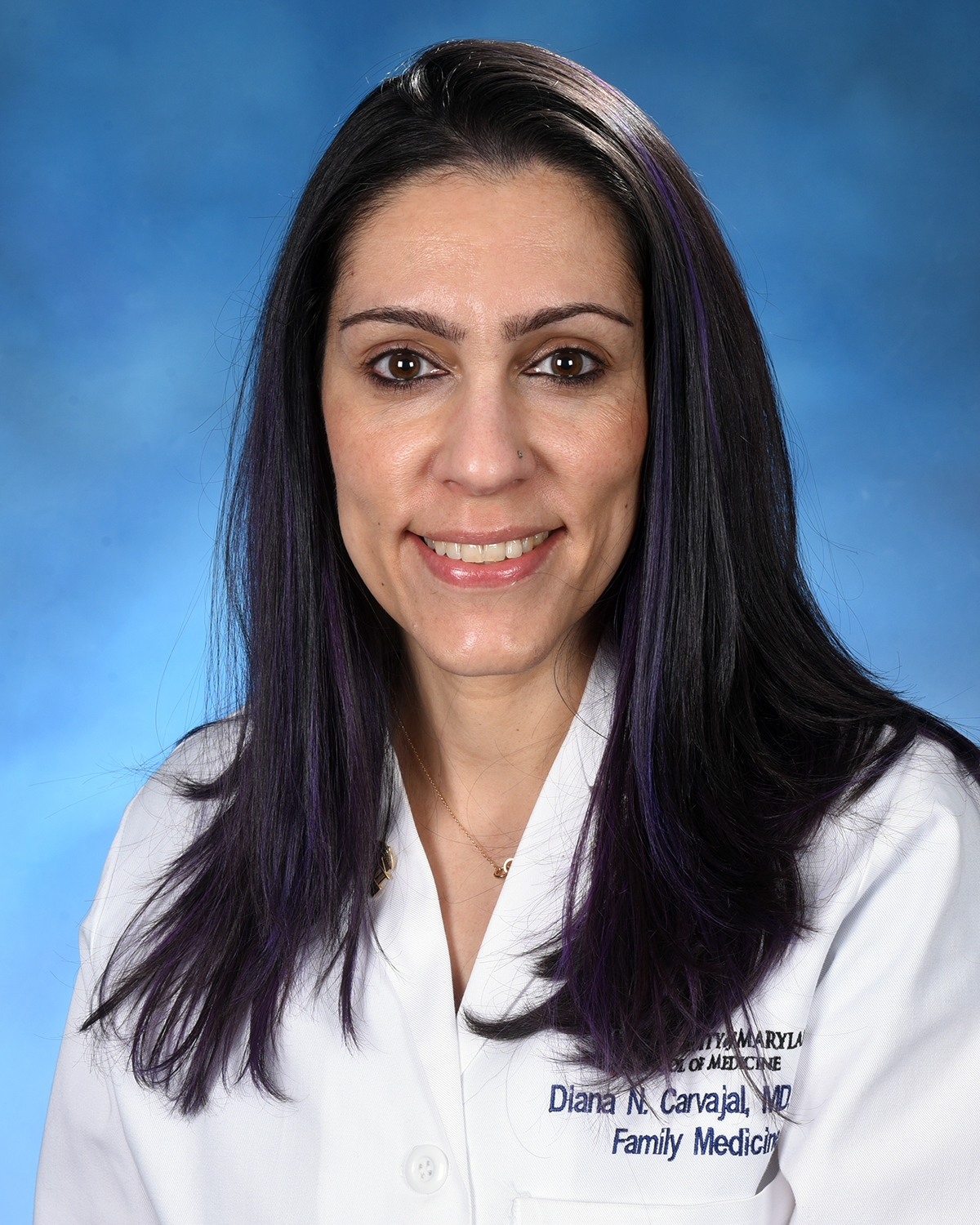 Assistant professor in the School of Medicine's Department of Family and Community Medicine is a staunch advocate for reproductive justice, social justice, and equity, diversity, and inclusion.
---
This is the latest in a series from the University of Maryland, Baltimore's Diversity Advisory Council (DAC) highlighting a student, faculty, or staff member. Read previous DAC Spotlights.
---
Diana Carvajal, MD, MPH, assistant professor in the Department of Family and Community Medicine at the University of Maryland School of Medicine (UMSOM), is a leader in diversity, equity, and inclusion efforts at the school.
A National Institutes of Health-funded researcher, Carvajal co-leads the research section in the Department of Family and Community Medicine while also practicing clinical medicine and leading the Reproductive Health Education in Family Medicine (RHEDI) program.
She is a staunch advocate for reproductive justice, social justice, and equity, diversity, and inclusion. Carvajal's research focus is on addressing inequities in reproductive health, and she studies how clinicians can support and communicate with patients of all backgrounds, especially those who have been historically marginalized, about reproductive health decisions.
Carvajal has helped to develop the social justice curriculum in the family medicine residency and is a leader for the residency's health justice track. She is also an inaugural member of the UMSOM Educational Content Review Committee, specifically reviewing lectures and other materials that will be presented to medical students to ensure that content is as free from biased, discriminatory, and micro- or macroaggressive themes as possible.
She also worked with an ad hoc committee of clinicians from across UMSOM to propose the elimination of race-based kidney function estimates in the University of Maryland Medical System, an effort that was ultimately successful.
Nationally, Carvajal serves as director of Diversity, Equity, Inclusion, and Strategic Planning for the national RHEDI program, working to develop and implement programs aimed at diversifying the reproductive health workforce in family medicine.
Carvajal is a graduate of the Robert Wood Johnson Medical School in Camden, N.J. She completed her family medicine residency at Columbia University and her Master of Public Health at the Johns Hopkins Bloomberg School of Public Health.
She came to UMSOM in 2008 to complete a Primary Care Health Services Research Fellowship and returned to join the faculty in 2013.
Carvajal works tirelessly to advocate for a medical system that is equitable and just and is using her research and academic influence to increase diversity in the field of family medicine. In February 2022, she received the Dean's Faculty Award for Diversity and Inclusion in recognition of her work.