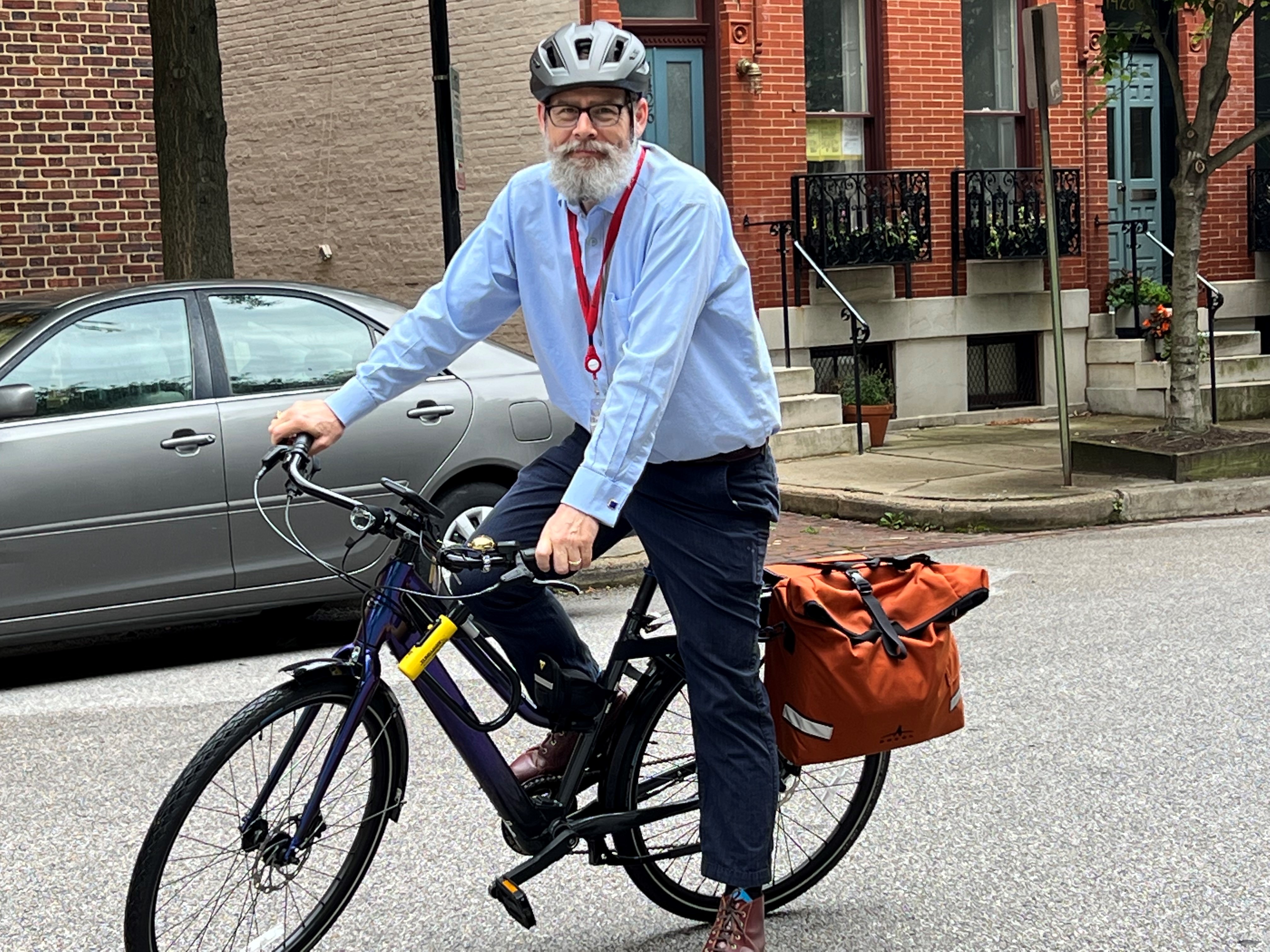 The Center for Vaccine Development and Global Health employee gets to the UMB campus faster on his bicycle than in a car.
---
With gas prices high and rising, the UMB Office of Sustainability would like to feature UMB staff, faculty, and students who commute to and from campus using sustainable methods in place of driving in a single-occupancy, gas-powered vehicle. If you've never thought of taking the MTA or carpooling with a colleague to get to campus, now is a great time to consider these and other sustainable commuting methods!
Our second feature in the series is a Q&A with Andrew Lentini of the School of Medicine's Center for Vaccine Development and Global Health, who rides his bike to UMB.
Do you have a backup plan if your primary method of cycling falls through for some reason (inclement weather, flat tire, etc.)?
I take the Light Rail. The MTA sticker program makes it free to use, and the stop is just a short walk from my house.
Why did you decide to utilize cycling as your method of commuting, and what's your favorite part about using this method to get to UMB?
We live in Bolton Hill ... very close to campus. It's a 12-minute bike ride to work. It takes at least that long to drive, and by the time I find a parking spot, it makes it a faster commute than driving — AND it's fun!
What advice do you have for others who may be considering switching their commute to cycling?
If you live as close as I do, it's a no-brainer. If you live farther away, think about a multi-modal commute. Taking a bike onto a bus or light rail is SUPER EASY. Maybe you ride a bike through your neighborhood to a Light Rail or bus stop then ride to campus. It makes it more reasonable than a 45-minute bike ride might be, especially if there isn't a lot of cycling infrastructure (like protected bike lanes) on your route.
Anything else you'd like to share about your commute?
I am going to be 48 this year, and my knees are starting to feel it. When we received that first cost-of-living adjustment, I bought an electric-assist bike. It totally flattens any hills that might be on my path and makes it easier to take a route that was a little longer but had more time in a protected bike lane. It certainly wasn't the most expensive electric bike out there and has been working really well for me.
Commuting by bike has made me realize that people blocking the bike lanes is a big pet peeve. I started an Instagram account called @BaltimoreBikeBlocker where I take pictures of the offenders and try to tag the company that owns the trucks. (It's almost always transit or construction crews that use the bike lanes as spots for additional parking). I tagged @restonlimousine, and they gave me a really nice response that they would use it as a teaching opportunity for what not to do. That's a total win for me!
Learn more about bike resources at UMB by visiting the Parking and Transportation website. For a map of bike parking and fix-it station locations, visit the UMB Campus Sustainability Map.