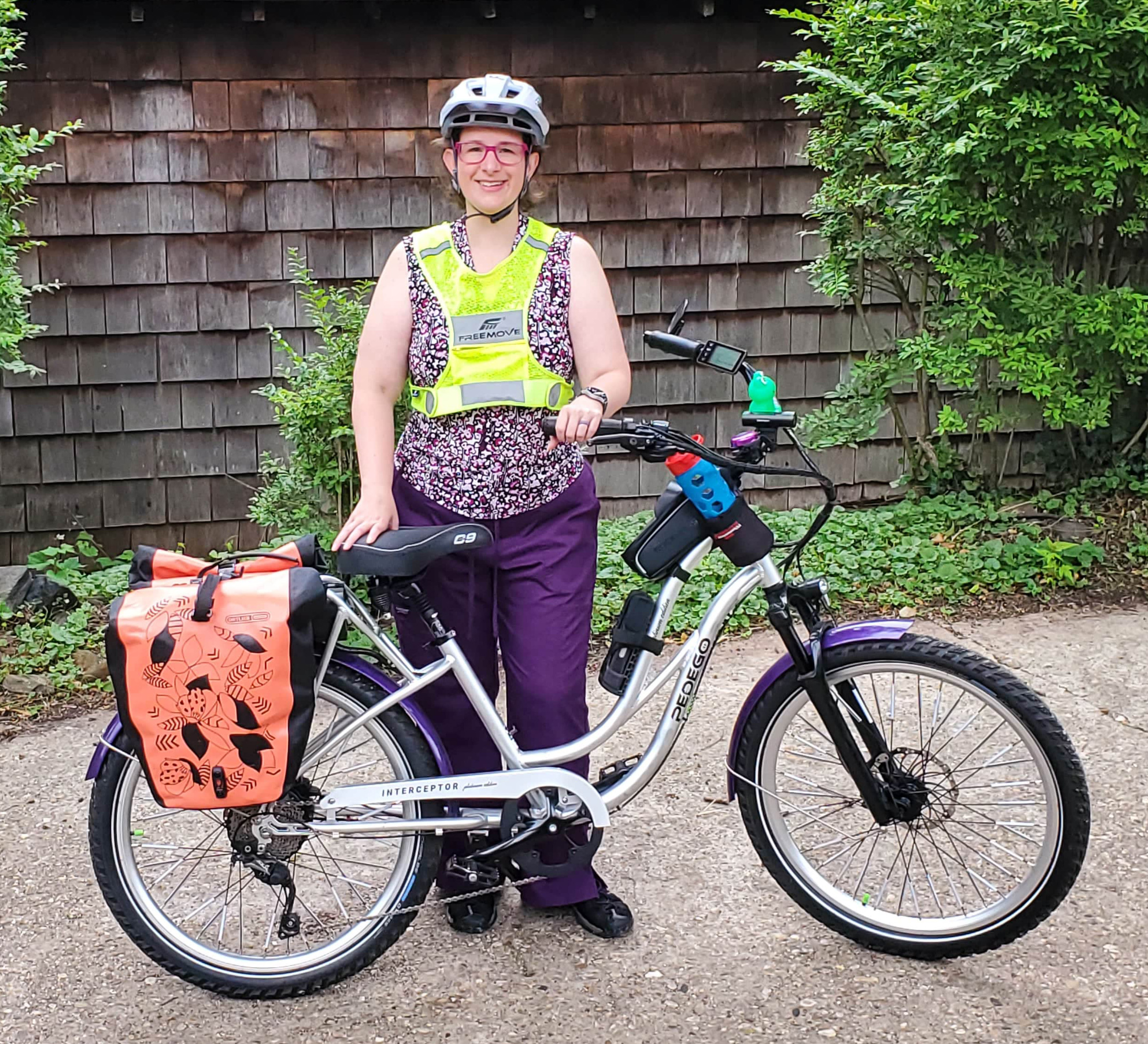 Office of Emergency Management staff member rides her bike to work but also has plenty of backup plans.
---
The UMB Office of Sustainability is featuring UMB staff, faculty, and students who commute to and from campus using sustainable methods in place of driving in a single-occupancy, gas-powered vehicle. If you've never thought of taking the MTA or carpooling with a colleague to get to campus, now is a great time to consider these and other sustainable commuting methods!
Our fourth feature in the series is a Q&A with of the Office of Emergency Management's Laura Cathcart, who rides her bike to UMB.
Do you have a backup plan if your primary method of cycling falls through for some reason (inclement weather, flat tire, etc.)?
I have several backup plans. I do work in emergency management after all!
For mechanical issues: I carry with me much of the equipment I need to fix a flat tire or other mechanical issue. I try to perform my own bike maintenance so that I am familiar with how it works and how to use my tools.
For inclement weather: There are three types of inclement weather that I find hazardous and don't ride in. 1) Precipitation that makes it difficult to see through my glasses. 2) Wind gusts strong enough that it's difficult to control my bike. I gauge this by wind warnings on the Key Bridge. 3) Snow or ice on the ground.
For backup transportation, my husband will usually drive me. If he's not available, I am able to take bus or light rail for free thanks to the MTA sticker we can utilize as UMB employees.
Why did you decide to utilize cycling as your method of commuting, and what's your favorite part about biking to UMB?
I love biking and I hate exercising! Sounds comically counterintuitive, I know. I knew that if I incorporated biking into my daily routine that I would get exercise without having to make time to exercise. Biking helps me feel healthier. I struggle with chronic pain from an old firefighting injury, and biking is one of the few activities that reduces the pain. There is something exhilarating about moving fast while balancing on two wheels. It's also a nice perk that I don't have to pay to park on campus.
What advice do you have for others who may be considering switching their commute to cycling?
I intentionally live close to work in a community that is bike-friendly so that bike commuting is realistic.
Getting an electric bike made commuting enjoyable for me. I don't have to worry about how much weight I am carrying. I can put in as much or as little effort as I desire in the moment. Sometimes, I want to pedal hard and burn off some frustration. Other times, I am tired and just want a leisurely ride home. The best perk of all — I can ride in my work clothes without getting them all sweaty!
I prioritize comfort on my bike. I spent one year trying out different bikes until I selected mine. I tried different sizes, styles, and brands until I found the perfect bike for me. As I rode more, my saddle wasn't comfortable anymore, so I found a more comfortable one. Periodically, I have to make adjustments to my handlebars to keep my wrists comfortable.
Anything else you'd like to share about your commute?
I always familiarize myself with a new commute route on the weekends when there is less traffic. I know many routes that I can take to and from work so I can easily change up my scenery and detour if needed. I try not to commute at the peak of rush hour. I find that the riding is more peaceful and easier at the beginning or end of rush hour when there are fewer cars on the roads.
Learn more about bike resources at UMB by visiting the Parking and Transportation website. For a map of bike parking and fix-it station locations, visit the UMB Campus Sustainability Map.