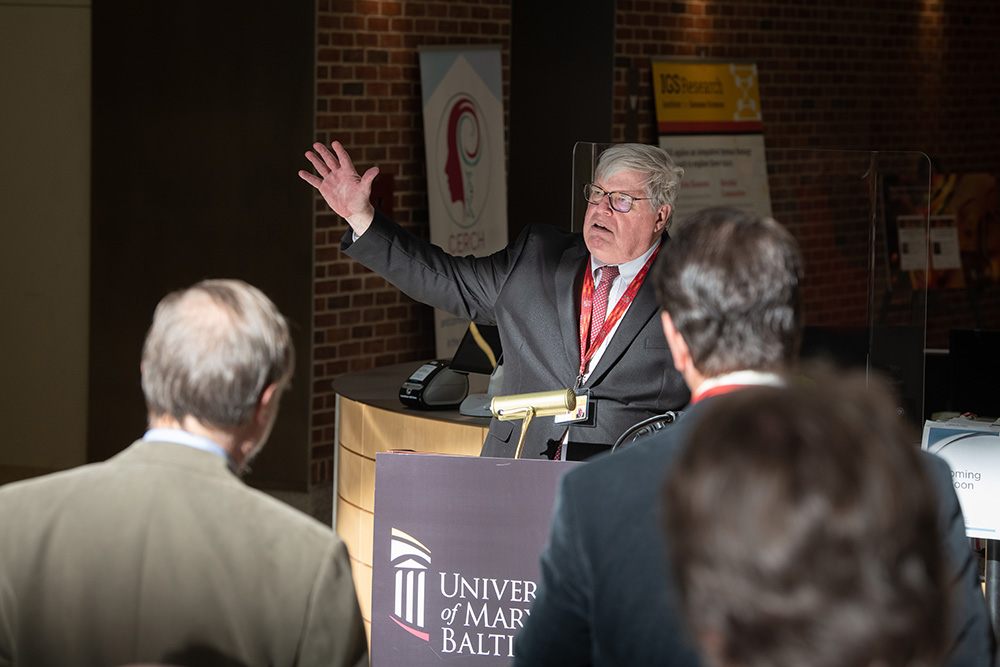 The new vice president for research at UMB and the University of Maryland, College Park talks to "CATALYST" magazine about his goals, research, and some things that may surprise you about him.
---
Gregory F. Ball, PhD, was named the vice president for research (VPR) at the University of Maryland, Baltimore (UMB) and the University of Maryland, College Park (UMCP) in January. In his new role, Ball will oversee the joint research enterprise at the two institutions, a collaboration that garners a combined $1.3 billion in research awards annually.
Ball had served as dean of UMCP's College of Behavioral and Social Sciences for the past seven years. Before joining UMCP, he was vice dean for science and research infrastructure in the Krieger School of Arts and Sciences at Johns Hopkins University.
Ball took time out of his busy schedule to talk to CATALYST magazine two months after assuming his three-year appointment on Feb. 1.
How has your background at Johns Hopkins and College Park prepared you to lead research at UMB/UMCP?
At Johns Hopkins, my primary faculty appointment was in Psychological and Brain Sciences in the Krieger School of Arts and Sciences, but I had secondary appointments in Neuroscience at the School of Medicine and in Biochemistry in the School of Public Health. With these multiple appointments, I learned a lot about the challenges and rewards of units in Arts and Sciences collaborating with professional schools such as Public Health and Medicine. I served in the Krieger School dean's office for seven years as a vice dean of Science and Research, so many of the duties required of the VPR here at Maryland were in my purview such as compliance issues (Institutional Review Board and American Association for Laboratory Animal Science, etc.) as well as issues related to promoting research activity. When I came to College Park and become dean of the College of Behavioral and Social Sciences, I became familiar with the complexities of the College Park campus, and I was involved in collaborations with UMB. So all these activities at Hopkins and at Maryland provided me with a good foundation to serve as VPR.
Read Dr. Ball's answers to other questions at CATALYST magazine.
---
You can read the Spring 2022 issue of CATALYST magazine, which highlights the incredible work done by School of Medicine scientists and clinicians who successfully transplanted a genetically modified pig heart in a patient who survived for two months. We also share stories about law school alumnus Tamika Tremaglio, who now leads the National Basketball Players Association; Wendy Shaia, executive director of the School of Social Work's Social Work Community Outreach Service; the UMB CURE Scholars Program's first cohort going to college; the 50th anniversary of the School of Pharmacy's Maryland Poison Center; and much, much more!