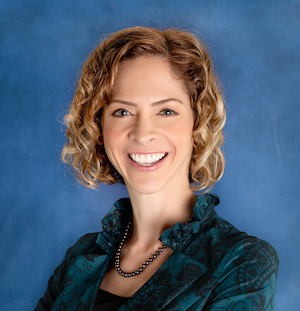 Michelle Pearce, PhD, professor at the University of Maryland Graduate School and a clinical psychologist, recently was awarded a subproject of the Spiritual and Religious Competencies Project.
---
Michelle Pearce, PhD, and her colleagues have a lofty goal: to change graduate education so that students pursuing degrees in mental health have basic religious and spiritual competencies to treat patients.
Pearce, a professor at the University of Maryland Graduate School and a clinical psychologist, recently was awarded a subproject of the Spiritual and Religious Competencies Project, which will address barriers to equipping mental health professionals with the ability to address religious or spiritual dimensions of clients' lives.
Pearce said religion and spirituality are often overlooked in therapy.
"To provide our clients with the best care, we need to provide therapists with effective training. We have good research showing that many clients want their spirituality addressed in their therapy but that therapists are rarely trained on how to do this," she said. "Our study aims to change the landscape of graduate training in all mental health disciplines."
Pearce and her colleagues have developed standardized curriculum to integrate religious and spiritual competency training into graduate courses. The hybrid curriculum includes an online training program as well as in-person discussion questions and role-play scenarios.
The curriculum will be used by 20 instructors from counseling, marriage and family therapy, psychology, and social work programs across the nation who will replace 15 percent of the content in a required clinical course with the spiritual competency content. Pearce and her colleagues will provide instructors with a one-day training session, guidebooks, and consultation calls during the course.
Pearce, whose main area of research is the development of spiritually integrated psychotherapies, such as those for depression and post-traumatic stress disorder, says that this training will help students become better therapists.
"If something is important to clients, it should be important to their therapists. Patients can't just check their spiritual beliefs, values, practices, and worldview at the therapy door. These things will be part of therapy whether or not the therapist addresses it," Pearce said.
She recalled a time when she was treating a patient and found spiritual beliefs to be relevant to the treatment.
"I had a client who didn't disclose any spiritual struggles, but when I asked directly about spirituality, she revealed it was the most important part of her life," Pearce said. "She felt God was punishing her for something, and this perception was the root cause of her depression. If I hadn't asked about her spirituality, I would have missed the main things causing and maintaining her depression."
The subproject is part of a nationwide project led by Joseph Currier, PhD, a psychology professor at the University of South Alabama. In addition to Pearce and the University of Maryland, Baltimore, the project involves more than 30 professors and graduate students from Baylor University, Stetson University, and the University of California, San Diego. The three-year, $5.2 million grant is funded by the John Templeton Foundation, which supports spiritual understanding through scientific research.
"This is a pioneering effort," Currier said. "There have been smaller projects like this one. This is the first time there's been a project of this magnitude."
Pearce, who is director of the Graduate School's certificate program on Integrative Health and Wellness, has a background in therapy and spirituality. She wrote the book "Cognitive Behavioral Therapy for Christians with Depression: A Practical Tool-Based Primer" in 2016, and her research has involved training practitioners in spiritual competencies.
"This grant allows us to go one step further and reach individuals early in their clinical training. We believe by changing graduate education, we will have a greater impact on the mental health field," she said.
In addition to writing and implementing the curriculum, Pearce and her colleagues will evaluate the efficacy, feasibility, and acceptability of the program.
For the first six weeks of the course, students will not learn any material on spirituality and mental health. For the second six weeks, they will learn the standardized curriculum. Pearce and her colleagues will assess students at baseline, six weeks, and 12 weeks for changes in their spiritual competency, and the instructors will provide feedback on their experience of integrating the content in their course.
The final step of the research will be to disseminate the program and all face-to-face teaching materials to other mental health graduate training programs interested in strengthening religion and spirituality coursework.
"We have a plan in place to distribute our course materials freely after the study is complete and to help mentor other faculty who want to integrate it into their courses," Pearce said.
Pearce pointed out that while 94 percent of medical schools teach religion/spirituality and health, that sea change took two decades.
"This change will take time in mental health graduate training, but we're on our way. It's an exciting place to be," she said.