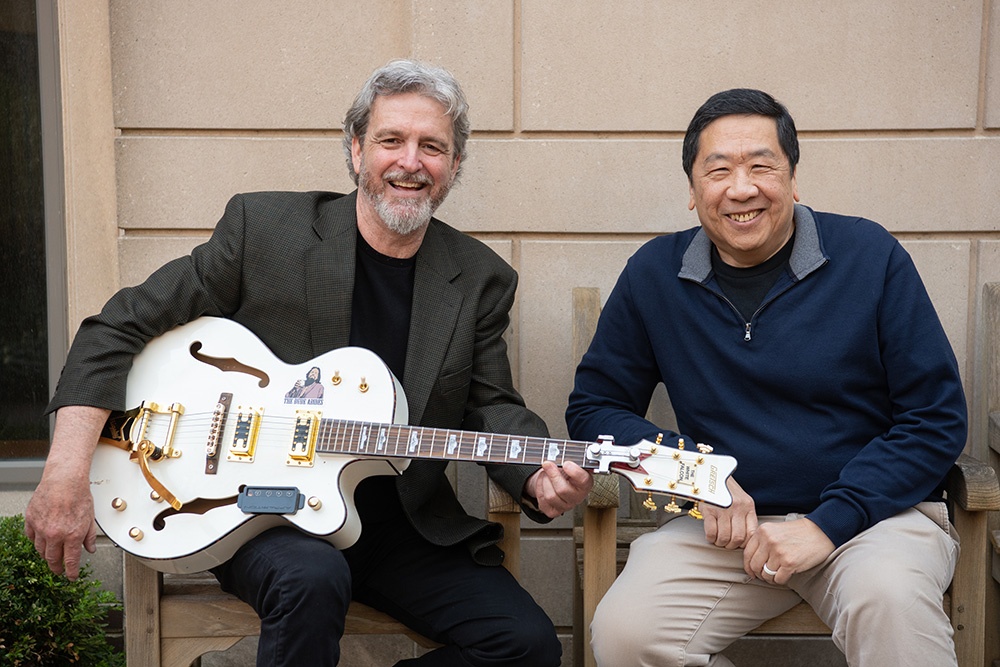 During the 2021 academic year, 16 student attorneys helped 78 clients representing a broad range of technologies and consumer products and services. Read more about the clinic in "CATALYST" magazine.
---
The Intellectual Property and Entrepreneurship Clinic (IPEC) at the University of Maryland Francis King Carey School of Law is helping Marylanders realize the American Dream, according to clinic director and law school professor Patricia Campbell, JD.
"We're taking clients who come to us with just an idea and we're cultivating it to the point where they're setting up businesses that are earning money and supporting people and creating jobs," she says.
Now in its fifth year, IPEC was established in 2018 as an expansion of the law school's longstanding Intellectual Property Law Clinic. The inclusion of the entrepreneurship component ensured an even greater impact on the startup community in Maryland, as well as outstanding educational opportunities for students.
In the 2021 academic year alone, IPEC student attorneys filed 15 patent applications, 40 trademark applications, and four copyright registrations while creating three limited liability companies.
Pat Geraghty, a lifelong music hobbyist and professional electrician, has been an IPEC client since 2014 when he sought out the clinic's advice about a device he created to regulate electrical voltage for guitar amplifiers. When Geraghty displayed his invention called the Brown Box at a music trade show, he started getting calls from music legends such as the Eagles and Rock and Roll Hall of Famer Sammy Hagar who were interested in his innovative product. Geraghty knew he needed help to protect his invention, but the cost of a patent attorney was prohibitive for the self-proclaimed "workaday guy" from New Market, Md.
After reading an article about law school clinics providing affordable services to people like himself, Geraghty reached out to Maryland Carey Law and was connected to Campbell.
Geraghty says working with the clinic was a blessing that helped catapult his idea into a successful business, AmpRx Power Solutions, which sells several amp attenuating devices including the Brown Box. "Had it not been for the clinic, I wouldn't be where I am because I wouldn't have known what to do. I never would have been able to afford a patent attorney," he says.
Things worked out splendidly for Geraghty, whose AmpRx success culminated in the sale of the company in January to entrepreneurs in Nashville.
The success came as no surprise to Campbell, who shared that during the 2021 academic year 16 student attorneys helped 78 clients representing a broad range of technologies and consumer products and services, including virtual reality, artificial intelligence, COVID-19 detection, diabetes detection, blood clot treatment, video gaming, drone fleets, information security, orthopedics, prosthetics, content streaming, wineries, and more. "Our students, under the supervision of staff attorneys, are helping clients set up businesses that are having a real impact on Maryland's startup economy," she explains.
Read more abou IPEC in the latest issue of CATALYST magazine.
---
You can read the Spring 2022 issue of CATALYST magazine, which highlights the incredible work done by School of Medicine scientists and clinicians who successfully transplanted a genetically modified pig heart in a patient who survived for two months. We also share stories about law school alumnus Tamika Tremaglio, who now leads the National Basketball Players Association; Wendy Shaia, executive director of the School of Social Work's Social Work Community Outreach Service; the UMB CURE Scholars Program's first cohort going to college; the 50th anniversary of the School of Pharmacy's Maryland Poison Center; and much, much more!