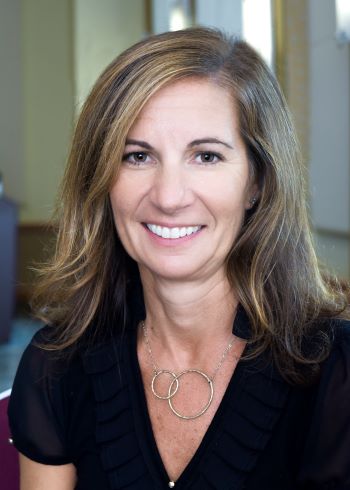 Assistant professor awarded $450,000 to study telehealth palliative care for people living with dementia in nursing homes and their care partners.
---
The University of Maryland School of Nursing's (UMSON) Joan Carpenter, PhD, CRNP, ACHPN, FPCN, assistant professor, is one of 12 nurse scientists accepted to the third cohort of the Betty Irene Moore Fellowship for Nurse Leaders and Innovators. This fellowship program, funded by a $37.5 million grant from the Gordon and Betty Moore Foundation, recognizes early- to mid-career nursing scholars and innovators with a high potential to accelerate leadership in nursing research, practice, education, policy, and entrepreneurship.
Betty Irene Moore Fellows develop skills and confidence in leadership and innovation improving health care delivery and advancing health. As part of the three-year fellowship program, fellows receive $450,000 to conduct an innovative project or study with the potential to address a gap in knowledge, meet a vital need, alter care delivery, or design a new solution to advance health. Carpenter's project, "Improving Access to Dementia Palliative Care in Nursing Homes" focuses testing an evidence-based palliative care intervention delivered by nurse practitioners using telehealth in a pragmatic clinical trial. Throughout the project period, from July 1, 2022 - June 30, 2025, Carpenter will gain advanced skills in leveraging opportunities for change to influence health policy and reimbursement guidelines. Her overarching goal is to combine strategically clinical practice, research, and policy interests to discover and implement novel strategies to expand access to palliative care for vulnerable older adults.