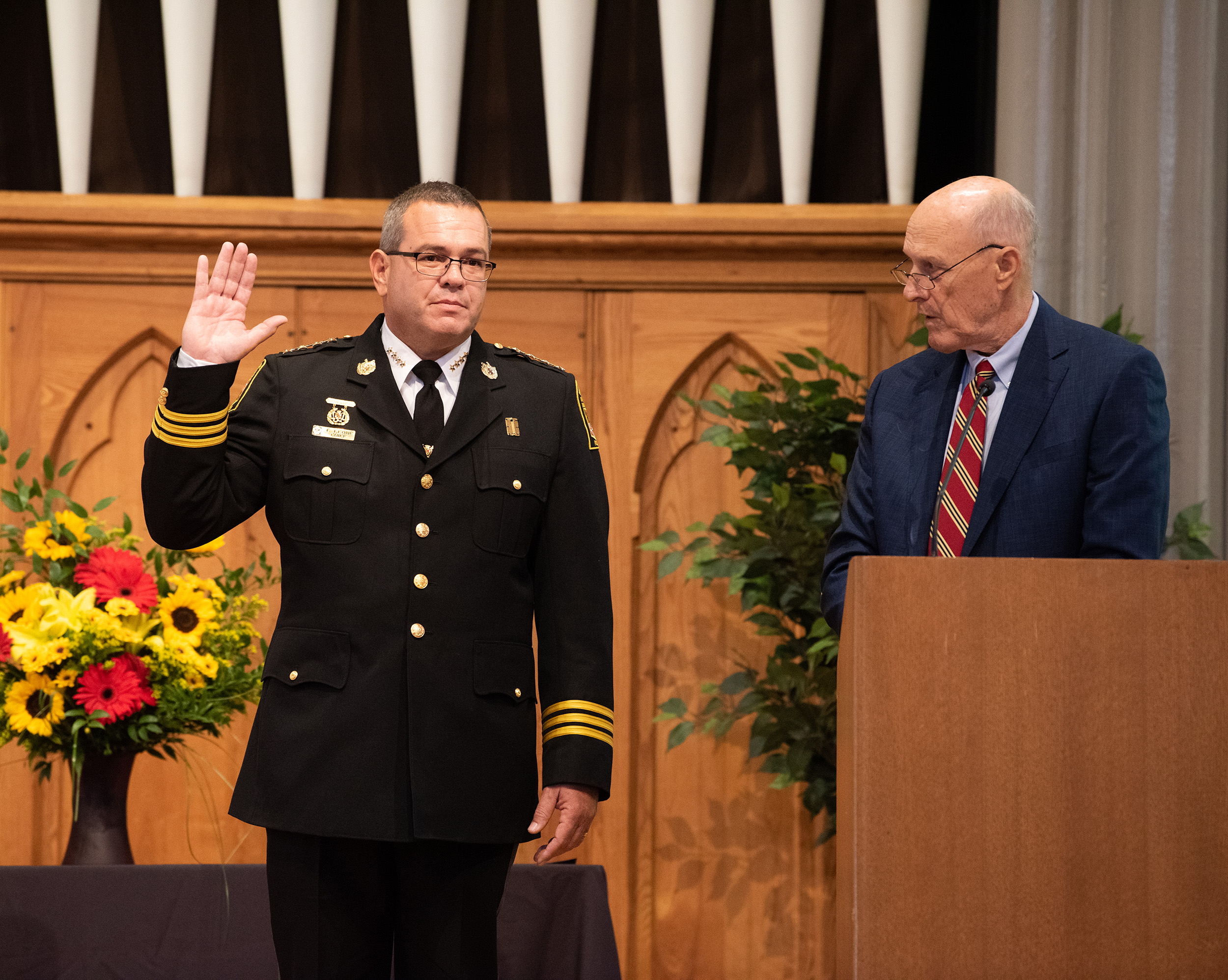 "I get to work with the best and brightest. I get to help put my own fingerprint on helping to develop future leaders," chief says at swearing-in ceremony nearly one year into his tenure.
---
"I, Thomas Leone, do solemnly swear or affirm that I will bear true faith and allegiance to the United States of America and to the State of Maryland." With his right hand raised, Chief Thomas Leone, MSL, repeated these words of the University of Maryland, Baltimore Police Department (UMBPD) oath of office. Westminster Hall filled with applause as he recited the final words of the oath.
The swearing-in ceremony took place Sept. 14, nearly one year after Leone became the department's chief Sept. 21, 2021. More than 100 people attended the event, including UMB leadership, deans, Baltimore-area university police chiefs, and Baltimore Police Department leadership including Commissioner Michael Harrison.
"Chief Leone is an outstanding leader here at UMB, and it's my pleasure to swear him in," said UMB President Bruce Jarrell, MD, FACS. In his remarks, Jarrell highlighted the history of UMBPD and the department's commitment to community policing.
(Watch a video about the event below.)
During his first year as chief, Leone has grown these community outreach initiatives to include an innovative partnership with the University of Maryland School of Social Work. UMBPD is the first university police department in the country to have social work interns and clinical social workers partnering with police officers to provide case management resources to the community. This collaboration extends to community organizations, including returning citizens and youth ambassadors from West Baltimore.
Leone also has championed increased training for police officers, who complete nearly four times the amount of state-required training each year. These trainings include crisis intervention team and homeless outreach, anti-bias training for law enforcement, pro-LGBTQ+ policing, mental health first aid, trauma-informed policing, de-escalation and minimizing use-of-force, and much more.
UMB also has experienced a decrease in crime under Leone's leadership. Using community outreach and data-driven policing strategies, UMB saw a 32 percent decrease in crime in 2021 compared to 2020.
"I am so proud of the commitment that Chief Leone and the UMB Police Department have made, not only to our community, but to being professionals in their specific disciplines," said Dawn Rhodes, DBA, UMB senior vice president and chief business and finance officer.
Following the oath, Leone's wife, Kelli, pinned the chief badge to his uniform as their son and grandson looked on from the crowd. Leone thanked the department, the University, and the community for their support.
"I get to work with the best and brightest. I get to help put my own fingerprint on helping to develop future leaders," Leone said. "For our faculty, staff, and students to reach their full potential, they have to operate in a safe space, and that's what I'm here, and our team is here, to do."