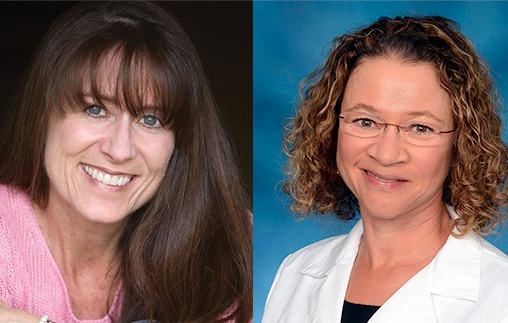 Honor from "The Daily Record" recognizes outstanding professional accomplishments, community leadership, and mentoring.
---
Two University of Maryland, Baltimore (UMB) leaders — Jennifer B. Litchman, MA, and Donna L. Parker, MD, FACP — were named to the Maryland's Top 100 Women list for 2022 by The Daily Record.
Litchman, senior vice president for external relations at UMB, was named to the list for the second time since 2016. Parker, a professor in the Department of Medicine and senior associate dean for undergraduate medical education at the University of Maryland School of Medicine (UMSOM), is a first-time honoree.
The Daily Record, a statewide newspaper that focuses on business, law, and government, has honored more than 1,700 women with the Top 100 Women designation since 1996, recognizing outstanding professional accomplishments, community leadership, and mentoring.
"I'm truly honored to be named to Maryland's Top 100 Women list for the second time," said Litchman, who also is the founder and chair of the University's Council for the Arts & Culture and the UMBrella women's empowerment group. "I represent all of the women at UMB who are mentoring others and helping our colleagues find footholds on their paths to success."
Parker said she was surprised and humbled to be included on the list.
"I'm looking forward to the opportunity to meet with and learn from these incredibly accomplished women," she said. "Being recognized for my work in medical education means that all of the wonderful and dedicated medical educators whom I've collaborated with over the years are also being recognized. Education is a team sport, and I am grateful to The Daily Record for acknowledging the value of our work."
Litchman and Parker will join the other Top 100 Women honorees at an in-person celebration May 9 at the University of Maryland, College Park's Riggs Alumni Center.
In her nomination, Litchman said she considers the creation of UMBrella and the arts council, both of which were founded in 2015, to be her most significant professional accomplishments. "Both initiatives are filling needs that had been articulated by many at UMB for years," she said.
UMBrella (UMB Roundtable on Empowerment in Leadership and Leveraging Aspirations) supports the success of women and those who identify as women by helping them achieve their personal and professional goals, enhancing their leadership skills, and championing women at all levels of the University. It organizes an annual Women's History Month symposium, coaching program, and speaker series and provides scholarships to promote professional growth and development. Litchman is a mentor in the coaching program.
The Council for the Arts & Culture's mission is to promote the history of UMB and surrounding neighborhoods and to celebrate the creative talents of the University community, raising awareness of the links between the arts and sciences. It has partnerships with three Baltimore theaters, the Baltimore Symphony Orchestra, and the Bromo Arts & Entertainment District to provide the UMB community with programming opportunities and reduced-price tickets to shows and concerts.
Since 2019, the arts council has produced three editions of 1807: An Art & Literary Journal, which is composed of art and written-word submissions from UMB students, staff and faculty, University of Maryland Medical Center employees, and West Baltimore neighbors. The inaugural issue of 1807 won the PRNEWS Corporate Social Responsibility Annual Publication Award.
Litchman is a board member of Port Discovery Children's Museum and Everyman Theatre, a member of the YumiCARES Foundation Gala Committee, and was an inaugural member of the Women's Leadership Circle of Ronald McDonald House Charities of Baltimore. She was named one of Baltimore magazine's Women Who Move Maryland in 2018, was selected to the Leadership Maryland Class of 2017, and won the Association of American Medical Colleges' Award for Excellence in 2000.
Parker has been a close ally and strong advocate for thousands of medical students at UMSOM since joining the faculty in 1992. In her current roles, she aims to combine exceptional competence, integrity, professionalism, and innovation to educate, mentor, and guide the career development of medical students. She is popular with students, who have chosen her to serve as a platform marshal at several graduation ceremonies. Her mentoring relationships with students do not end at graduation — many alumni continue to seek her advice and guidance, Parker said.
Parker also collaborates with team members across UMSOM and the University of Maryland Medical Center to develop new resources for students. She was instrumental in designing and implementing a data-driven tool to help match medical students with residency programs that offer the "best fit," facilitating a 98 percent match rate.
Under her leadership, UMSOM designed and launched the Renaissance Curriculum, which intends to develop lifelong learners who are clinically excellent and possess humanism, professionalism, scholarship, leadership, critical thinking, and attention to social justice and diversity. Parker and her colleagues who produced the curriculum were honored as the UMB Founders Week Educators of the Year in 2021.
Parker's other honors include a 2021 Leaders in Health Care Award from the Baltimore Business Journal, a 2019 University System of Maryland Board of Regents Faculty Award for Excellence in Mentoring, and a 2017 Careers in Medicine Excellence in Medical Student Career Advising Award from the Association of American Medical Colleges.
"This year's Maryland's Top 100 Women work hard, play hard, and create better lives for their teams, their networks, and their families," Suzanne Fischer-Huettner, senior group publisher of The Daily Record, said in announcing the honorees. "They are inclusive change agents who are not afraid to face adversity and stand up for what they believe. Their community impact and commitment to mentoring are outstanding."
(In photo: Jennifer Litchman, left, and Donna Parker)