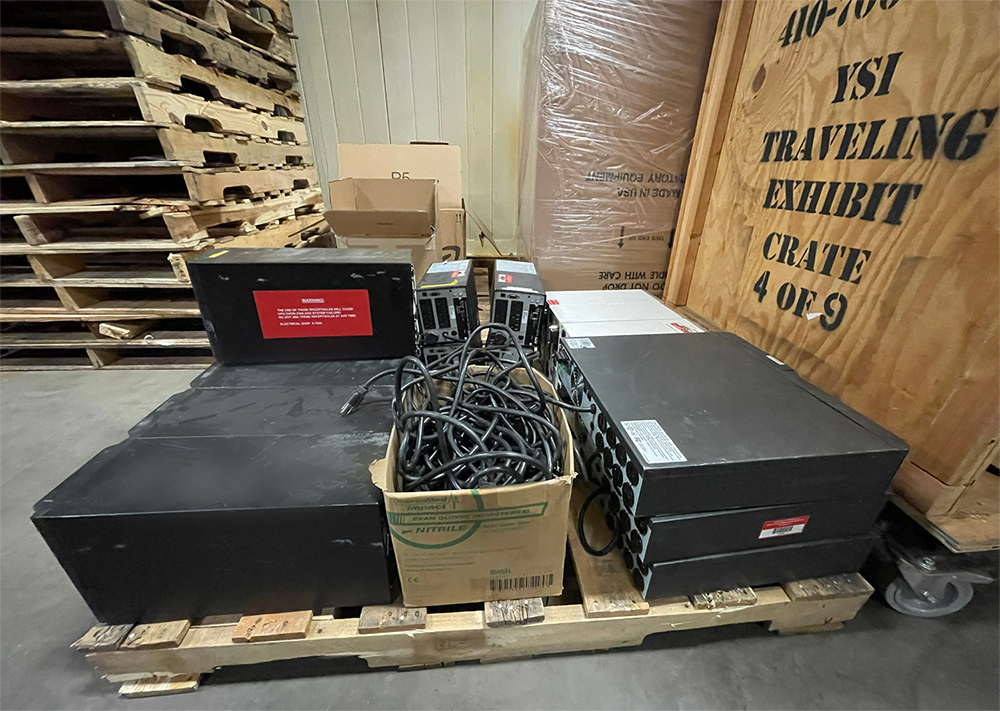 The excess property declaration/capital asset disposal form transitions to DocuSign.
---
If you've ever found yourself needing to dispose of University of Maryland, Baltimore (UMB) property, you're in luck because the process just got easier.
Any capital asset, or property valued at $5,000 or greater, that is disposed of, donated, sold, or otherwise no longer a part of UMB's campus must be reported to General Accounting to be removed from the University's capital asset inventory. All other items that are valued at less than $5,000, like furniture and office or lab equipment, are considered "surplus property." These items must still be accounted for by UMB's Office of Strategic Sourcing and Acquisition Services.
Whether a capital asset or surplus property is being disposed of, sold, donated, or removed from the University, a form must be filled out. To cut down on paper waste and make the process more efficient, General Accounting and Surplus Property partnered with the Office of Sustainability and the Center for Information Technology Services (CITS) to move the form to DocuSign.
Why the Switch?
Switching to DocuSign allows this process to be more streamlined. DocuSign has capabilities to route forms to the appropriate approval parties depending on the type of property being removed. Because these forms require multiple signatures, there is less printing, scanning, interoffice mailing, and/or emailing taking place. All signing parties also automatically receive a copy of the completed document with everyone's digital signatures at the end of the process.
As telework becomes more common at UMB, secure digital forms are becoming more common. CITS has seen an increase in requests to move standard fillable PDF forms to DocuSign.
Opportunities for Reuse
If an office no longer needs an item but the item has usable life left, logistics manager Melvin Tuck works with the office to put the item on GovDeals, an online marketplace that auctions government and educational surplus items. These items are listed for 30 days on the website, and the profit goes back to the office or department that is selling the item. Reuse benefits both the seller, who gains a small commission for the product, and the buyer, who receives a product at a reduced cost.
Another opportunity to avoid the landfill is by donating items to a nonprofit, charitable organization, or local subdivision. Working with local organizations allows UMB to give back to the greater Baltimore community. Please consider this option if you have clothing/apparel; office supplies such as binders, notebooks, or pens; or bulk giveaway items like water bottles, totes, or lunchboxes.
Reuse ranks higher on the waste hierarchy compared to recycling because it reduces the resources needed to produce new material. As always, consider the useful life of the product and the impact it has at its end of life before purchasing to avoid waste to begin with.
How to Get Started
If you're looking to sell, dispose of, donate, transfer, or otherwise remove surplus property in your office, you can reference the DocuSign Procedures here (PDF) and the new DocuSign form here. If you are a new user of the form, it is recommended that you take a look at the procedures to understand what documentation may be required for your request.
General information on how to use DocuSign can be found on CITS' DocuSign page. You can find the procedural PDF, the DocuSign link, and a list of FAQs on the Surplus Property website.
(In photo: UMB stores items that are placed on the GovDeals website in a warehouse at the University of Maryland, Baltimore County.)