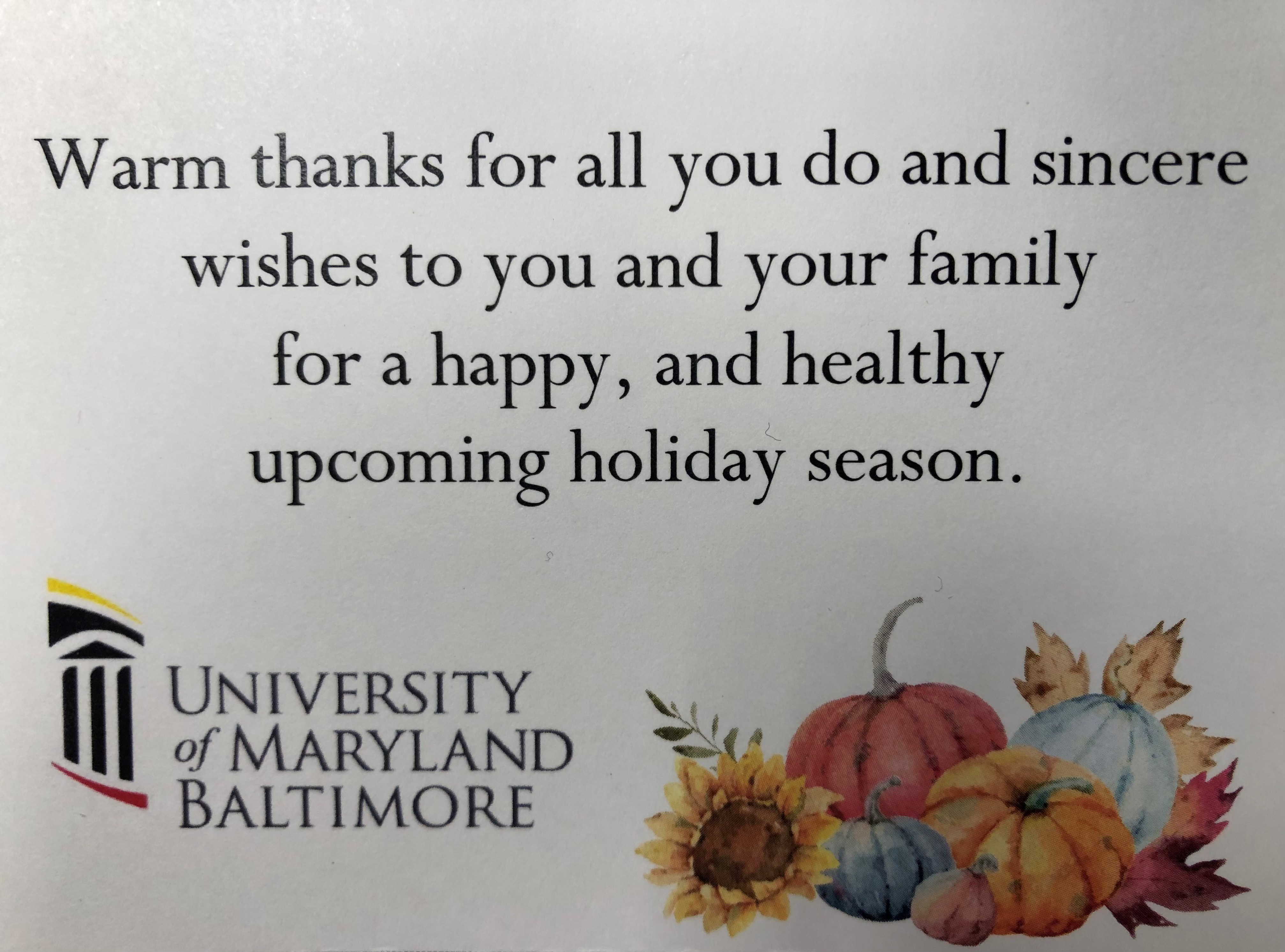 300-plus employees received grocery gift cards ahead of Thanksgiving.
---
For those who celebrate Thanksgiving, dinner was a little brighter this year for more than 300 Administration and Finance (A&F) employees, who received $25 grocery gift cards ahead of the holiday. The vouchers, funded through an A&F foundation account, can be used at most grocery store to purchase any food, not just turkeys.
"The well-being of our employees is important to our A&F leadership team. This was a small way to send that message to them and their families," says Senior Vice President and Chief Business and Finance Officer Dawn Rhodes, DBA. "Our A&F employees help keep our University running. Thanksgiving is the perfect time to show them how much we appreciate all they do."
Food prices have soared more than 10 percent in 2022 due to inflation. Members of the A&F Office of the Senior Vice President — Karen Park, MA, MBA; Latoya Ludd; and Lisa Crawley — worked together to purchase the vouchers and identify A&F employees who would benefit.
"We wanted to maximize the number of employees helped, so we chose anyone making $50,000 or less annually (adjusted for FTE)," says Park. "We were able to give gifts to more than 40 percent of our employees!"
In December 2021, the University System of Maryland (USM) raised the minimum wage to $15 per hour. In A&F, Public Safety, Environmental Services, and other employees not only benefited from the increase, but were also delighted to receive the $25 gift card. One security officer said the voucher made them feel appreciated and wanted to thank the team who made it happen. Another immediately told their family that they had the Thanksgiving turkey covered.
The A&F leadership team has been wanting to do "Operation Butterball" for years and were finally able to pull it off in 2022. "While we could not afford to provide something to all 700 employees, we have many amazing, exceptionally dedicated, inspiring A&F team members," says Rhodes. "And that's really something to be thankful for."