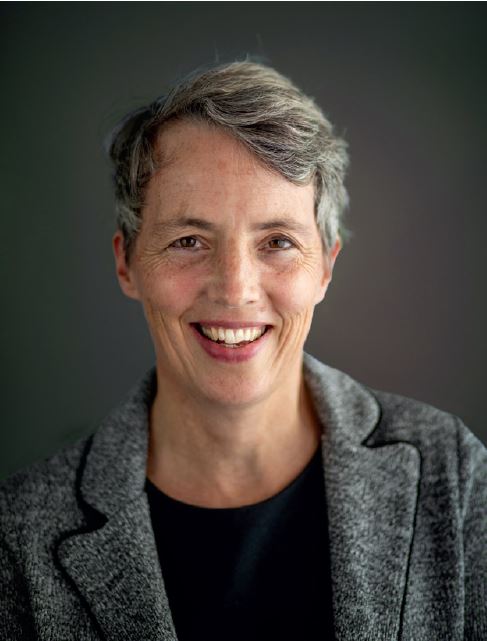 "Nurses shine from seeing people in their whole context, with their families, in their homes, at their schools, and in their churches," says Sarah Szanton.
---
Alumni Profile: Sarah Szanton, MS '98
"Over the course of the last year, with the world turning toward nursing and realizing the importance of health inequities, being a dean of a leading school of nursing is an opportunity to work toward a fairer world for all," says Sarah Szanton, PhD, MS '98, RN, FAAN, who was appointed dean of the Johns Hopkins School of Nursing (JHSON) in August.
Szanton's non-hospital nursing background is a window into contemporary health care, in which many receive care in nontraditional settings. In a reproductive health-focused position on Capitol Hill, she met a group of nurses serving as patient advocates intimately connected to the communities in which they worked. That interaction changed her, she says; she began volunteering at a free clinic and fell in love with the idea of building one-on-one relationships with people.
After earning her bachelor's degree in nursing from the JHSON (she also has an undergraduate degree in African-American studies from Harvard University), Szanton worked with migrant workers in Pennsylvania and then Health Care for the Homeless in Baltimore, advocating for migrant workers, people experiencing home-lessness, and other under-resourced communities. While working for Health Care for the Homeless, she earned her master's degree at UMSON, returning to the JHSON for her PhD.
Szanton is well known for her work in gerontology, health care equity and social justice, and nursing research. She is the co-developer of Community Aging in Place–Advancing Better Living for Elders (CAPABLE), a program that helps older adults receive the care they need at home, combining the services of nurses, occupational therapists, and handy workers to improve a person's mobility and independence and, as a result, decrease costs. (CAPABLE, which began in Baltimore, now operates in more than 40 sites and 23 states and is still run by the JHSON.)
"This is a boundless time to be a nurse," Szanton says. "So much is changing." She believes more nurses will become leaders of population health teams, as health care shifts its focus from illness to prevention and nursing continues to evolve to meet peoples' needs at home and in their communities. "Nurses shine," she says, "from seeing people in their whole context, with their families, in their homes, at their schools, and in their churches."
As the fifth dean of the JHSON, Szanton wants to ensure students meet their patients' needs, emotional and physical, wherever they see them. And she'll do this by focusing on situating nursing firmly in new models of care, continuing to increase the profession's diversity, and emphasizing person-centered outcomes to foster nurses in team care. "I think the challenge for nursing," she says, "is that we need to think boldly and with ambition about changing the nation's health, not just our profession."
---
THIS ARTICLE FIRST APPEARED IN THE SPRING 2022 ISSUE OF NURSING FORUM MAGAZINE.