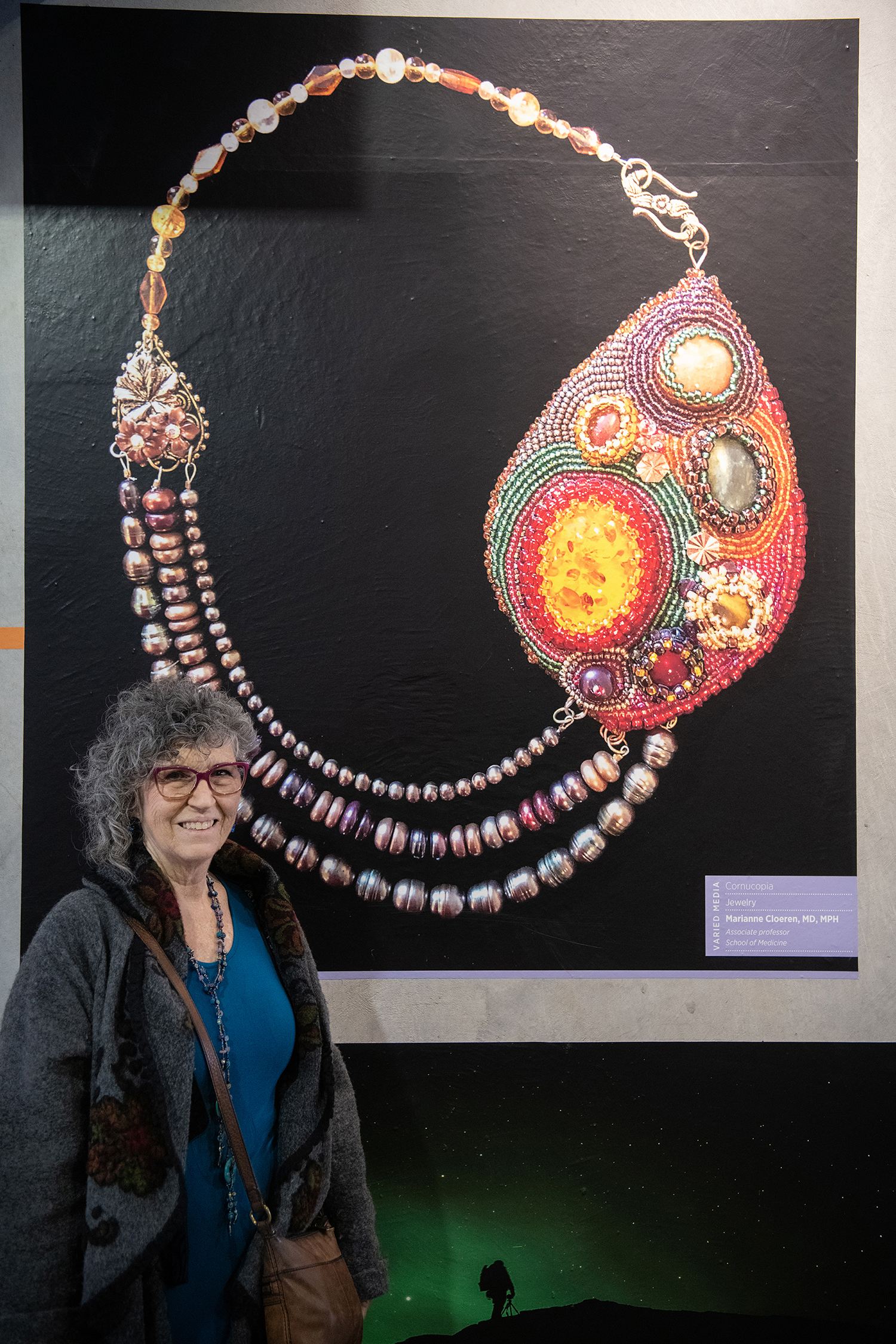 Display from second edition of UMB's art and literary journal illuminates underpass and highlights artistic talent across the University.
---
If you've walked through the Pearl Street underpass on the University of Maryland, Baltimore (UMB) campus over the past two years, you've surely noticed the artwork displayed along one side from the inaugural edition of 1807, UMB's annual art and literary journal.
Walk through it today, and you might do a double-take. In fact, the artwork on display has nearly doubled, with the west-side wall adorned with exhibits from the second edition of 1807, which was released in August 2020.
"It's lovely to walk through here and see all this beautiful art," said Marianne Cloeren, MD, MPH, associate professor at the University of Maryland School of Medicine and UMB's Public Health Officer. "It's also fun to see another side of people here on campus, many of whom you work with. Some of the art is really inspirational."
(View a photo gallery below and watch a video about the event at this link.)

Cloeren was speaking near a photo of her handmade, asymmetric necklace she called "Cornucopia" during a Nov. 2 get-together to mark completion of the Pearl Street Gallery's second phase. UMB President Bruce E. Jarrell, MD, FACS, attended the celebration along with about 40 staffers, 1807 artists, and members of the UMB Council for the Arts & Culture, including its founder and chair, Jennifer B. Litchman, MA.
Litchman and Jarrell both noted that 1807 and the Pearl Street Gallery highlight the artistic talents of health sciences and human services professionals that otherwise might be overlooked.
"We want people to realize that UMB is more than just the sum of its schools," said Litchman, who also is editor-in-chief of 1807 and UMB's senior vice president for external relations. "We have scientists, physicians, social workers, dentists, lawyers, and nurses, but we also have artists — people who are more than just their occupations. And we know the importance of the relationship between the arts and health, between the arts and well-being. That's also what we're showcasing here."
Jarrell, an accomplished blacksmith whose various metalworks have been featured in the first three editions of 1807, called the Pearl Street Gallery "phenomenal."
"To be able to walk through here anytime of the year and see all this terrific art is really great," he said. "UMB doesn't have a fine arts program, yet the artists here are fabulous. I know that everybody here today presumably has an interest in art. I do, of course, and I enjoy doing it. I would urge all of you to develop your skills and get something up on the wall."
The expansion of the gallery along Pearl Street was coordinated by Adam Weidenhammer, project manager, Office of Design and Construction, with support from Anthony Consoli, MArch, University Architect, and Dana Rampolla, director of integrated marketing and special projects, Office of Communications and Public Affairs.
The new exhibit features 27 pieces from among the journal's four categories (writing, visual arts, photography, and varied media) and, similar to the east side of the underpass, LED spotlights are mounted above for illumination. As an added touch, HVAC vents and units near the ceiling were painted in the 1807 category color schemes of orange, blue, green, or purple. Pieces from the third edition of 1807, released in 2021, will be showcased at a site to be determined, Litchman said. The fourth edition of the journal will be published this month.
"For the new gallery space, I chose artwork that would be representative of each category of art reflected in the journal," said Rampolla, who also is the creative director and managing editor of 1807 and a member of the arts council. "When doing this, I took into consideration color, composition, file size, and the type of artwork, so that the pieces aligned artistically.
"As a photographic creative, I am so happy that UMB is prioritizing the beautification of campus spaces," she added. "Being a part of the metamorphosis of this dim walkway into a vibrant, well-lit art immersion experience has been fulfilling."
Oksana Mishler, RDH, MS, DHSc, a clinical assistant professor at the University of Maryland School of Dentistry, will have art featured in the fourth edition. Her art also was displayed in the second and third editions. At the Nov. 2 celebration, she stood proudly near the display of her acrylic painting "Cherry Blossoms," which was inspired by a visit to see the famed Japanese cherry trees in Washington, D.C.
"This Pearl gallery is great. It's absolutely wonderful," said Mishler, a former Faculty Senate representative of the UMB arts council. "It's fabulous that we at UMB can get together on a different level, not just with teaching and engaging with the students, but to see what we do outside of our work. By having this gallery, more people are exposed to 1807, and that's a great thing, too."
Mishler added that she was thrilled to be an 1807 artist and included in the gallery, a sentiment shared by Cloeren and another artist, Melissa Bresnahan, associate director of corporate and foundation relations in the Office of Philanthropy.
Bresnahan, whose iPhone photo, "Milo McIver State Park, Oregon," is featured in the new exhibit, said, "I walk past this space about three times a week now, and it's just lovely to see all the color. I feel like I see something new each time I pass by. The arts journal is awesome — I'm really thankful to be a part of it."
"There was a poem on the wall that really pulled me in," Cloeren said, referring to "Imperfections in Spade," a drawing created from a poem by Melia Jannotta, MSW, a University of Maryland School of Social Work alumnus. "It's nice to see the creative side of people, and seeing this makes me want to do more of my art. I'm honored to be a part of 1807."
(In photo at top: School of Medicine associate professor Marianne Cloeren stands in front of a photo of the asymmetric, handmade necklace she called "Cornucopia.")