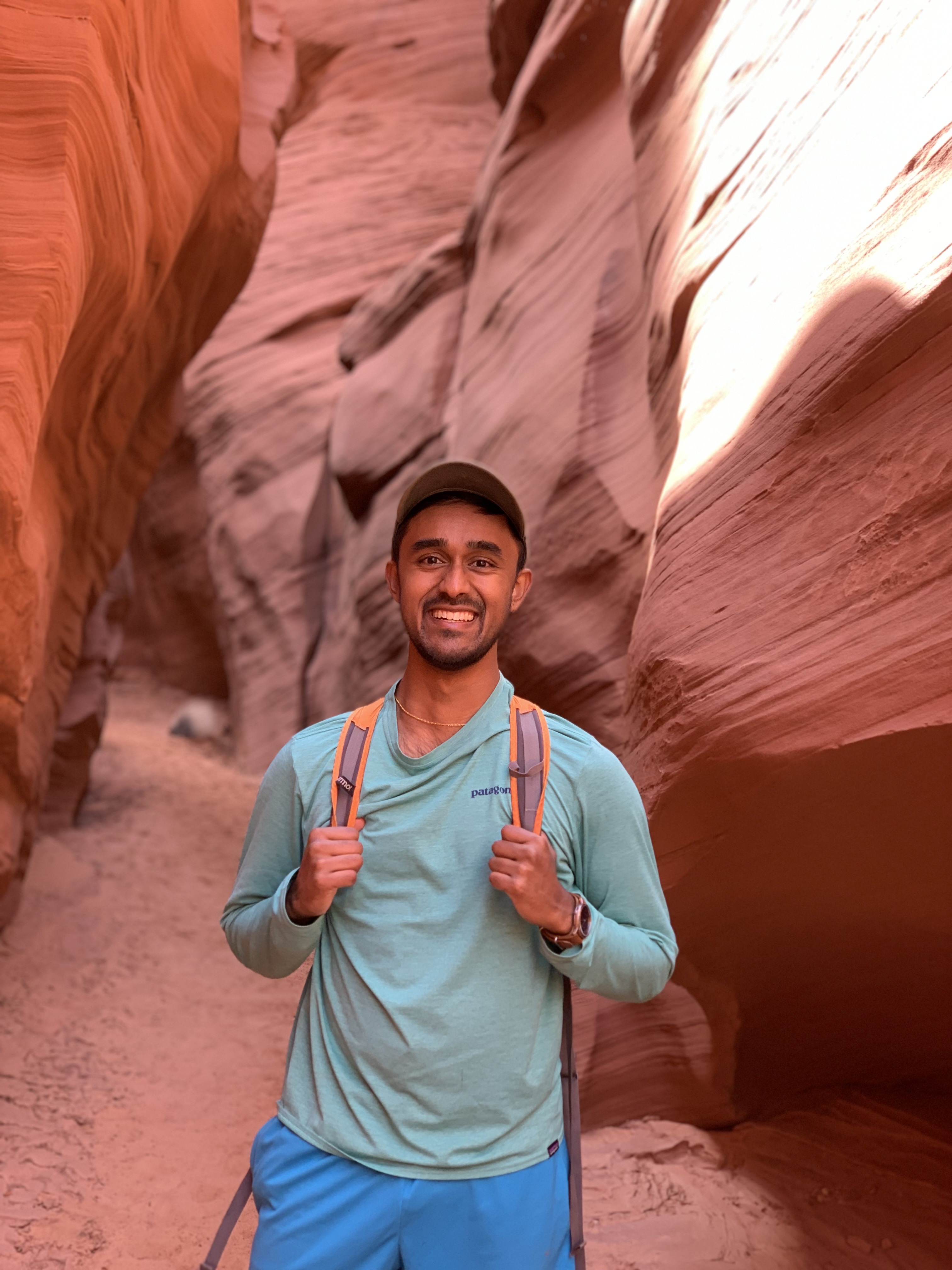 First-year medical student worked with other student advocates at UMB to create the first Medical Students for a Sustainable Future chapter in the state of Maryland.
---
Continuing our Sustainability Champions series leading up to Earth Day on April 22, the UMB Office of Sustainability would like to feature Donald De Alwis, a first-year student at the School of Medicine and leader of UMB's chapter of Medical Students for a Sustainable Future (MS4SF). De Alwis is originally from Silver Spring and studied public health science and environmental science and technology at the University of Maryland, College Park.
De Alwis has spent most of his life enjoying the outdoors — first, as a child exploring a local forest, and later, as a backpacker, photographer, and environmental health researcher. "Learning about the checks and balances of the natural world helped me understand that the health of current and future generations is contingent on a healthy environment, and sustainability is our golden key to a healthy, green future," De Alwis says.
As a first-year medical student, De Alwis serves as the research co-chair for the international organization Medical Students for a Sustainable Future and has worked with other student advocates to create the first MS4SF chapter in the state of Maryland at UMB. MS4SF is an international coalition of medical students working toward a healthier, greener future for their communities. The group recognizes the interplay between the health of the environment and the health of patients and works to make systemic change. Since the UMB chapter of MS4SF started this past fall, members have written op-eds, given legislative testimony, and are in the final stages of completing the first Planetary Health Report Card in the state of Maryland.
On the topic of legislation, De Alwis has been busy testifying in Annapolis in support of the FUTURE Act, a bill that aims to reduce the carbon footprint of University System of Maryland (USM) institutions (including UMB), establishes a scholarship fund for students from communities suffering environmental inequity, and pushes for a sustainability general education requirement for students at public higher education institutions in Maryland. De Alwis testified in support of the bill to the Maryland Senate and Maryland House of Delegates this spring, communicating two main points: the enormous, complex health impacts and health care-related financial costs of fossil fuel-derived energy, and the student leadership that this bill will foster among the 150,000-plus undergraduate/graduate students at USM institutions.
"This bill — and incredibly, several others this session including an omnibus climate bill called 'Climate Solutions Now' — center sustainability and combatting climate change, and I am excited to see what our representatives prioritize this session," says De Alwis.
When asked about one thing that fellow students, staff, and faculty at UMB can do to contribute to campus sustainability efforts, De Alwis emphasizes the importance of simply talking about it:
"Sustainability can play a role in nearly everything we do — from the foods we eat, to the clothes we wear, to the organizations and programs we put our time toward. You do not necessarily need to give up your car, stop eating red meat, and join Medical Students for a Sustainable Future [though these are great options!]. Being sustainable is as easy as entertaining the idea of sustainability, and keeping it front of mind as you talk to other students, faculty, and staff. Conversations about sustainability can plant seeds of change — and it's a great way to find like-minded peers!"
Do you have a UMB Sustainability Champion you would like to nominate to be featured? Please fill out this form. Self-nominations are welcome.
Subscribe here to the UMB Sustainability newsletter and follow the UMB Sustainability social media channels (Facebook, Twitter, and Instagram).