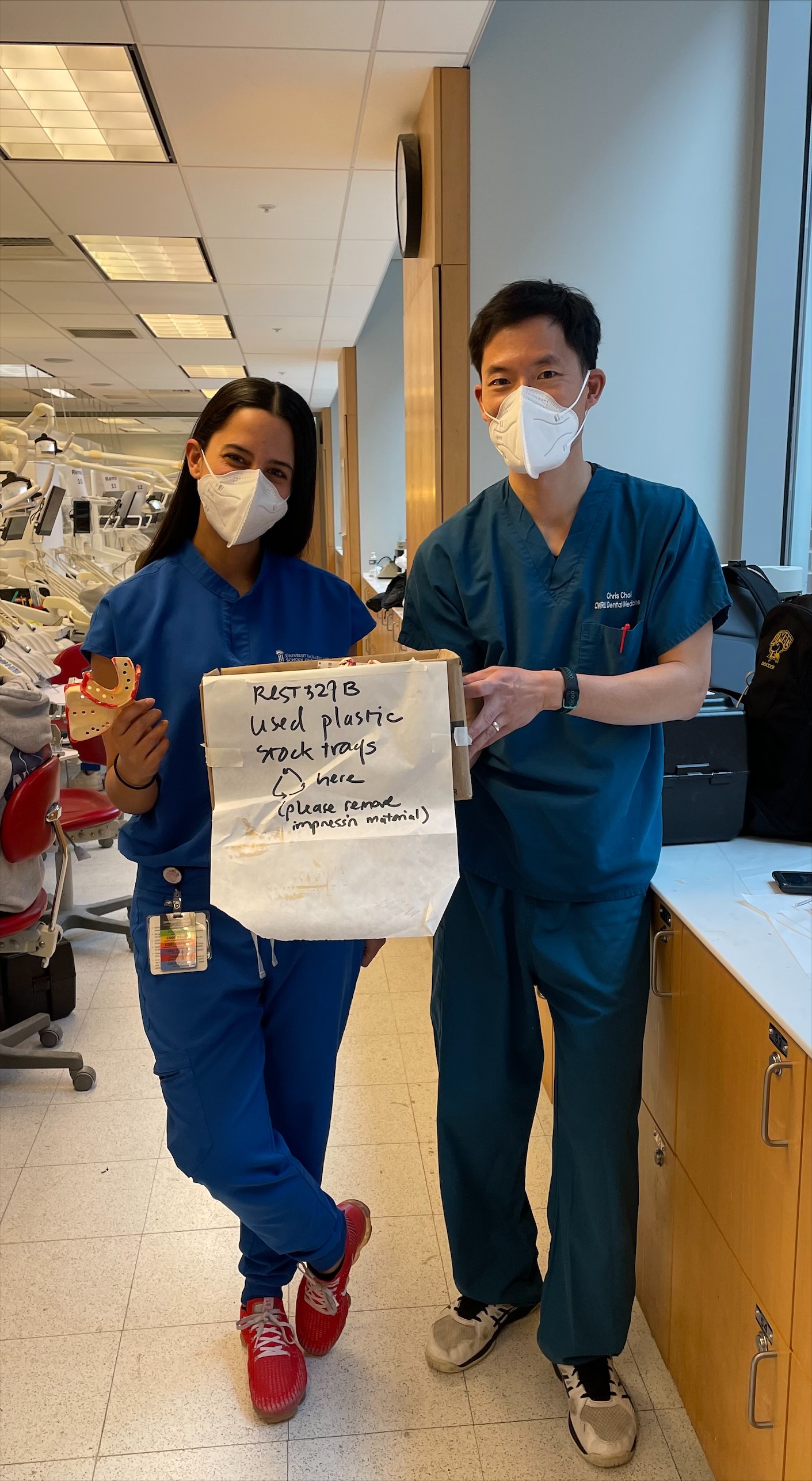 The School of Dentistry Green Committee has been working to reuse plastic impression trays in the simulation laboratory to cut down on waste.
---
Leading up to Earth Day on April 22, the University of Maryland, Baltimore (UMB) Office of Sustainability will be featuring some Sustainability Champions throughout campus! Our first set of Sustainability Champions is Chris Choi, DMD, MS, a clinical assistant professor in the Prosthodontics Division of the Department of Advanced Oral Sciences and Therapeutics at the School of Dentistry (SOD), and the School of Dentistry Green Committee, led by second-year DDS candidate Melisa White Valencia.
Choi, White Valencia, and the SOD Green Committee have been working on a project at the School of Dentistry to collect and reuse plastic impression trays for courses taking place in the simulation laboratory. Because these impressions were used on a simulation patient instead of an actual patient, they did not come into contact with any bodily fluids and are able to be reused. The project team is hoping to collect enough impression trays to create a closed-loop system in which previously used plastic impression trays are always present in the simulation laboratory for students and faculty to use whenever they need them for simulation purposes.
Choi became involved with sustainability when White Valencia asked him if he would be interested in becoming a faculty mentor for the SOD Green Committee, which she leads. Around that same time, Choi had also started to think about the future of the environment that his daughter and her generation will inherit. He had always had some interest in sustainability, and he saw this impression tray reuse project as a great opportunity to put his interest into tangible action.
As for other ideas for additional sustainability initiatives at SOD, White Valencia and the SOD Green Committee are exploring detailed signage to accompany waste containers, plastic use reduction, and dental product recycling. Choi has plenty of ideas, too, one of which includes taking advantage of advancing technology:
"As we will continue to adopt digital technology, I anticipate we will see a reduced need for dental materials, such as those used in making impressions. Yet, we faculty have to lead the students and school by showing them how to use digital technology to make an impact in our environment. It will start with modifying our courses to have students learn various concepts and principles using digital technology. For example, instead of using an impression material and tray, they will use a digital scanner to obtain an 'impression' of a simulated or real patient."
One thing White Valencia thinks that fellow faculty, staff, and students throughout UMB can do to contribute to campus sustainability efforts is to "look around your office, lecture halls, clinics, or labs and think how you could minimize waste, reuse, or repurpose something. Then act, make it happen, and suggest the same to others around you. Start now, start small, and keep adding to your list of environmentally mindful actions!"
Do you have a UMB Sustainability Champion you would like to nominate to be featured? Please fill out this form. Self-nominations are welcome.
Subscribe here to the UMB Sustainability newsletter and follow the UMB Sustainability social media channels (Facebook, Twitter, and Instagram).