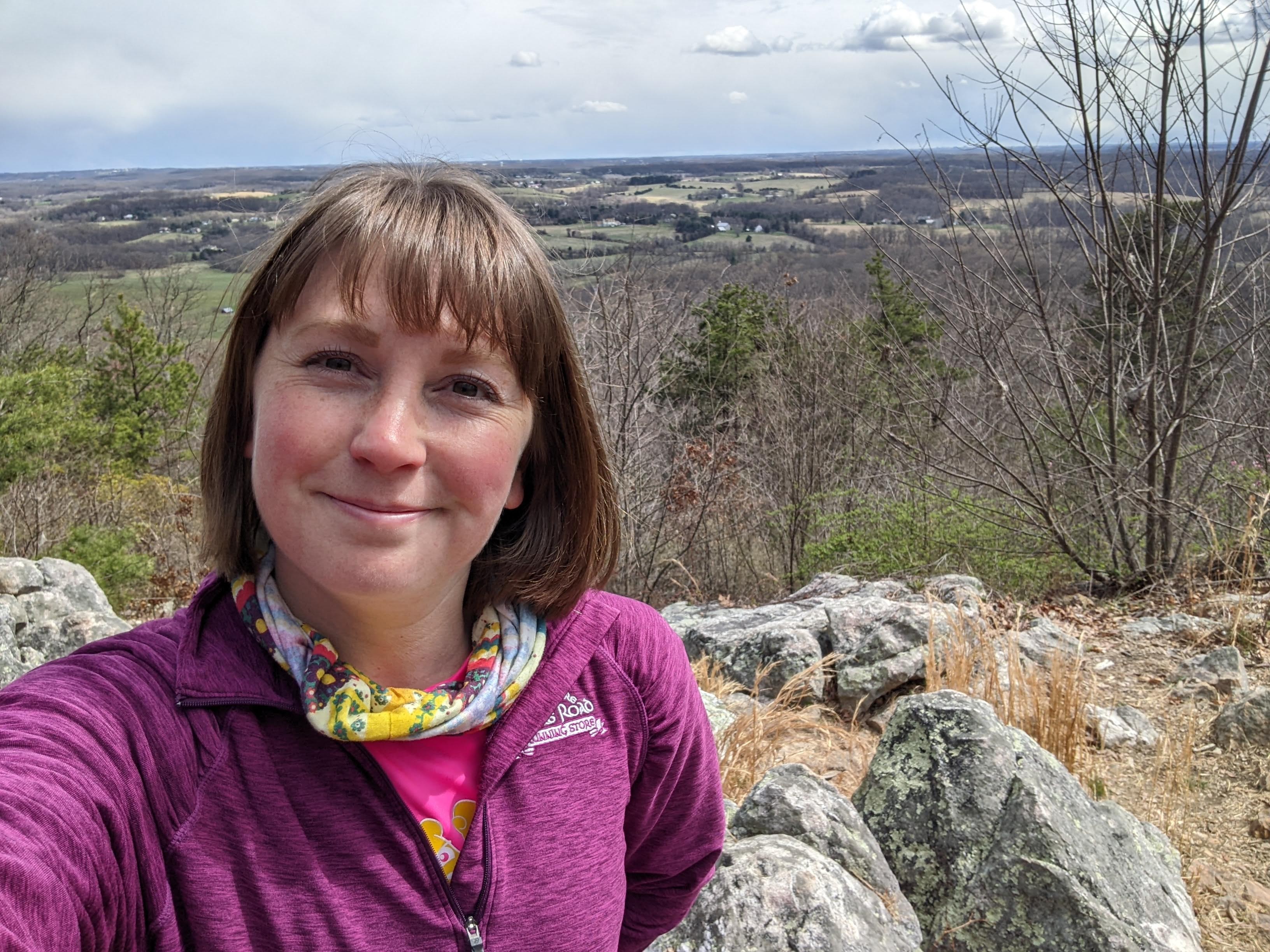 School of Nursing professional researches environmental health in developing children in her MSN program.
---
The University of Maryland, Baltimore (UMB) Office of Sustainability would like to recognize Rachel White as a Sustainability Champion! White is a project manager of the Care Coordination Implementation Collaborative (CCIC) in the University of Maryland School of Nursing (UMSON) as well as a Master of Science in Nursing (MSN) student with a focus on Community and Public Health at UMSON. She is graduating from the MSN program this month.
White has been an employee at UMB since 2018, starting out as a vascular surgery research nurse in the School of Medicine. Working with patients with chronic diseases such as diabetes, heart disease, and peripheral vascular disease showed White how these health problems diminished their quality of life. This motivated her to pursue her MSN with the community/public health focus. While treatment of illnesses is imperative, White understood the need for preventative care measures, especially to ensure future generations can lead healthier lives.
"Going through this MSN program has been enlightening. I feel now more than ever that it is incredibly important to invest time, energy, and resources in public health where we strive to make changes in society so that we can all live our healthiest lives. Our environment plays a huge role in our health, and I have learned many ways we can make green and sustainable changes to not only improve our own health, but also the health of our planet," says White.
White is completing her final year practicum with the Community and Public Health Environmental Initiative, an initiative through UMSON that provides health oversight for children and families served by Baltimore City Early Head Start, Head Start, and Family Support Centers. At the Community and Public Health Environmental Initiative, White's focus has been helping Early Head Start and Head Start Childcare Centers in Baltimore to become Eco-Healthy Child Care endorsed. The endorsement is a process that helps create and maintain a child care facility that is healthy and safe by reducing children's exposure to environmental hazards. Common sources of toxic exposure in child care facilities include lead (found in paint, water, and unregulated toys), air quality, cleaning and sanitation supplies, plastics, and pesticides.
White's research has led her to realize there are items sold in stores that can be particularly harmful to children since they are still developing. Common daily practices such as microwaving food in plastic containers or drinking hot tap water instead of heating up cold water can also be harmful to our health. She's created easy-to-understand educational materials for parents and caregivers through her findings to cover eco-healthy practices they can adopt at home to create a safer and healthier environment for themselves and the children they care for. White presented her research this past November in the American Public Health Association Conference as part of their Emerging Scholars Symposium.
White practices "green" actions both off and on campus, with a focus of keeping the environment she spends time in healthy and safe. Some habits include drinking tap water, bringing a reusable water bottle with her in public, and shopping with reusable bags. To reduce her fashion footprint, she shops secondhand and participates in clothing swaps. White recycles what she can and brings her hazardous wastes (like paint, batteries, etc.) to the closest recycling center for proper disposal. She chooses plant-based cleaning products that are either third-party certified or part of EPA's Safer Choice list. House plants in her home promote clean, indoor air and she avoids candles and other synthetic air fresheners. She finds natural remedies to deter pests like mosquitos such as removing stagnant water sources outside and planting mosquito-repellent plants in lieu of using pesticides. Instead of using traditional light bulbs or CFL bulbs, White uses LED bulbs, which are less energy intensive and last much longer.
On campus, White packs her lunch and uses reusable food containers, taking back food scraps to her home compost bin. White has reduced her meat intake and has become more conscious of her consumption of animal-based products. She utilizes the recycling bins on campus as much as possible. White takes advantage of teleworking when possible to reduce her carbon emissions from travelling. She's also signed up for UMB's Community Solar Benefit, reducing her electricity bill while supporting local solar projects in Maryland.
When asked what fellow students, staff, and faculty can do to contribute to campus sustainability efforts, White said, "Start small and build more sustainable practices into your daily life and time on campus. Even the smallest of changes can make a difference and it's never too late to start! Become curious about ways you can be more sustainable by reading more about it and start making changes gradually in your life."
Visit White's Eco-Healthy Homes for Children website to view the resources on how to reduce the risk of toxic exposures in your home.
Do you have a UMB Sustainability Champion you would like to nominate to be featured? Please fill out this form. Self-nominations are welcome.
Subscribe here to the UMB Sustainability newsletter and follow the UMB Sustainability social media channels (Facebook,  Twitter, and Instagram).