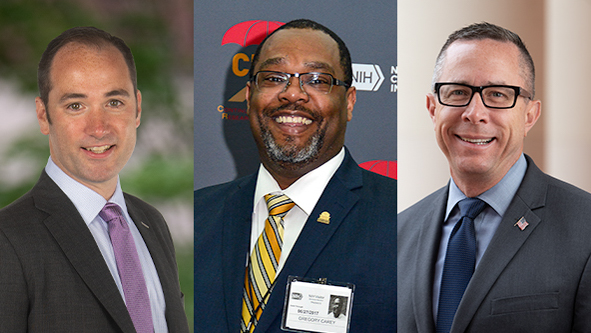 Drs. Gregory Carey, David Marcozzi, and Joseph Scalea win Regents' Faculty Awards, the highest honor presented by the board to exemplary faculty members at University System of Maryland institutions.
---
The University System of Maryland (USM) Board of Regents has honored three University of Maryland, Baltimore (UMB) faculty members with its 2022 USM Regents' Faculty Awards.
The awards are the highest honor presented by the board to exemplary faculty members at USM institutions. The awards honor excellence in these categories: Teaching; Mentoring; Public Service; Research, Scholarship, or Creative Activity; and Innovation.
The three UMB winners are from the University of Maryland School of Medicine (UMSOM):
Gregory B. Carey, PhD, associate professor, Department of Microbiology and Immunology; executive director of student research and community outreach, Office of Student Research; and assistant dean for student research and education
David E. Marcozzi, MD, MHS-CL, MHS-CL, FACEP, professor, Department of Emergency Medicine; assistant chief medical officer for acute care; associate chair of population health and community outreach; and chief clinical officer, University of Maryland Medical Center
Joseph R. Scalea, MD, who was an associate professor in the Department of Surgery before leaving UMSOM this year
"The recognition of these faculty members by the University System is well-deserved," said UMB President Bruce E. Jarrell, MD, FACS. "I deeply appreciate the vision, creativity, and commitment they bring to UMB and to improving the lives of others."
USM Chancellor Jay A. Perman, MD, and Board of Regents chair Linda Gooden, MBA, will recognize the winners during a full board meeting April 29 at Towson University.

"The bedrock of the University System's quality, its prominence, its power to transform lives and change the world is, quite simply, our faculty," Perman said. "It's a privilege to be able to honor them and celebrate what they make possible every day — possible for each individual student and for the body of scholarship that advances our progress and deepens our humanity."
Carey, Marcozzi, and Scalea were among 17 faculty members honored. You can read about all the winners at this link.
(In photo, from left: Joseph Scalea, Gregory Carey, David Marcozzi)