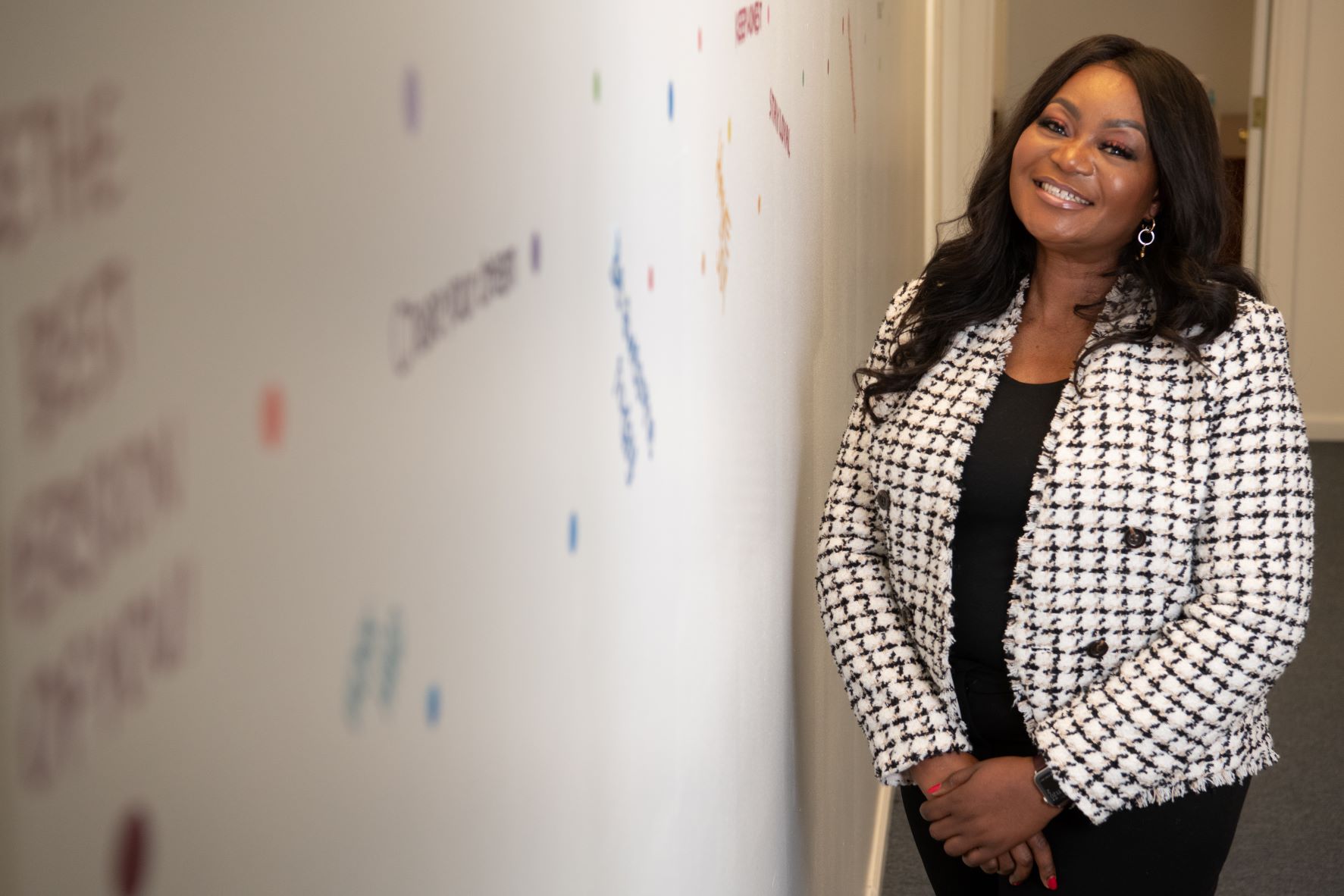 "It's not just looking at symptoms. Mental health is about psychology — being able to pick certain things from whatever that person is saying and asking more questions about it."
---
Alumni Profile: Oluwakemi "Kemi" Ogunseye, DNP '20
Oluwakemi "Kemi" Ogunseye, DNP '20, CCM, RN, has worked with marginalized communities throughout her nursing career, including with incarcerated populations, people experiencing homelessness, and psychiatric patients. She's seen firsthand what happens when people can't access the resources they need, in health care and beyond, and the importance of treating both body and mind. "There are so many people out there that are torn, that are lonely," she says.
These experiences led her to UMSON's Doctor of Nursing Practice (DNP) Psychiatric Mental Health Nurse Practitioner–Family specialty, from which she graduated in May 2020. In August 2021, she opened a clinic in West Baltimore under the A&E Healthcare Services banner.
Ogunseye opened her own practice because of her passion for service and outreach and to build a team, including three NPs specializing in mental health and three therapists specializing in individual, family, group, and couples therapy, who are all focused on the same goals. West Baltimore lacks mental health practitioners, but she was cautioned against putting her practice in that neighborhood. "Some people told me, 'Don't go there. There's too much crime around there,'" she recalls, but "those are the people that I really wanted to touch."
On paper, the practice is a mental health clinic, but it's also a resource center, connecting patients to substance-use treatment centers, primary care health clinics, and other community-facing services, where Ogunseye puts into practice the compassion and empathy she learned in nursing school. Mental health nursing is the perfect vehicle for Ogunseye to serve her patients holistically. "It's not just looking at symptoms," she explains. "Mental health is about psychology – being able to pick certain things from whatever that person is saying and asking more questions about it.
"A whole lot of people went through trauma that they've not processed, and it's impacting their livelihood," she continues. "Aside from being on the streets, it has led them to substance use and different kinds of criminal activities." Her patients also struggle with the stigma of seeking mental health care. Medication brings them in the door, but they also need a safe place to talk without fear of being judged for their actions or emotional reactions.
The UMSON community has continued to support Ogunseye in her goals; Charon Burda, DNP '16, MS '03, PMHCNS, PMHNP-BC, CARN-AP,
associate professor and director of the DNP Psychiatric Mental Health NP–Family specialty, and Victoria L. Selby, PhD '17, MS '09, BSN '06, CRNP-PMH, PMHNP-BC, CARN-AP, assistant professor and director of the Substance Use and Addictions Nursing Certificate, attended the clinic's ribbon cutting. "Anytime you reach out to UMSON faculty," Ogunseye says, "they'll be able to support you in one form or the other, with any need."
---
THIS ARTICLE FIRST APPEARED IN THE SPRING 2022 ISSUE OF NURSING FORUM MAGAZINE.