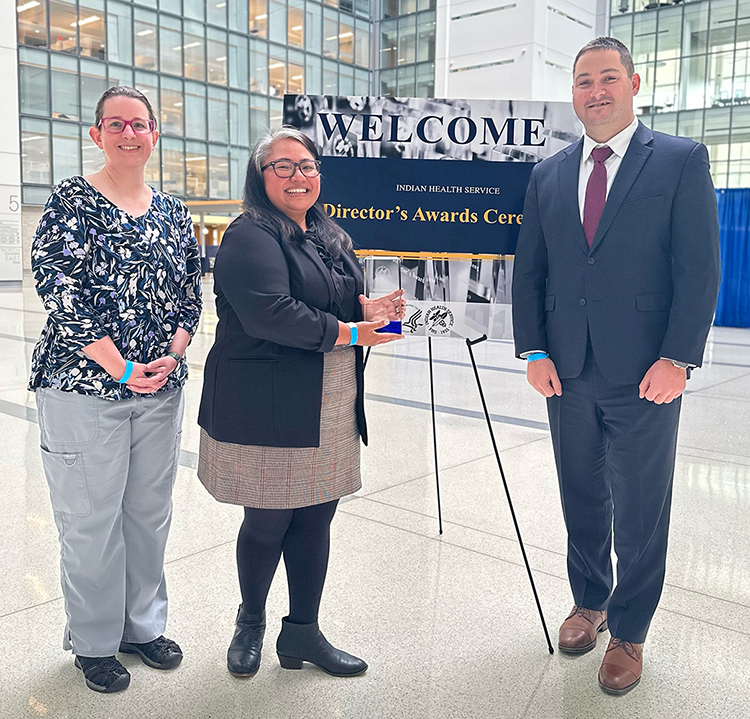 Universitywide response earned an Indian Health Service Director's Award for COVID-19 Pandemic Heroism.
---
When the University of Maryland, Baltimore (UMB) opened its COVID-19 Vaccination Clinic in 2021, a partnership blossomed with the Indian Health Service (IHS) and Native American LifeLines Urban Indian Organization to provide vaccines for Native Americans. Now, UMB is being honored for its "unprecedented work to offer COVID-19 vaccines to American Indian/Alaska Natives living and working in and near the Baltimore and Washington, D.C., areas."
On Nov. 18, Jonathan Bratt, MS, NRP, CEM, executive director, UMB Office of Emergency Management (OEM); Laura Cathcart, PhD, training and exercise program manager, OEM; and Cherokee Layson-Wolf, PharmD, BCACP, FAPHA, professor and associate dean of student affairs, University of Maryland School of Pharmacy (UMSOP), attended the IHS National Director's Awards in Rockville, Md., to receive the IHS Director's Award for COVID-19 Pandemic Heroism. This award recognizes exceptional, dedicated work and selfless responses during the COVID-19 pandemic that advanced the IHS mission and vision.
Jane M. Kirschling, PhD, RN, FAAN, the Bill and Joanne Conway Dean of the University of Maryland School of Nursing, played a pivotal leadership role in establishing the clinic. The School of Pharmacy, OEM, Environmental Services, Student Affairs and SMC Campus Center, Parking and Transportation Services, Office of Emergency Management, UMB Police Department, and the Office of Communications and Public Affairs also played critical roles in the COVID-19 Vaccination Clinic and partnership with IHS.
"I'm proud of the dozens, even hundreds of people who came together to make this a success," Bratt said. "This collaboration shows how UMB works to improve the human condition for not only our UMB community, but also for all of Maryland."
During the height of the COVID-19 pandemic, Native American populations faced the highest mortality rate from the virus of any ethnicity. The initiative, which aligns with UMB's core value set of Equity and Justice, was an example of vaccine equity distribution to reach populations disproportionately affected by COVID-19.
"We want to do our part to get as many people vaccinated as possible — and especially those who are disproportionally affected by the illness or have difficulty with access," UMB President Bruce E. Jarrell, MS, FACS, said when the partnership was established in 2021.
The clinic administered more than 40,000 COVID-19 vaccinations to the UMB, West Baltimore, and Native American communities. UMB was the only clinic of its kind in the region, specifically arranged to serve the 65,000 Native Americans from Maryland, Virginia, and Washington, D.C.
The SMC Campus Center, where the vaccine clinic was located, has worked with indigenous communities during the construction and opening of the building in 2009. The lobby prominently features an inscription that reads, "The SMC Campus Center aims to promote Indigenous visibility and encourage support of Indigenous communities who lived on the land where our building stands."
The IHS Director's Awards ceremony coincided with National Native American Heritage Month.
(In photo, from left: Laura Cathcart, Cherokee Layson-Wolf, and Jonathan Bratt at the IHS National Director's Awards on Nov. 18)