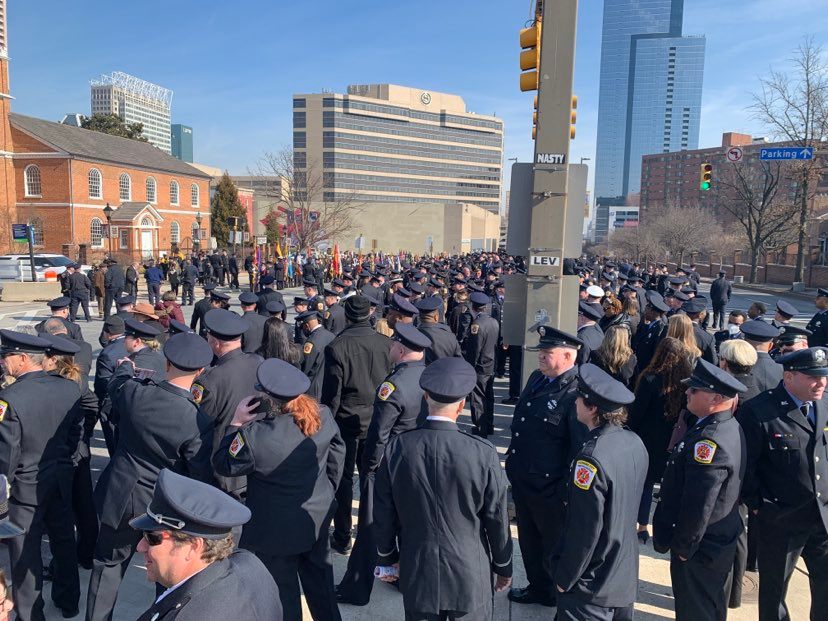 Carin Morrell, public information officer for UMBPD and OEM, supported coordination of the memorial service while Auxiliary Services' Robert Milner and the PTS team worked on parking logistics.
---
On Jan. 24, three Baltimore City firefighters died in a structural collapse while fighting a fire in a vacant rowhouse in Southwest Baltimore. The loss of Lt. Paul Butrim, Lt. Kelsey Sadler, and firefighter/paramedic Kenneth Lacayo was the largest loss of life for the Baltimore City Fire Department (BCFD) in decades. Struggling to cope with the deaths and coordinating a joint memorial service, BCFD called the Maryland Incident Management Team (IMT) for help.
The Maryland IMT was established by the Maryland Department of Emergency Management (MDEM) to support local jurisdictions during complex emergency incidents. Across the country, IMTs provide command and control infrastructure to manage the operational, logistical, informational, planning, fiscal, community, political, and safety issues associated with complex events. IMT members come from all levels of government and diverse disciplines. Several members of the University of Maryland, Baltimore (UMB) serve in various roles on the IMT.
Maryland IMT Requests UMB Support
On Jan. 26, the Maryland IMT requested support from Carin Morrell, MA, the public information officer (PIO) for the UMB Police Department (UMBPD) and the Office of Emergency Management. Before joining UMB in 2019, Morrell served as PIO for the Maryland Department of Health Office of Preparedness and Response, managing public health crisis communications for the state of Maryland. In this role, Morrell coordinated the MDEM joint information center for national exercises and statewide events.
Morrell deployed with the Maryland IMT from Jan. 27 through Feb. 2, supporting coordination of the memorial service by responding to news media inquiries and working with the International Association of Fire Fighters (IAFF) union to coordinate information. Morrell also deconflicted ceremony information from multiple units, monitored news media and social media, managed rumor control, and created dignitary seating charts. The Maryland IMT worked 12-hour shifts each day. On Feb. 2, the day of the memorial service, the Maryland IMT reported by 5 a.m. and worked 14 hours.
Coordinating public information during a crisis comes with many challenges. Personnel from across the state are working together, sometimes for the first time. With so many moving pieces and constantly evolving information, Morrell worked to ensure information was consistent among BCFD, IAFF, local unions, and the news media. For Morrell, it was important to give back to the community.
"UMB isn't in a bubble. We're intertwined with the neighborhoods and the communities we serve," Morrell said. "This deployment was difficult physically and emotionally, but it was important. I hope my small role shows our partners in Baltimore City that when they are in need, UMB shows up to help."
Baltimore City Fire Department Goes Out of Service
For the first time in the department's 225-year history, the entire BCFD was out of service Feb. 2 so members could attend the memorial service. Through an incredible effort by MDEM and the Maryland IMT, all 38 firehouses in Baltimore City were backfilled with apparatus and personnel from across Maryland. This coordination was completed with less than a week's notice.
On Jan. 28, MDEM sent out a Maryland Intrastate Emergency Management Assistance Compact (MIEMAC) request asking for parking supervisors to support the memorial service. MIEMAC is a statewide mutual aid system that allows any jurisdiction in Maryland to request and receive assets from another jurisdiction. UMB's Jonathan Bratt, MS, executive director, OEM, forwarded a MIEMAC request to Robert Milner, executive director, Auxiliary Services.
A Plan Comes Together
In the days that followed, UMB Parking and Transportation business services senior specialist Stacy Holmes and business operations specialist Rodney Harris, as well as Jennifer Coolahan, business services specialist for UMB Auxiliary Services, joined Milner to help coordinate parking services for the memorial service.
Parking volunteers were assigned to a separate parking area and directed to organize vehicles in an orderly fashion. Vehicles needed to be released efficiently and in the correct order for the procession through Baltimore City to the burial site at Dulaney Valley Memorial Gardens in Baltimore County. Parking professionals had to manage the following areas:
Honor guard/bus parking: More than 75 vehicles and 10 buses in the procession
Fire apparatus: More than 100 firetrucks, fire engines, and ambulances in the procession
Other procession vehicles: 75 non-Baltimore City Fire Department vehicles, 10 buses, and more than 400 personal vehicles
VIP parking: 100 vehicles for family and dignitaries
Non-procession vehicles
The Day of the Memorial Service
At 6 a.m. on Feb. 2, the parking personnel were dispatched to the parking areas. In addition to the parking professionals from UMB, University of Maryland Medical Center (UMMC), Johns Hopkins University, Johns Hopkins Hospital, Towson University, Baltimore City Parking Authority, University of Maryland, Baltimore County, Baltimore Police Department, Maryland IMT, and SP+, nearly 30 Howard County fire cadets helped in parking lots. Fire apparatus and guests began arriving early, with city roads scheduled to close throughout the day.
Parking professionals organized vehicles within lots to ensure correct exiting procedures were met. Once all personal vehicles were parked, staff had only an hour and a half before the procession began. Fire apparatus not parked in designated spots needed to be coordinated in the procession, relying on quick thinking.
"Our colleagues and I realized through many conversations throughout the day that a lot of us and our staff have members in the first-responder community for which we are grateful and wish to thank," Milner said.
An estimated 6,000 attendees came to pay their respects during the memorial service. After the procession, Marcus Bedford of UMMC said what many were feeling: "We gave a few hours of our time, for a lifetime of theirs."