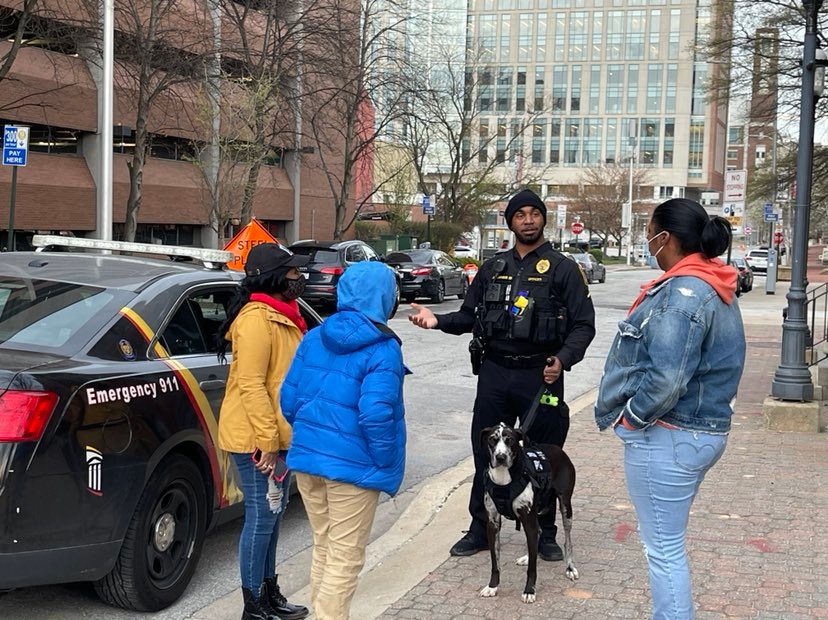 The University community voted on the dog's new name: Poe.
---
There's a new top dog in town! The University of Maryland, Baltimore Police Department (UMBPD) welcomed comfort K9 Poe in early April. The 2-year-old Great Dane mix is a ball of energy.
"He has a wonderful temperament," says PFC Anthony Summers. Summers has worked with the UMBPD since October 2016 and was recently selected to join UMBPD's Community Outreach and Support Team (COAST) as the department's new comfort K9 handler.
In March, Summers traveled to the Paws and Stripes College, run by the Brevard County (Fla.) Sheriff's Office. The program pairs prospective therapy dogs with inmates for eight weeks of basic obedience training. UMBPD has gotten all three of the department's comfort K9s — Lexi, Archie, and now Poe — through this program.
"Training with Poe at Paws and Stripes was educational and exciting," Summers says. "We played catch with tennis balls and went over the commands he's learned so far. He's well trained at sit, stay, and lay down. We will be working together to increase the commands that he knows."
As Poe's handler, Summers takes care of the dog full-time (and it's a big job). The comfort K9 handler takes Poe to the vet and groomer, trains with the dog, and attends regular community events with him. Poe even lives with Summers and his family.
Poe's name was chosen by the UMB community, winning out over Eddie, Balto, and Davey. The pup has floppy brown ears with short brown-and-white fur. He wags his tail excitedly when he meets new friends. Poe was born in Cocoa Beach, Fla., where he enjoyed running along the many beaches. He now loves playing in the backyard with Summers' two young children.
Comfort K9s — sometimes called therapy dogs — are trained to provide stress relief and affection to people dealing with anxiety, depression, trauma, or mental illness. As UMBPD's comfort K9, Poe provides many important services: visiting students experiencing exam stress, faculty and staff who need a break, community members who are coping with tragedy or trauma, and much more. Comfort K9s also help build positive relationships with communities who may be unfamiliar or uncomfortable with police officers.
As Poe gets to know UMB, community members should ask Summers before petting the dog or feeding him snacks.
"Poe has an easygoing personality," Summers says, "but he can get excited and playful. It's my job to make Poe as comfortable as possible during the transition. I'll make sure he has plenty of breaks so he can adjust at his own speed."
Summers says he's also limiting Poe's snacks to ensure the dog doesn't have any food allergies.
UMBPD was the third university police department in the nation with a comfort K9 program, which started in June 2019 when Lexi joined the department. Archie, who was UMB's second comfort K9, remained with his handler, former UMBPD Chief Alice Cary, when she joined the University of Illinois at Urbana-Champaign in 2020.
After three years of service, Lexi is now retiring from the department.
"We want to thank Lexi for her service to our UMB community," says Chief Thomas Leone, MSL. "Lexi was a huge part of COAST and helped pave the way for comfort K9 programs nationwide. Now we're excited to welcome Poe, who will step into those 'paws' and continue Lexi's legacy."