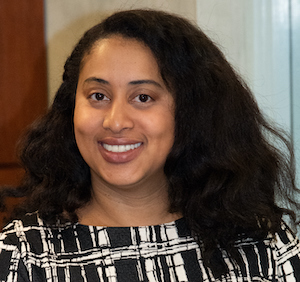 She has helped lead University DEI initiatives and created the Graduate School's Intercultural Leadership Post-Baccalaureate Certificate and Master of Science in DEI Leadership programs.
---
When Courtney J. Jones Carney, DPA, MBA, attended Morgan State University, a historically Black institution in Baltimore, for her undergraduate studies, she felt something that had been missing: a sense of belonging.
"Looking around and seeing people who looked like me, I felt affirmed in being at that institution," she said. "Working in predominantly white institutions, I want to try to re-create that space for folks."
As the executive director, Intercultural Leadership and Engagement, and director, Intercultural Center, at the University of Maryland, Baltimore (UMB), Jones Carney is one of the leaders of the University's diversity, equity, and inclusion (DEI) initiatives as well as its anti-oppression training, seminars, workshops, and presentations.
"There's nothing like being in an academic environment and knowing that you belong. I'm interested in doing this work to create this space where people don't just have to survive, but where they can thrive, where they can flourish, where they can be their full authentic selves at school or at work," she said.
For her work at UMB and in the community, the Baltimore Business Journal (BBJ) recently named Jones Carney a 2022 Leader in Diversity. The annual award honors executives, business owners, and nonprofit leaders who are prioritizing DEI in ways that have a quantifiable impact on their organizations, industries, and communities. Jones Carney and 10 other honorees will be recognized at a celebration June 9 at the Reginald F. Lewis Museum in Baltimore.
Jones Carney, who described herself as surprised and honored to receive the award, said she is looking forward to meeting the other recipients and "trying to broaden my network with folks who are leading DEI work in various fields."
She was nominated for the award by Roger J. Ward, EdD, JD, MSL, MPA, provost, executive vice president, and dean of the University of Maryland Graduate School, who called her "a true champion of diversity, not just at UMB, but in the Baltimore community and globally."
He praised her efforts to lead her department in developing and managing more than 200 programs a year that provide the UMB community with opportunities to participate in the education and celebrations of their cultures.
Ward also pointed out her work to coordinate Safe Space trainings on LGBTQ+ allyship, advocacy, and education; the President's Symposium and White Paper Project, which asks an interprofessional group of students known as the President's Fellows to research a topic and write a white paper to address societal concerns; and the President's Student Leadership Institute, a co-curricular interprofessional program that engages students in service and inclusive leadership, career development, entrepreneurship and innovation, integrative health and well-being, and scholarly research and writing.
"Dr. Jones Carney also assists UMB in examining the impact of policies and practices that disproportionately impact historically underrepresented groups based on race, gender, sexual orientation, gender identity, and disabilities," Ward said.
Jones Carney, who has worked at UMB since 2011, said she is proud of her collaboration last year with the University of Maryland School of Social Work and the UMB Community Engagement Center to celebrate Juneteenth, which the University now recognizes as a holiday. They organized a week's worth of programs that included not only historical information but also an in-person Juneteenth Jubilee. Juneteenth commemorates the announcement of the abolition of slavery in Texas on June 19, 1865, and is the preeminent national celebration of freedom from slavery in the United States.
"A lot of people still didn't really understand what Juneteenth was. There's a lot of celebration around the Fourth of July, rightfully so. But as a Black woman, my ancestors were still enslaved, they were not free, so it is not a celebration of freedom for me and my family," she said. "And so it was important for us to highlight Juneteenth and let folks know that this is an Emancipation Day.
"We had some events that were more didactic, but then we also had events where people could just relax and recognize that perhaps relaxation and enjoying yourself is a form of liberation."
Jones Carney, co-creator and program director of the Graduate School's Intercultural Leadership Post-Baccalaureate Certificate, also recently created a Master of Science in Diversity, Equity, and Inclusion Leadership (MS-DEIL) program at the Graduate School that will launch in the fall. The MS-DEIL is the first of its kind in Maryland and one of only about 10 in the country aimed at professionally training DEI practitioners.
She said she realized a few years ago when helping to analyze data from the University's student climate survey that DEI professionals mainly learn on the job and through professional development and come from various backgrounds, experiences, and educations.
"I created the program and selected the courses based off research on the skills needed for DEI officers to make sure they have the foundation," said Jones Carney, who will teach the capstone course. "I want to be able to provide people with the knowledge that's necessary for them to be as impactful as possible. I think people should learn while they're working and continue to participate in professional development. But I think this will give folks a foundation and a bit of a boost when they're doing the work because they will have that information and skill set to fall back on prior to starting in the roles."
The BBJ award is one of several honors Jones Carney has received in recent years. In 2017, she was honored with UMB's Martin Luther King Jr. Staff Diversity Recognition Award, and she and her ILE staff were recognized last year with a UMB Presidential Core Values Award.