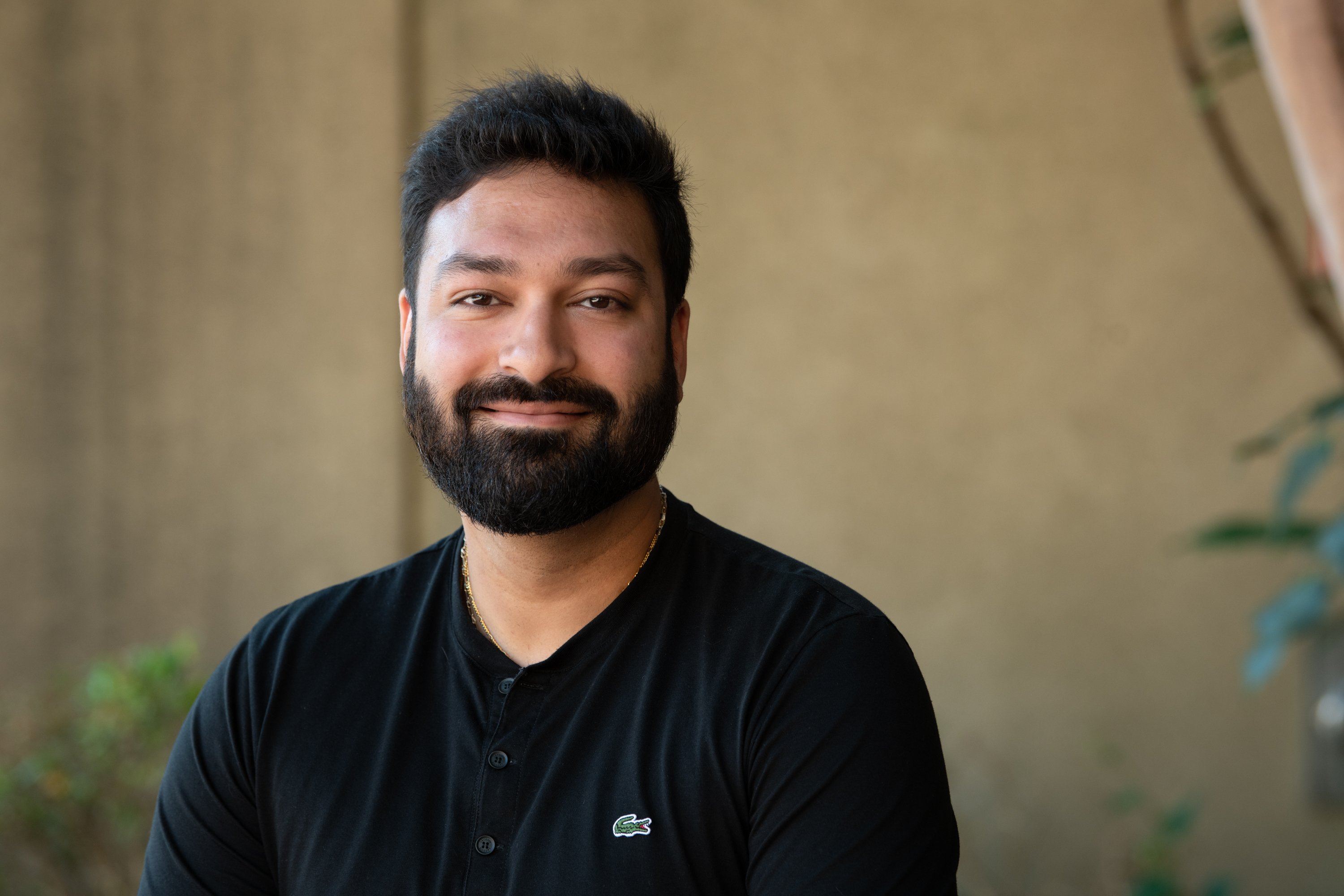 Senior IT specialist praised for being calm in addressing problems and offering support to the school so it can complete its mission for students and the community.
---
Calm, cool, and collected.
That's how Karthik Chandraiah's supervisors and colleagues at the University of Maryland School of Social Work (UMSSW) describe the senior IT user and tech specialist, who supports the school's faculty and staff and manages two new members of the help desk.
Chandraiah was celebrated June 13 during a Webex videoconference in which he was surprised by University of Maryland, Baltimore (UMB) President Bruce E. Jarrell, MD, FACS, and UMSSW Dean Judy L. Postmus, PhD, ACSW, with the UMB June Employee of the Month award.
"I read so many wonderful things about you going above and beyond the call of duty to get things done. And having been in the position of my computer not working, having a consoling and competent voice on the other end helping me to fix it is exceedingly important," Jarrell said in congratulating Chandraiah.
Postmus, who said Chandraiah was one of the first people she met when she joined UMB in 2020 and he set up her computers, called him supportive, informative, and kind.
"I know that when you're on the case it will get resolved," she said.
David Pitts, MBA, assistant dean for informatics, UMSSW, and Chandraiah's supervisor, said in his nomination that he is a team player.
"Last year, Karthik took over as the lead for the Computer Services department within the School of Social Work, and his customer service, team, and technical skills have made a marked improvement in the performance of the Computer Services team and their perception within the school," he said. "Feedback from the UMSSW community is always positive to exemplary.
Karthik has excellent communication and teamwork skills that make the workplace a positive environment. He gets along well with and motivates his team for success."
He added that Chandraiah goes above and beyond to help his colleagues.
"He is always willing to do whatever it takes, come in early, stay late, take countless systems by cart between buildings if needed, and to just take the time to have a conversation with the end user to ensure their needs are being met," Pitts said.
Chandraiah said he takes a universal approach to every IT problem.
"The interactions start off a little bit on a negative note, because something's not working the way that it should," he said. "My goal is always to be as calm and cool and collected as possible. And I always approach every situation the same."
Cherita Adams, MBA, MS, assistant dean for administration and strategic initiatives, UMSSW, agreed that Chandraiah is a calm presence, calling him "cool as ice."
"He is the coolest person around. Nothing gets him worked up," she said. "He is always so supportive, always helpful, always so congenial. You've been an awesome team leader. We've asked a lot of you, and you've stretched, you've moved."
She said his new role as a senior specialist is "probably one of the best moves in the time that I've been at the School of Social Work."
Chandraiah said being in IT during the COVID-19 pandemic has presented its own set of challenges.
"When we went into lockdown, it was not like we had a warning. We had a few days to get our staff set up for a home/work environment," he said. "There were a whole lot of phone calls and training because a lot of people hadn't used Zoom or Webex or any of those tools before, and we had to get them used to it. Meetings, deadlines, grant applications had to be taken care of. We were there to make sure it ran as smoothly as possible."
Paul Sacco, PhD, MSW, associate dean for research, UMSSW, praised Chandraiah for his contributions to the school.
"I think IT is unique in that no one thinks about it at all until something breaks. And then there's usually a lot of panic and a lot of acrimony, and I appreciate that Karthik has always — and I feel this is a social work skill — come in at a much lower tone. He ends up calming everyone else down in the process," he said. "I end up walking away from the interaction feeling like, here's a person who has contributed to the mission of the school. These support roles are mission critical to the positive outcomes we have with students."
Having that type of impact on the school and by extension the community is important to Chandraiah, who is a Baltimore native.
"It is nice to work in an environment that reaches out to the community and does a lot of things in Baltimore, because that's where I'm from. It's all I've ever known," he said. "What I do gives a bit of a foundation or a slight infrastructure to letting our faculty and staff do things like outreach or events in the community. We get our faculty and staff trained up to make sure that they have the tools they need to do what they do best."
Chandraiah, who will receive a plaque, a letter of commendation, and an extra $250 in his next paycheck for being named Employee of the Month, said he was shocked at receiving the honor. He thanked his team, Postmus, and Pitts for their support.
"It's good to know that that my work is being recognized," he said.