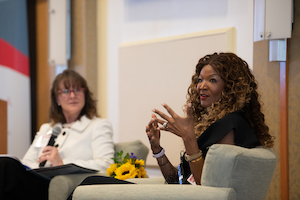 Keynote speakers Melissa Berton and Tamika Tremaglio discuss their experiences as UMB's Women's History Month event returns to in person for the first time in four years.
---
TRUST. PIE. FEAR. UMBrella.
They may seem like everyday words, but during the University of Maryland, Baltimore (UMB) Women's History Month Symposium on March 8 — International Women's Day — those acronyms took on important meanings.
The symposium was broken into a virtual morning session and an afternoon session held in person for the first time since 2019. The event was canceled in 2020 as the COVID-19 pandemic began and held virtually the past two years.
The morning session kicked off with UMB President Bruce E. Jarrell, MD, FACS, welcoming the nearly 200 participants. "Not only do we celebrate the achievement of women, but we also try to provide them with additional skills to improve their personal life, their professional career, their leadership skills — anything it takes to champion women and see them become successful. Of course, that's the kind of university I want UMB to be for everyone," he said.
Jennifer B. Litchman, MA, senior vice president for external relations, UMB, and founder and chair, UMBrella Group, which sponsors the symposium, discussed the theme of the event by saying, "There's still much more work to be done. And that's why we're here today. Today is all about envisioning the possibilities for innovative leadership and putting those possibilities into practice."
'TRUST' and Innovation
Morning keynote speaker Melissa Berton, MFA, Academy Award-winning producer, founder and executive director of The Pad Project, and high school English teacher, started her virtual presentation talking about what the word "umbrella" means with respect to women.
"As any English teacher worth her salt would do, I looked up 'umbrella' in the dictionary and came up with two definitions," she said. "One, a device used as protection against rain or sun. Two, a protecting force or influence. As we all know, over the centuries, across climates and continents, in rain and sun in every field, women have been umbrellas, protecting forces and influences to the generations of women that come after them. As a teacher of literature that features women and all their power, vulnerability, and beauty, it has been my joy to teach their stories to my students who inherit them."
Berton said she came up with her own acronym as a way to share her journey from teacher to producer of the 2019 Oscar-winning short documentary "Period. End of Sentence." and executive director of The Pad Project, which works to increase access to menstrual supplies and menstrual education throughout the world.
"TRUST: Trust your power to make a difference, Risk leaving your comfort zone, Understand your privilege, and let your own inner Student be your Teacher," said Berton, with her documentary's poster and her Oscar behind her. "When you can trust these values in yourself and in your partners, you can innovate in ways you never thought possible."