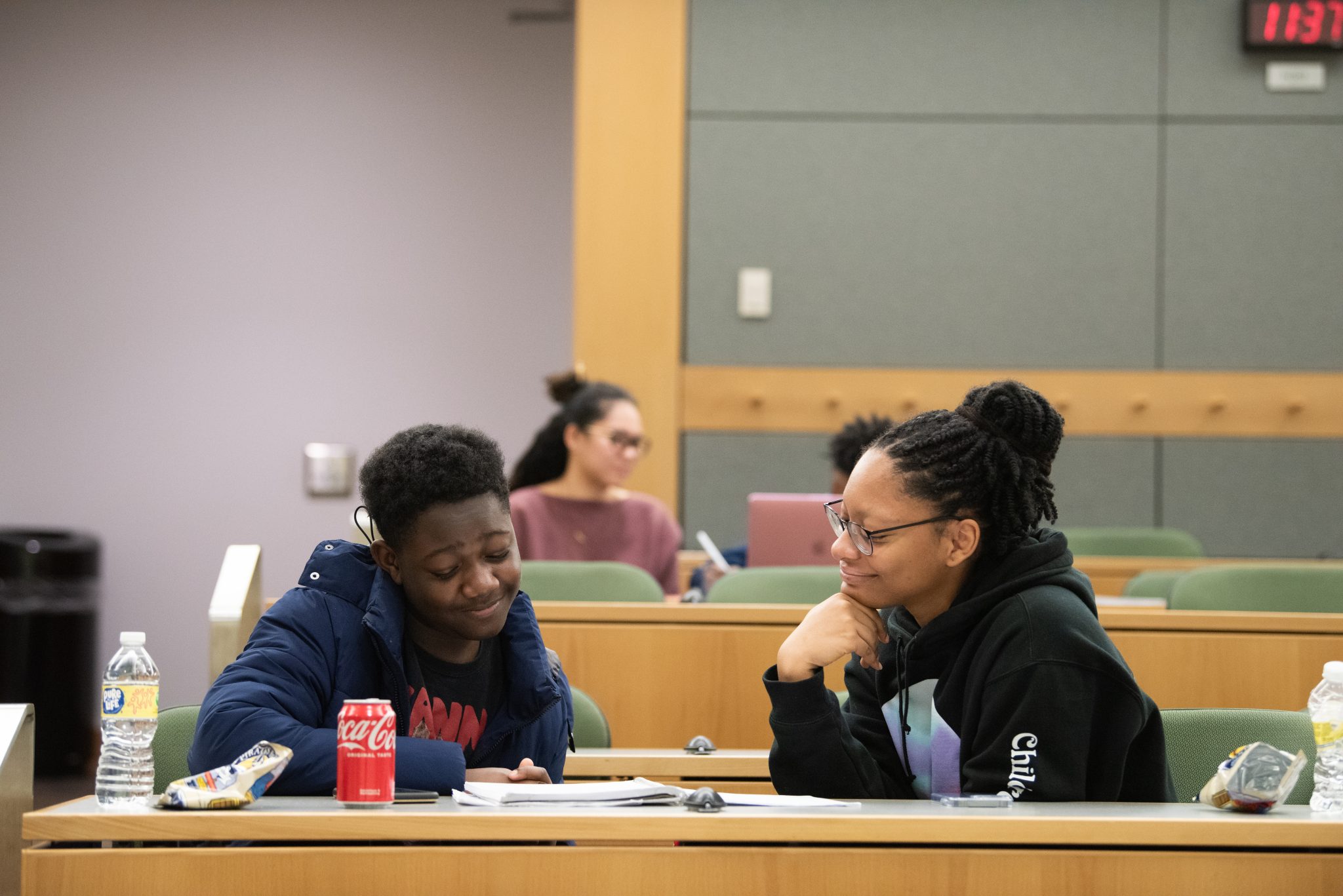 Read more about A Bridge to Academic Excellence's tutoring in the community in the spring issue of "CATALYST" magazine.
---
Over a decade ago, Sandra Satterfield-Myles brought her daughter to the University of Maryland, Baltimore's (UMB) campus for the A Bridge to Academic Excellence (ABAE) tutoring program after a neighbor's family participated and told her about it.
For Satterfield-Myles, it was a chance for her child to get extra practice. She was doing well in school, but, Satterfield-Myles said, as an educator herself, she wanted her child to have extra work to help lock the knowledge in.
All these years later, Satterfield-Myles is back, this time with another daughter, 15-year-old Mayan Myles.
"She's not failing — she has a 4.1 [GPA]. But the thing is, she needs to understand that in order to retain the information," she needs to continue to go over what she's learning, Satterfield-Myles said. "So I felt like if [she is assigned] no homework, let's come here, let's get some different things and she'll be able to continue to grow."
For more than two decades, the University of Maryland School of Pharmacy (UMSOP) has offered ABAE, which was created and run by Margaret Hayes, MS, the school's now-retired director of student services, to provide free tutoring and mentoring for middle and high school students who needed help learning various subjects. In recent years, JuliAna Brammer, MBA, director of PharmD admissions at UMSOP, has taken over as academic advisor for ABAE.
Today, ABAE offers tutoring in multiple subjects, including algebra I and II, calculus, geometry, trigonometry, physics, chemistry, biology, English/writing, SAT math, and SAT verbal. The program is coordinated by pharmacy students, but tutoring is done by students from all of UMB's programs and takes place most Saturdays from late September to early May in Pharmacy Hall.
Read more about the tutoring program at CATALYST magazine.
---
You can read the Spring 2023 issue of CATALYST magazine, which highlights the work of the University's women deans; the School of Medicine's research to fight malaria; the School of Nursing's partnership with Enoch Pratt Library to offer health care; the Graduate School's new MS in Diversity, Equity, and Inclusion Leadership; UMB's sustainability efforts to install beehives; and much, much more!
Photo: Isaiah Woolfrod studies algebra with Rashida Mohamed-Hinds. Photo by Matthew D'Agostino