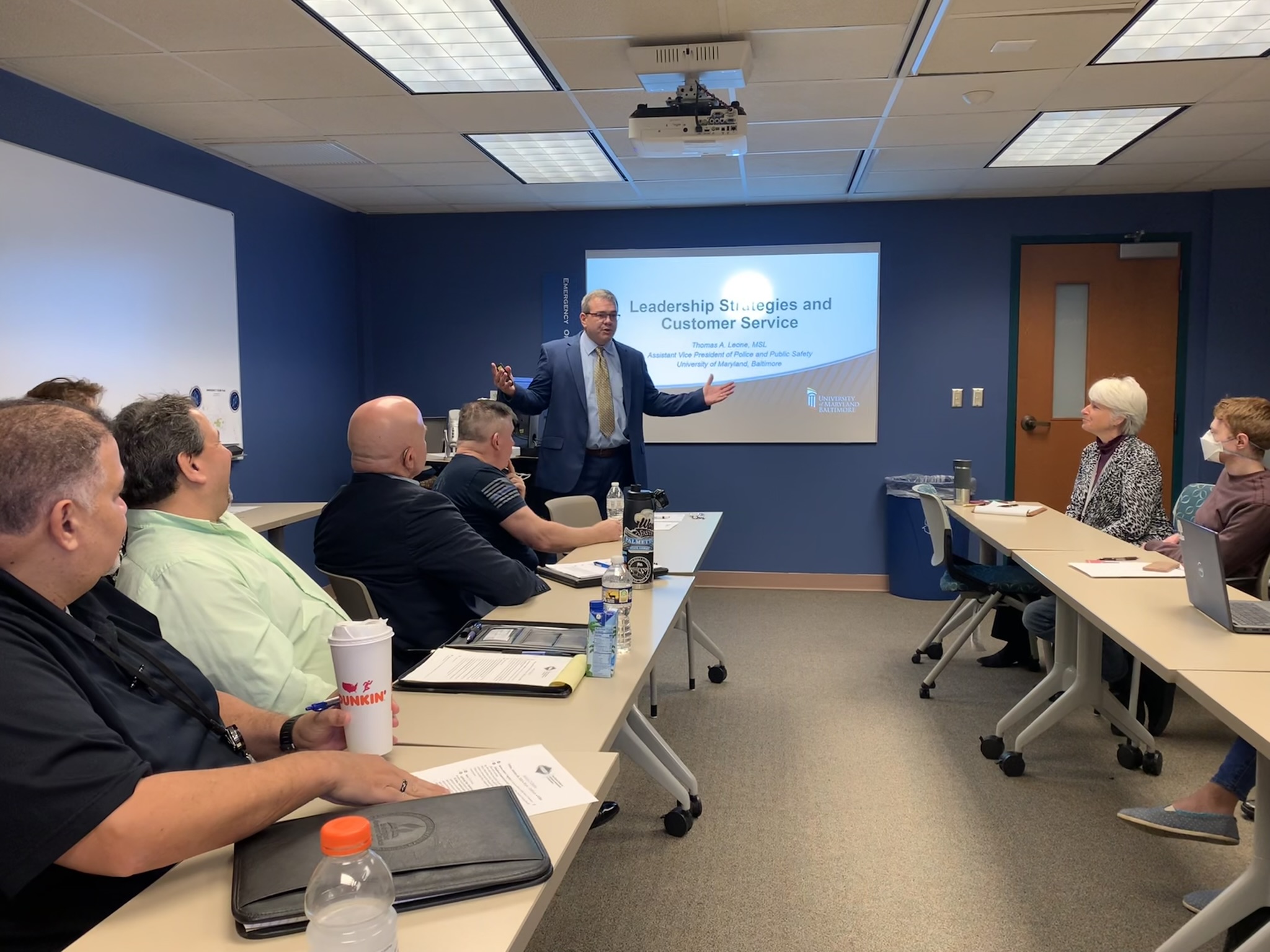 Assistant Vice President of Public Safety and Chief of Police Leone presents leadership lessons to Mid-Atlantic Center for Emergency Management and Public Safety.
---
Standing before a group of public safety professionals at Frederick Community College, Thomas Leone, MSL, describes the experience as "coming home." The University of Maryland, Baltimore's (UMB) newly appointed assistant vice president of public safety and chief of police earned his associate's degree at the community college early in his public safety career.
Kathy Francis, MS, CEM, MDPEMP, executive director of the Mid-Atlantic Center for Emergency Management and Public Safety (MACEM&PS), asked Leone to speak at its January professional development session about how he has successfully led his team with "outstanding customer service" during times of great change — something Leone knows a lot about.
Leone joined the Frederick County Sheriff's Office in 1995. He says the sheriff at the time, Jim Hagy, took a chance on him. "I didn't have any experience, no education," Leone tells the group. "I learned the importance of paying it forward and investing in your team."
When Leone became interim chief of the University of Maryland, Baltimore Police Department (UMBPD) in June 2020, the department was in turmoil: half-finished projects, employee grievances, and a culture of blame.
"Without a solid culture for your organization, you don't have the foundation to grow and succeed," Leone said. He quickly set to work creating that foundation for success by instilling a culture of accountability. "We have to coach, train, and mentor. We want people to succeed."
Changing the culture started from the top-down. Leaders are expected to continue their education. In 2021, Leone completed his Master of Science in Homeland Security and Crisis Management Law degree from the Francis King Carey School of Law.
Service excellence — an Administration and Finance guiding principle — also meant building relationships with internal and external customers. In 2021, UMBPD expanded its community outreach initiatives in partnership with the University of Maryland School of Social Work and community partners.
"It makes perfect sense to bring these groups together for the common good," Leone told the MACEM&PS group. "We have to be good partners and neighbors. We want to help the city and meet people where they are."
As an innovative public safety leader, Leone says he wants UMBPD to "be the best." He says to be the best, you have to create a culture of customer service; get the right people on board; treat everyone with dignity and respect; look at everything through a lens of diversity, equity, and inclusion; and help people build their brand.
"As a leader, you have to put others before yourself," said Leone. "I ask, 'What can I do to help you prepare for the next step?' That's how we change the culture. That's how we lead through service."