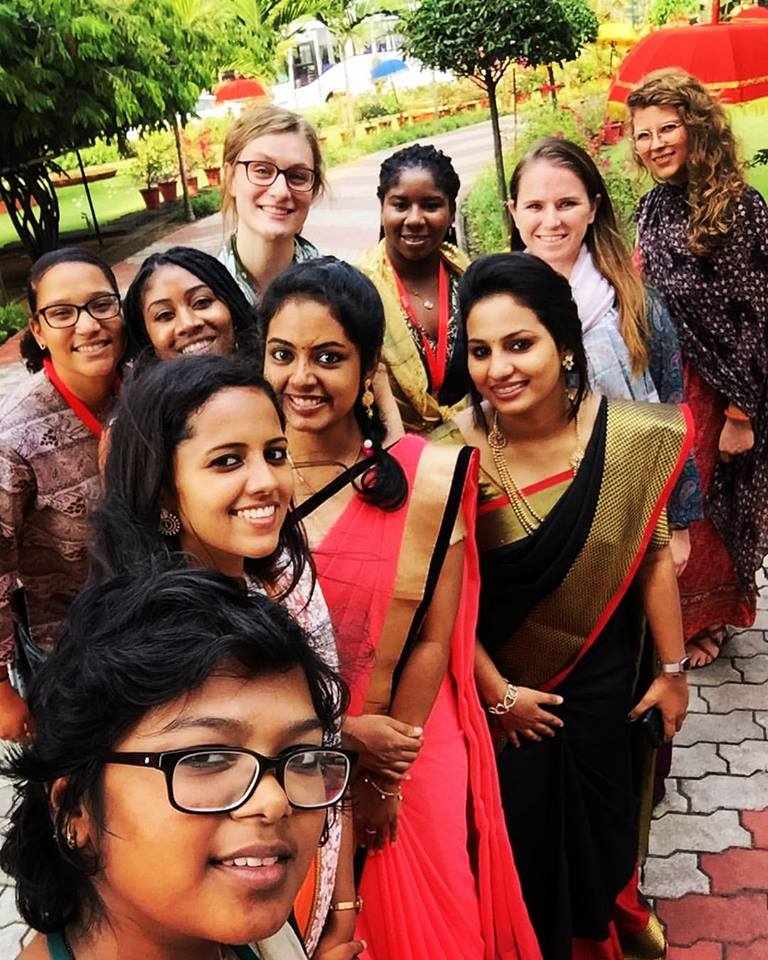 The School of Social Work offers students a unique opportunity to explore health care practices and mental health in India.
---
For more than 25 years, the University of Maryland School of Social Work (UMSSW) has been a pioneer in global education, offering students a unique opportunity to explore health care practices and mental health in the state of Kerala, India, in partnership with Rajagiri College of Social Sciences. The program began in 1997 and has continued to evolve, making a lasting impact on students and faculty alike.
"The University of Maryland School of Social Work's global course to Kerala, India, is a transformative education experience that transcends traditional classroom learning," said Joan Pittman, PhD, MSW, LCSW-C, clinical professor, UMSSW, who leads the India course. "This initiative fosters a deep understanding of global health care practices and mental health and expands students' cultural humility and interprofessional knowledge. With its rich history and promising future, UMSSW's India course and partnership with Rajagiri College is an exemplary model of international social work education."
The global course — Interprofessional Exploration of Health and Mental Health in Kerala, India — is a three-credit immersive experience that takes place every other year in January.
The course unfolds in two stages. It starts with three fall classes, where students from social work, nursing, and other disciplines engage in in-depth discussions and collaborative projects, setting the stage for their travels to India.
Following the preparatory coursework, participants embark on a 10- to 14-day trip to Kerala, immersing themselves in the culture and health care system. During this time, students attend the Dyuti conference at Rajagiri College, an international conference focusing on social work and global health care challenges and solutions. The conference provides opportunities to learn from social workers from around the globe and make lasting connections with social work students from Kerala.
During the travel portion of the course, students visit three regions in the state of Kerala to observe and discuss social work and health care practices in a range of settings including a private hospital, foster care agency, special education school, inpatient mental health center, and ayurvedic health center, a traditional form of health and mental health treatment in India. This exposure is designed to give students firsthand insights into the health care and social service systems of Kerala and fosters a deeper appreciation of the diverse approaches to health and wellness across different cultures.
Students also visit important culture and religious sites to further their understanding of the culture in Kerala. All these experiences are paired with faculty-facilitated group dialogues, journal assignments, and a campus presentation upon return to Baltimore to help students critically reflect on the experiences and apply learning to their fields of practice.
The partnership between UMSSW and Rajagiri was started 25 years ago by Raju Varghese, EdD, MPH, MSW, MA, a former faculty member of UMSSW and Rajagiri College and current faculty emeriti at UMSSW. His vision for this pioneering international education program and dedication to fostering cross-cultural learning has been instrumental in the success of the program, which has been transformational for hundreds of students, alumni, and faculty who have participated over the past 25 years.
Students who have participated in this transformative course have described it as a life-changing experience. The exposure to different health care practices, cultural nuances, and global perspectives has broadened their horizons and deepened their commitment to the field of social work and health care.
One student shared, "This course allowed me to see the world from a different lens, and it has forever changed how I approach my work as a health care professional. The knowledge and cultural competence I gained in Kerala are invaluable."
International Field Placement Program in India
In 2007, the partnership with Rajagiri College expanded to include an International Field Placement Program (IFPP). This program provides students with invaluable opportunities to gain practical experience in the field of social work in Kerala. Placements allow students to apply the knowledge and skills they've acquired during coursework in a real-world context, making a tangible difference in the lives of the people they serve.
While many schools of social work offer global coursework, there are few programs similar to the IFPP, which includes coursework and an entire year of field work abroad. UMSSW students apply for this selective program during the fall of their foundation year, and selected students participate in preparatory activities during the spring of their foundation studies year. They travel the following summer to Rajagiri College and are in residence for five months.
The IFPP is immersive. Students live on the Rajagiri College campus in Kochi, have their meals with Rajagiri College students and faculty, take two classes with Rajagiri College's MSW students, and complete their entire advanced field placement as a block in local social service agencies.
As a result of the success of the Rajagiri College partnership, UMSSW's IFPP expanded to a second partnership, with the University of Greenwich in London. Between these two sites, more than 150 students have participated in the IFPP. While many alumni of these programs have pursued international career opportunities, the majority have worked domestically but have noted the value of learning additional ways of practicing social work from their time in India and the U.K. This is particularly helpful training for working cross-culturally.
New Opportunities on the Horizon
Students who will have completed their foundation courses and field by May 2024 may apply for the 2024 IFPP by Nov. 27. For more information, please email Lynn Michalopoulos, PhD, at lynn.michalopoulos@ssw.umaryland.edu or Caroline Long, PhD, LCSW-C, at clong@ssw.umaryland.edu.
As UMSSW prepares for its next India course, scheduled for fall 2024-spring 2025 with travel in January 2025, there is no doubt that it will continue to offer students an extraordinary opportunity to explore health care practices and mental health in Kerala, India. Student applications for the program will open in August 2024.