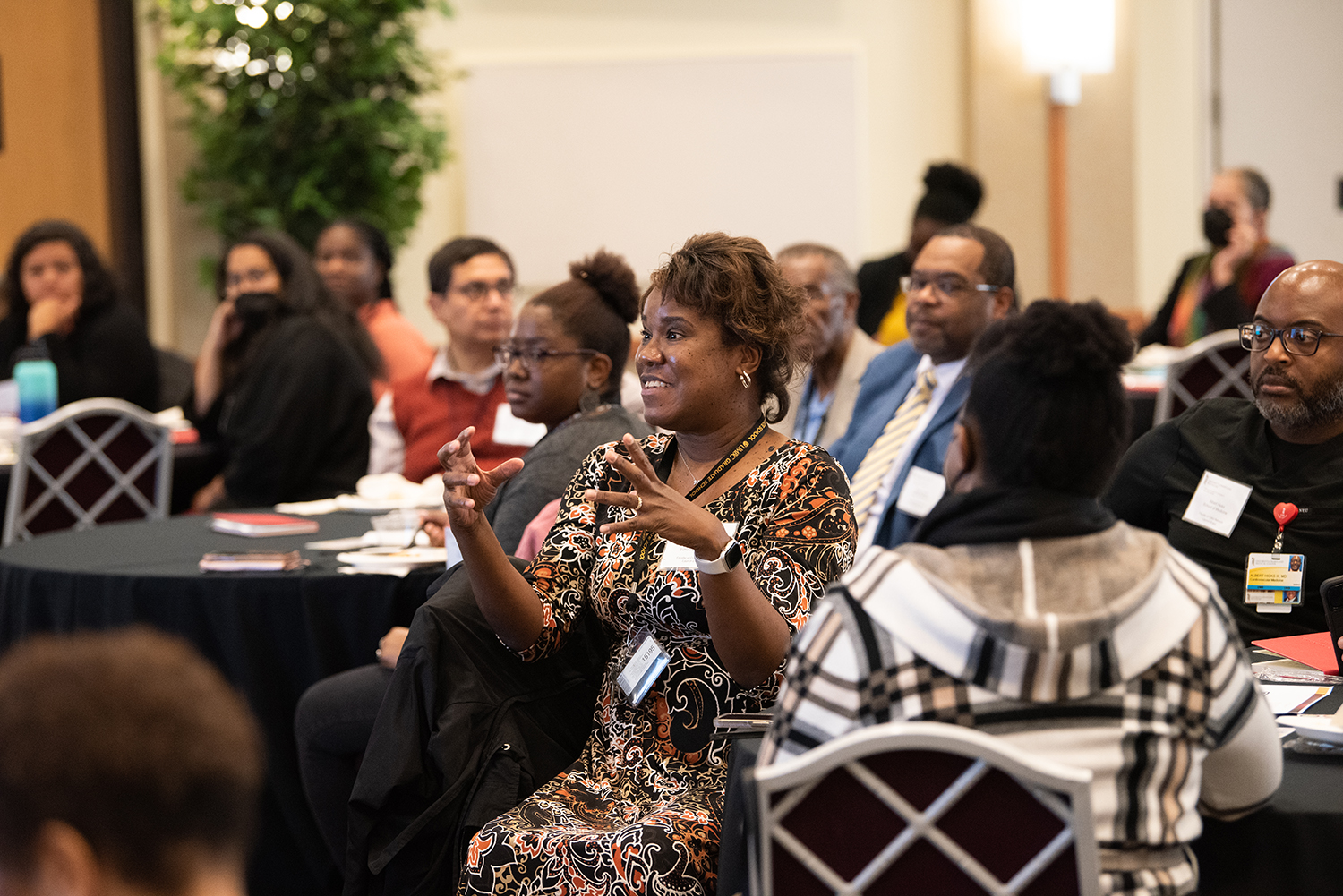 Launched by the Office of Equity, Diversity, and Inclusion, the network is designed to support the recruitment, retention, and success of UMB faculty from underrepresented groups.
---
The University of Maryland, Baltimore's (UMB) Faculty of Color Network (FCN) is an initiative designed to support the recruitment, retention, and success of UMB faculty from underrepresented groups. Launched by the Office of Equity, Diversity, and Inclusion (OEDI) in late 2022, the network is another key part of the University's efforts to advance its strategic focus on equity, diversity, and inclusion.
FCN, which is specifically for those who identify as faculty of color and is based on principles that are grounded in research on faculty equity, climate, and advancement, will provide opportunities for community building, knowledge sharing, networking, faculty mentoring, support, and collaboration among faculty members from UMB's seven schools.
"Faculty of color are underrepresented in higher education, particularly in the science, technology, engineering, and mathematics [STEM] disciplines, and research reveals that they often experience isolation, marginalization, and lack a sense of belonging to their institutions," said Diane Forbes Berthoud, PhD, MA, UMB's chief equity, diversity, and inclusion officer and vice president. "At UMB, faculty of color from underrepresented groups combined constitute less than one-third in most schools, and when disaggregated by individual racial and ethnic populations, such as Black/African American and Latine, the need for community and support is even greater."
FCN was launched in late November with a networking event at the SMC Campus Center that featured remarks from UMB President Bruce E. Jarrell, MD, FACS, and Roger J. Ward, EdD, JD, MSL, MPA, provost and executive vice president, UMB, and dean of the Graduate School. The event also included a real-time feedback session, lunch, and time for mingling. More than 60 faculty members attended the 90-minute session including Darren Whitfield, PhD, MSW, associate professor, University of Maryland School of Social Work.
"I enjoyed the event," Whitfield said. "I appreciated how UMB leadership used the time to hear from faculty about their experiences and what they wanted from the University in terms of supporting faculty of color. The opportunity to brainstorm ways that could support faculty of color was the highlight for me.
"It's important to have this network, because the research is clear that faculty of color face greater challenges in academia in terms of career advancement," he added. "Many faculty of color do not come from backgrounds where they are exposed to academia, and it can be a challenge to understand its culture. Having a network like this ensures greater success."
More than one-third of the attendees surveyed during the event said they were looking for networking and community building opportunities with their participation, while more than a quarter said they were seeking interprofessional collaborations. They also were polled for their thoughts about what UMB's first Diversity Strategic Plan should prioritize. The top three responses: recruitment and retention, professional development and career advancement.
Another attendee, Niya Werts, PhD, MIS, MS, program director, MS in Health Science, Graduate School, says she enjoyed meeting colleagues from other UMB schools whom she might not interact with regularly.
"For me, that's the highlight of having this network," Werts said. "In general, if faculty of color have a place to unite, then their voices have a better chance of being heard when they need to advocate for something."
FCN also serves to highlight UMB resources that support faculty development, with OEDI noting the recently launched Leaders in Education: Academy of Presidential Scholars (LEAPS) and the University's membership in the National Center for Faculty Development and Diversity (NCFDD).
LEAPS is an initiative designed to support the educational priorities outlined by Jarrell and recognize and advance the achievements of educators in each UMB school. The academy provides resources to connect faculty with professional development, mentorship, and community-building opportunities, as well as intramural and extramural funding opportunities to produce scholarly work in education.
NCFDD is an independent faculty development center dedicated to supporting members of academia in making successful transitions throughout their careers. It is a nationally recognized organization that provides online career development and mentoring resources for faculty, postdocs, and graduate students through webinars and virtual workshops and discussion forums.
Moving forward, FCN is planning receptions and social events with network members and University leaders, expert speaker series and research forums, and sponsored collaborations with the University System of Maryland and other organizations. Its next meeting is scheduled for April 24, noon to 1:30 p.m., at the Dr. Samuel D. Harris National Museum of Dentistry on South Greene Street.

In photo: Laundette Jones, PhD, MPH, associate professor at the University of Maryland School of Medicine, speaks at the Faculty of Color Network launch event in late November.