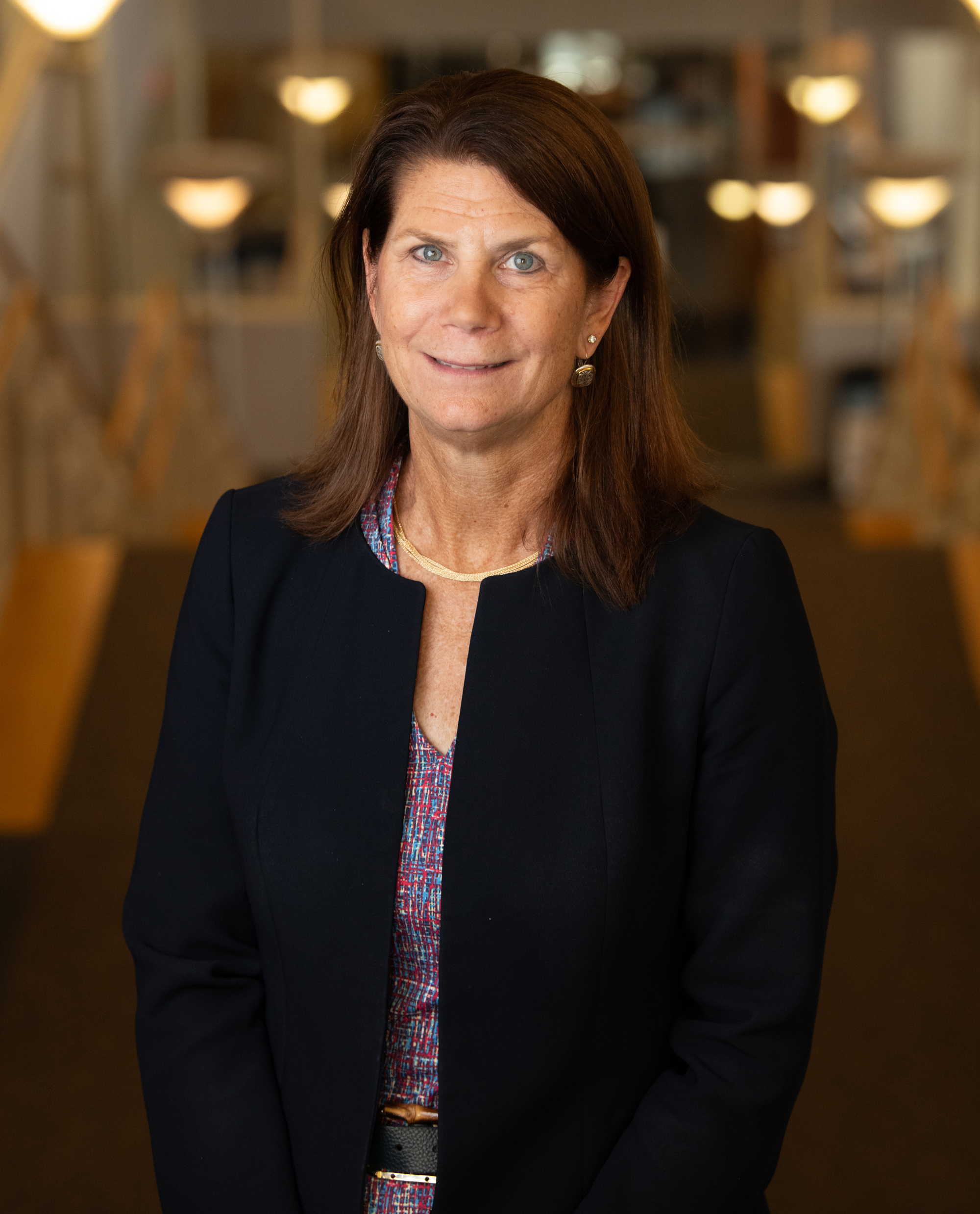 The Center for Vaccine Development and Global Health director is honored for her lifelong work on studying vaccines to treat infectious diseases and for being a leader in the fight against COVID-19.
---
Every fall, the University of Maryland, Baltimore (UMB) commemorates our rich history and celebrates the future we're building together during Founders Week, which this year runs Oct. 16-19. Among the highlights of Founders Week is recognizing the extraordinary work of our faculty, staff, and students with awards that signify outstanding accomplishment in entrepreneurship, research, public service, education, and academics. Leading up to Founders Week, we will highlight the award winners every Wednesday on The Elm. For more information on UMB's annual celebration and associated events, please check out the Founders Week website.
---
When the COVID-19 pandemic unfolded nearly four years ago, Kathleen Neuzil, MD, MPH, FIDSA, was exactly where she wanted to be: the Center for Vaccine Development and Global Health (CVD) at the University of Maryland School of Medicine (UMSOM).
Neuzil had joined the center as director in 2015, leaving the global health nonprofit PATH in Seattle and succeeding Myron M. Levine, MD, DTPH, who had co-founded CVD and been its leader since its inception in 1974.
"I immensely enjoyed my work at PATH, where I had worked on vaccines and vaccine introduction for a decade, but I missed the collaborative science and training focus of an academic medical center," said Neuzil, who had previously worked for the schools of medicine at Vanderbilt University and the University of Washington. "The mission of CVD to lead multidisciplinary, innovative vaccine research to improve lives everywhere resonated strongly with me and aligned with my career goals."
(Watch a video about Neuzil below or at this link.)
It was no surprise that Neuzil and her CVD colleagues stepped up to confront the pandemic in early 2020. CVD led several vaccine trials and coordinated with multiple research sites across the country in work that ultimately led to U.S. Food and Drug Administration emergency use authorization for COVID-19 vaccines.
Simply put, Neuzil and the prestigious center were made for the moment.
"CVD is a very unique place," said Neuzil, an internationally recognized researcher who also is co-director of the Coronavirus Prevention Network, a group of National Institutes of Health (NIH)-funded sites that participated in Phase 3 trials of COVID vaccines. "It's one of the few academic medical research institutes that really studies all phases of vaccinology — from antigen discovery all the way through vaccine testing in animals, testing in human trials, delivering the vaccine, and then going out into the field to see how it's working.
"So you can really understand that, through this type of collaboration, the people who are doing the antigen discovery understand what it's going to take to get a vaccine into people's arms," she added. "And those of us who are more on the clinical side, we understand the vaccine at a fundamental level, which helps us to design better trials. So CVD is based from start to finish on collaboration."
For her efforts to combat COVID-19, Neuzil was named Marylander of the Year by The Baltimore Sun in 2020; earned a Special COVID-19 Pandemic Award from the University of Maryland, Baltimore (UMB) in 2021; and received the Alumni Excellence in Research Award from the University of Maryland, College Park in 2022. Adding to the accolades, UMB has named Neuzil its 2023 Founders Week Researcher of the Year for her leadership in researching vaccines and fighting disease.
"I can hardly imagine anyone more deserving of this award," said Distinguished University Professor Karen Kotloff, MD, a pediatric infectious disease specialist at CVD who was UMB's Researcher of the Year in 2018. "Dr. Neuzil is a thought leader who has made pivotal contributions toward advancing the clinical science of vaccines against respiratory viruses, rotavirus, and, more recently, typhoid fever. She is a compelling speaker and advocate who seizes on critical issues and motivates the actions needed to evaluate and implement public health interventions."
Throughout her career, Neuzil has conducted clinical and epidemiologic studies on vaccines for infectious diseases and been instrumental in the global implementation of vaccine programs, most recently for typhoid fever. Her research on influenza virus is extensive and includes pivotal epidemiologic studies of disease burden, clinical trials of vaccine candidates, and human challenge studies.
Neuzil also is the principal investigator (PI) for the National Institute of Allergy and Infectious Diseases' Collaborative Influenza Vaccine Innovation Centers' Clinical Core as well as the co-PI of the Infectious Diseases Clinical Research Consortium Leadership Group, which supports the planning and implementation of research executed by NIH-funded Vaccine Treatment and Evaluation Units.
She has written more than 300 scientific publications on vaccines and infectious diseases and served on prestigious policy and scientific advisory committees. Currently a member of the World Health Organization's Strategic Advisory Group of Experts on Immunization, Neuzil is regularly interviewed as a vaccine expert by the news media and in 2019 earned membership in the National Academy of Medicine, one of the highest honors for individuals who have made major contributions to advancing medical sciences, health care, and public health.
Neuzil also is dedicated to supporting medical students by providing academic mentorship and participating on master's and PhD dissertation committees at UMSOM.
"My current focus is to foster the research careers of the next generation of vaccine scientists," said Neuzil, who was named UMSOM's Myron M. Levine, MD, DTPH Professor in Vaccinology in 2019. "The experience of the worst global pandemic in more than a century — and the positive impact of vaccines on its trajectory — emphasize the imperative of fully supporting our early-career scientists."
And if those scientists end up working for CVD, they'll find an environment rooted in the collaborative spirit that Neuzil has embraced and encouraged.
"It really is true that we all work well together at CVD," she said. "And it's not only within CVD, but even within the center in terms of departments. We have pediatricians, internists, pulmonologists, molecular biologists — and each person with their talent enriches the other.
"We do think big here at the School of Medicine," Neuzil added. "CVD is an example of that, showing what you can accomplish if you bring groups together and have a big vision."