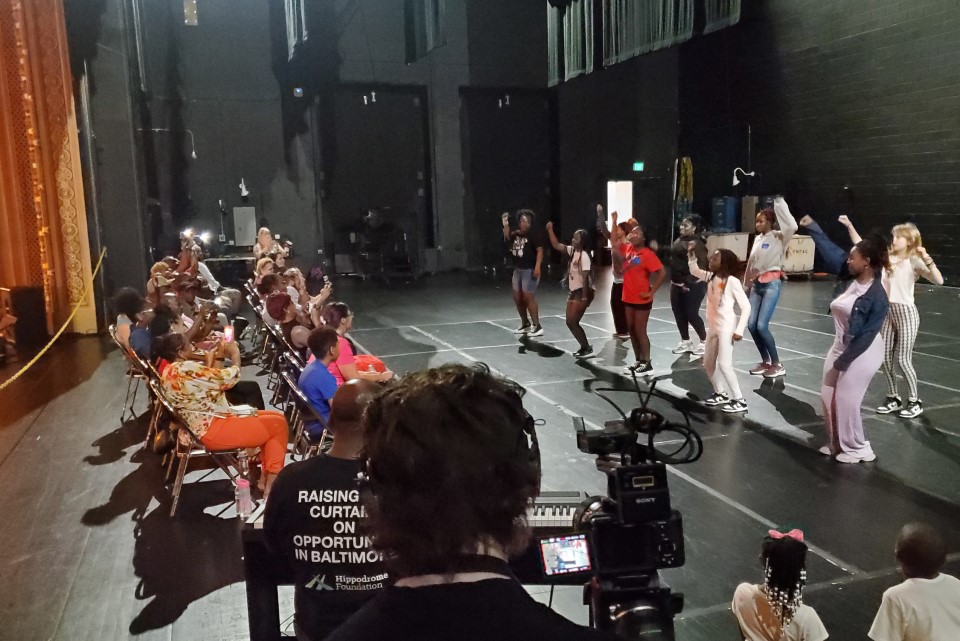 The single-day theater camp offers UMB Administration and Finance employees and their children an encore-worthy experience.
---
Photo: Administration and Finance employees and their families look on as campers deliver their big performance on the Hippodrome Theatre stage.
---
Camp Hippodrome is a free program from the Hippodrome Foundation, Inc. (HFI) — the nonprofit partner of the Hippodrome Theatre — that provides Baltimore City students the opportunity to receive professional instruction during the summer at the Hippodrome Theatre. Recently, the children of University of Maryland, Baltimore (UMB) Administration and Finance (A&F) employees got their own abridged, single-day version of the camp, complete with an end-of-day performance on the iconic Hippodrome stage.
The camp was an extension of the burgeoning partnership between the Hippodrome Theatre, HFI, and UMB.
(See video below or on YouTube.)
"We had over 40 families sign up to participate, with children ranging in age from 4 to 16," said Nicole Palmore, MSW, executive director of diversity, equity, and inclusion for A&F and facilitator of the camp. "To make sure all of our employees had equal access to the camp, we focused our initial marketing efforts on families that might not normally have the means or access to attend a camp such as this. This included offering all parents complementary time off to drop off and pick up their children and, of course, take in the show. We then opened registration open to all members of the Administration and Finance division. The response has been fabulous."
Unlike the weeklong theater camp that's reserved for rising sixth-, seventh-, and eighth-grade students of UMB employees, this single day camp included a large spread in ages. The theater activities covered during the day included theater and actor "training," lightly choreographed dances, vocal training, and the creation of all original slam poetry by each child. Lunch included the always popular combo of pizza, fruit, and snacks, which was appreciated by all in attendance.
HFI an educational arm of the theater that works to introduce Maryland students and community members to the performing arts. The camp is run by Barb Wirsing, education Director for the foundation, and a group of uber-enthusiastic counselors, many of whom are former campers themselves.
"By introducing young people to new experiences and collaborative performances that they might not experience otherwise, the camp is 'raising the curtain on opportunity' for children of all ages," Palmore said. "Camp Hippodrome inspires kids and students to think creatively, to use collaboration and acting to foster learning, and help students understand the value that the arts can bring to their lives. We think those are ideas that are worthy of a standing ovation."