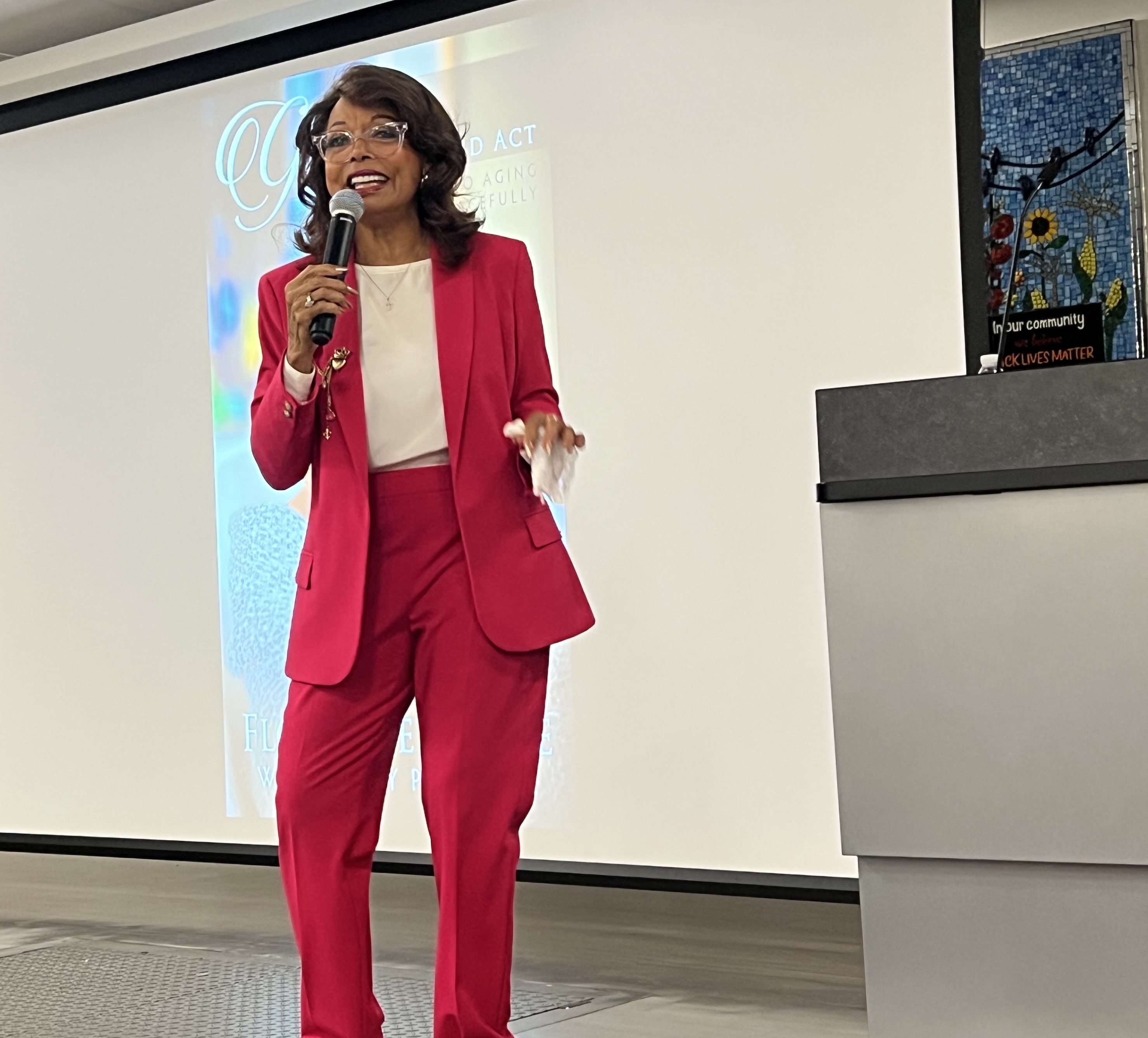 The 5th Dimension singer and author engages with community members during her talk and book signing at the Community Engagement Center.
---
5th Dimension co-founder and author Florence LaRue let the sunshine in during her talk May 4 about her book, "Grace In Your Second Act: A Guide To Aging Gracefully," at the University of Maryland, Baltimore (UMB) Community Engagement Center.
LaRue captivated the audience from the moment she walked in singing "I Love Being Here With You" and "Wedding Bell Blues," a No. 1 hit for the 5th Dimension, until ending the event signing her book for attendees.
Throughout her talk, she interacted with the audience, asking them to define grace and their second act.
"The definitions that I choose to use for grace are mercy and pardon for the mistakes we make in our first act and dignity and honor with a plan to make in our second act," LaRue said. "I'm on a mission to motivate people, young and old, men and women, to live and not just exist."
LaRue, who has six Grammy Awards, 14 gold records, and three platinum records and has sold over 35 million albums, talked about how she came to be part of the 5th Dimension, which she said sings "champagne soul." She was in college studying to become a teacher but was also participating in talent contests because she wanted to be a movie star. She won a contest and a photographer at the event asked her to join his group, which later became the 5th Dimension. The group found success with hits like "Aquarius/Let the Sunshine In," "Up, Up and Away," and "Go Where You Wanna Go."
In talking about her second act, LaRue, who turned 81 this year, said she plans to continue to sing but to expand her career as an author and speaker.
"The second act can be defined by many things. Most of us begin our second act at the age of 40 or 50," she said. "It can be the beginning of a new event. It can be changing careers, the beginning of accomplishing a dream.
"My question is, 'Are you living or just existing?' And if you're living, what kind of life are you living? Is it what you've dreamed of? Or have you been discouraged? Society will give you all kinds of excuses of why you can't live the life you've dreamed of."
After finding the youngest and oldest man and woman in the audience to present with a gift, LaRue said, "I did this little experiment just because I want you to know that age is just a number. When we're younger, we do everything to look older and then when we get older, we do everything to look younger. We're never happy. We have to learn to enjoy the age that we are."
She talked about staying active, showing medals she's received for participating in marathons.
"You can get old, which conjures up to me a picture of a stagnant person who has no goals or dreams and has given up on life, or you can grow older by thinking of ways to keep active mentally and physically, helping others by doing things such as community service."
LaRue had seven pieces of advice, which included do what you can with the pockets of time you have, don't let the times we're in steal your dreams, enjoy the season of life you're in, and know that you may be invisible, but you are not invaluable.
LaRue got emotional recalling a letter that her son had written her when he was 10 and she was touring with the 5th Dimension.
"So many people tell me that they want to be like me. You don't know what I've been through. You don't know the challenges I've had, the sacrifices I've had to make," she said. "The biggest sacrifice I've had to make is being away from my family."
She said her son wrote asking for Christmas gifts, but then said he would give them all up for more time with his mother.
"We all have our cross to bear. Be yourself," LaRue said. "Enjoy your family. If I had it all to do again, I would put myself, my career aside until my son was older and spend more time with him."
At the beginning of her talk, she passed out sheets of toilet paper to audience members but didn't tell them why until the conclusion.
"I want you to take this tissue home with you, and I want you to write on it what is preventing you from following your dream, whether it be health, career, whatever. And then I want you to flush it down the toilet and move on to good dreams," LaRue said, before asking the audience to sing "This Little Light of Mine" with her.
Ceatrice Pankey of Mount Vernon said she enjoyed that LaRue sang and interacted with the audience.
Shirleen Scurry of West Baltimore agreed.
"It was informative," she said, pointing out that people usually don't reveal their age, something LaRue and audience members did. "She brought people in, it was interactive, and she made everybody relax."
Neil J. Bixler, JD, of Canton called LaRue's talk entertaining and inspiring.
"Her energy was contagious, and her advice was straightforward: Figure out what is preventing you from following your dreams, and then move past it," he said.