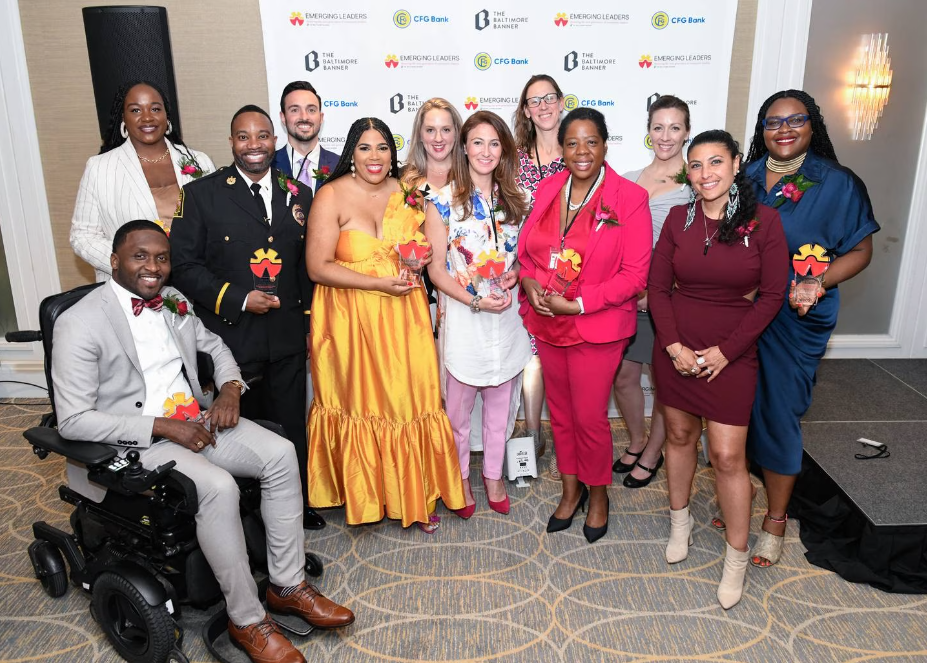 The commander of the UMB Police and Public Safety Community Outreach and Support Team is among the inaugural group of 12 celebrated for making a difference in the city.
---
"Wow, this is surreal," Lt. Matthew Johnson said to murmured laughter. Standing at a podium at the Center Club on May 17, Johnson shared his thanks for being one of just 12 honorees for The Baltimore Banner's new Emerging Leader award. "I am honored to be here but I'm also humbled to be part of a group of talented leaders making the city a better place."
Johnson's award recognizes his work as commander of the University of Maryland, Baltimore (UMB) Police and Public Safety Community Outreach and Support Team (COAST). Johnson, a 16-year veteran of UMB Police, has led COAST since it was developed in 2018.
COAST works with the community to build partnerships and make a difference in the West Baltimore community. This community, which surrounds UMB's campus, faces a wide variety of hardships common in many urban areas, including drug activity, poverty, mental illness, homelessness, crime, and more. These citywide challenges were highlighted by almost every Emerging Leader honoree and speaker, who emphasized why working with community members is so important.
"We want to make a better Baltimore. We want to make sure that there's not only a reduction in crime, but we want to make sure we enhance our communities. We want to do that in a way that is equitable, justified, and inclusive," Johnson said. "Baltimore is a community full of challenges, and I really look forward every day to facing those challenges head-on and trying to make a difference in the communities that we serve."
In 2021, COAST launched a pilot program with the University of Maryland School of Social Work (UMSSW) that pairs social work interns with police officers on the street. This program is the first of its kind in the country, providing case management that police officers do not often have the resources or time to provide. UMSSW social workers ride along with the UMB Police outreach and intervention officer to provide job referrals, drug treatment resources, and even vital records.
Vital records (e.g., birth certificates, social security cards) are especially important to get housing, jobs, and more. Persons who are homeless and do not have these records can get stuck in a cycle with no way out. Accessing these records can be difficult, and can feel impossible for those with no home, internet, phone, or information. Since it began, the program has had more than 863 engagements, 1,702 follow-up engagements, 130 job referrals, 96 vital records, and 79 drug treatment placements.
COAST also is a key liaison with Baltimore City's Law Enforcement Assisted Diversion (LEAD) program, which redirects people arrested for low-level drug offenses to treatment and other services. Johnson and his team use empathy and compassion to dive beyond the surface-level view of homelessness and explore the complexities of drug addiction, mental illness, and poverty. Each week, UMB police officers work with Paul's Place — a nonprofit organization providing programs, services, and support in Southwest Baltimore — to connect the city's most vulnerable populations with the resources they need to get them back on their feet.
COAST's engagement begins from a young age, with officers mentoring students after school in the Police Athletic/Activities League (PAL) program. This PAL chapter is one of just two PAL programs based at a university in the United States.
UMB also was the third university in the country with a police therapy dog. Comfort K9 Poe provides stress relief and affection to people dealing with anxiety, depression, trauma, or mental illness. He also humanizes UMB Police by encouraging all dog lovers to approach and interact with police.
The award recognizes community leaders under the age of 40 who are driving change in Baltimore and throughout Maryland and have shown a personal commitment to serve the community. In her introduction of Johnson, Kimi Yoshino, editor-in-chief of The Baltimore Banner, said he "leans on his outstanding team to bring all these programs together, from homeless outreach to the work of community liaisons and volunteers."
"Without the work of the amazing community that I work in, my outstanding team, the amazing leadership of UMB President Bruce Jarrell, Senior Vice President Dawn Rhodes, Chief Thomas Leone, and Assistant Chief Tonya Bell, I probably wouldn't be on this stage today," Johnson said. He also thanked friends, family, and colleagues, including Kyla Liggett-Creel, PhD, and Mariel Pfister, MSW. Without the support of his team, Johnson said he's "just a guy in a room."
(Photo credit: Steve Ruark)