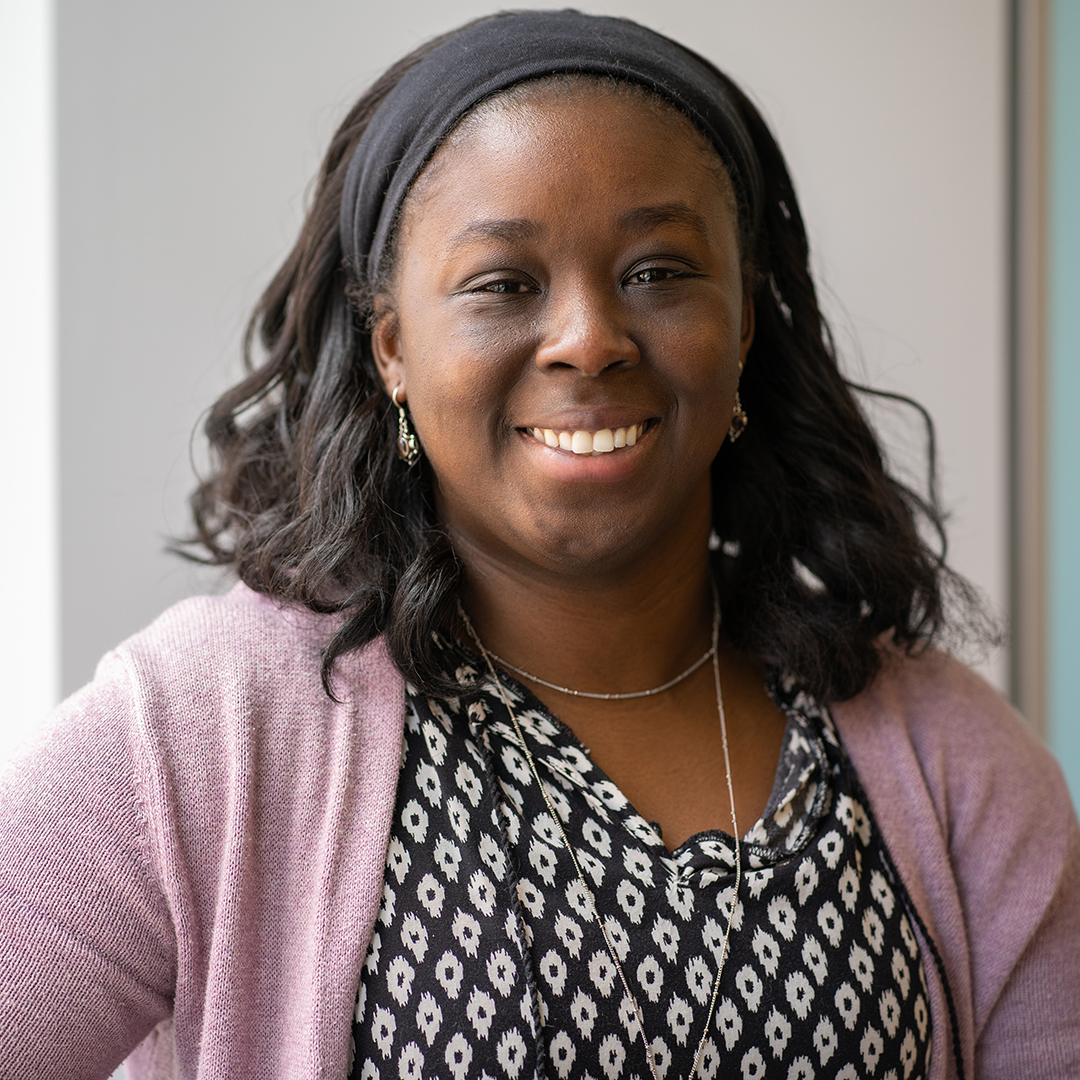 At the end of the academic year, the School of Medicine student reflects on the University Student Government Association's accomplishments and sets future goals.
---
Victoria Hudson is no stranger to the demands of being a student leader. As the current programming chair of the University Student Government Association (USGA), she juggles the responsibilities of being a Doctor of Physical Therapy (DPT) candidate at the University of Maryland School of Medicine (UMSOM), a Florence P. Kendall scholar, and a Brian Bainbridge Memorial scholar while developing engaging and inclusive events for the University of Maryland, Baltimore's (UMB) student body.
Those events include Stressbusters, a weeklong collaboration with URecFit and Wellness where UMB students have multiple opportunities to de-stress during finals. During the first week of May, Hudson could be seen around the SMC Campus Center, giving away free meals and coffee, helping students sign up for massages, and managing a movie night.
Her dedication to interprofessional events positioned Hudson as an ideal candidate for USGA president. Nominated by the current USGA president, Joanna Ye — who is graduating from UMSOM this May — Hudson will begin her appointment May 10.
UMB Student Affairs caught up with Hudson to learn more about USGA's accomplishments this past academic year and her hopes for next year.
What is USGA's mission for those unfamiliar with the organization?
USGA is a collection of students from across all the different schools and programs at UMB. We liaise between students and the University administration, including faculty members, the Office of the President, and UMB Student Affairs. Our primary goal is to ensure student concerns are addressed and student needs are met. Particularly when the University is developing new policies that affect students, we want to guarantee that students are represented in those decision-making processes.
USGA members are known as senators. Senators are students whom their school elects to represent their fellow students within the organization. All the senators meet regularly to discuss the concerns and opinions of students in their program. We work collaboratively to determine potential solutions and next steps. Once a student has served as a senator, they can be elected to a leadership role, including serving on USGA's executive board. Nine student positions are on the executive board, including the USGA programming chair and the USGA president.
What are some of USGA's accomplishments from the previous academic year?
COVID-19 made it difficult for students to interact outside the classroom and with students not in their programs and schools. We're proud of holding more events where students could get involved, meet each other, and form meaningful relationships with other students who may not be in their classrooms. One of our most popular events this past fall involved inviting students to a Baltimore Orioles game. We haven't been able to hold that event in a while, and we're glad it continues to be a success now that we're back on campus.
We're also proud of our fall and spring donations to the UMB Student Pantry. As students, we know that a professional education can be expensive, especially for those who don't have access to significant monetary support. We also know some students face financial challenges, like deciding between paying for school, rent, or food. As an organization here for all UMB students, we want to help continually address food insecurity for our peers.
How does the USGA work with University leadership?
This year, we improved our relationship with University leadership, including the Office of the President and the new Office of Equity, Diversity, and Inclusion (OEDI). We've had a few meetings with UMB President Bruce E. Jarrell, MD, FACS, where he shared his vision for UMB and how students can support that work. Additionally, we shared student concerns and received President Jarrell's invaluable feedback. We also worked with OEDI on listening tours and student surveys to learn more about student experiences at UMB and how the University can improve in the fields of EDI as they relate to students.
As the incoming president, what are you hoping to accomplish in the next academic year?
I'm hoping that USGA can progress in our relationship with the Office of the President and continue the open communication channels that we've established. We also want to increase social engagement across the different schools and programs, so students can make close connections, feel supported, and experience all that the University offers at UMB.