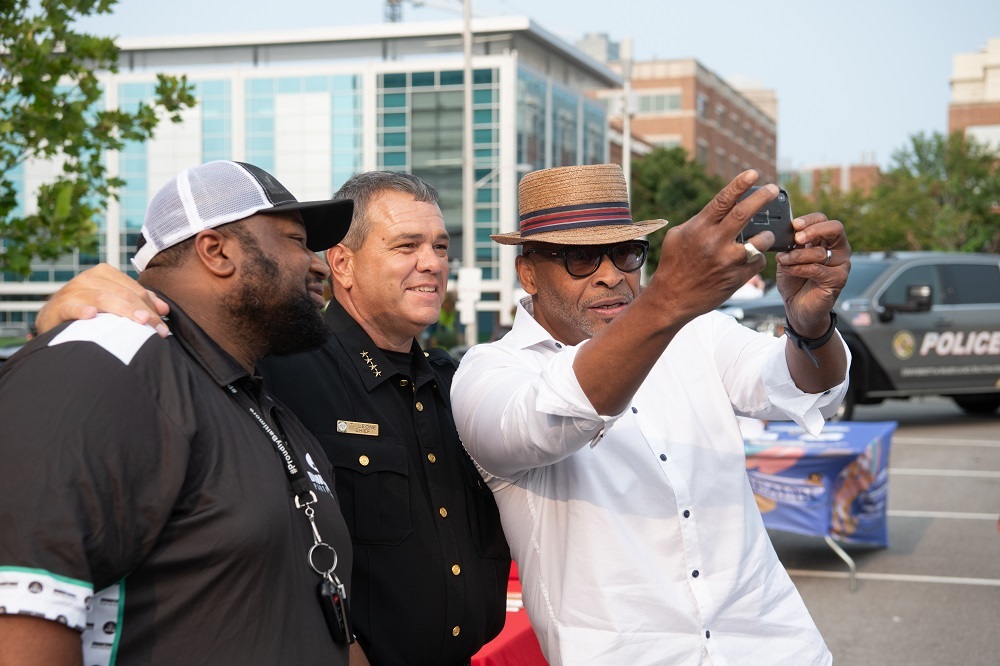 More than 300 community members attended the event hosted by UMB Police and Public Safety and the Community Engagement Center.
---
Photo: UMB Chief of Police Thomas Leone, center, takes a selfie with National Night Out attendees.
---
It's 5 p.m. and the parking lot in the University of Maryland BioPark is already buzzing with activity. University of Maryland, Baltimore (UMB) police communications operators start dancing to the DJ's music alongside community members. Nearby, a UMB security officer is carefully applying face paint to a child's cheek. UMB police officers are handing out hamburgers and hot dogs fresh off the grill to dozens of people.
This is National Night Out. The national campaign promotes positive relationships between police and the communities they serve. At UMB, the event is a partnership between Police and Public Safety and the Community Engagement Center (CEC), with support from the BioPark and dozens of community organizations.
"We get to meet people from our community that we don't have an opportunity to talk to on a daily basis," said Thomas Leone, MSL, assistant vice president for public safety and chief of police. "We get to do some fun things together at National Night Out."
(See video below.)
Leone says he enjoys visiting partner resource tables, including mental health outreach, services for the unhoused population, and more. UMB's Office of Emergency Management provided Stop the Bleed training while the UMB Office of the Fire Marshal showed community members how to use a fire extinguisher. This year, representatives from the U.S. Drug Enforcement Administration also attended to provide substance abuse information and resources.
UMB's National Night Out has grown each year, with more than 300 people attending this year's event on Aug. 1. The event includes free food, music, games, and prizes, but neighbors say they come for the community.
"National Night Out is when everybody comes out. I love it," said Dorothy Page, community liaison for the Poppleton neighborhood. Page says UMB Police and Public Safety's efforts in the community make a difference.
"You want your residents to rest assured that they're going to be safe and that somebody is looking out for them," she said. Page, who is known as "Ms. Dotie," has been a fixture in the community for years. She attends CEC events year-round and encourages other neighbors to do the same.
The Police Athletic/Activities League (PAL) is another partnership between UMB Police and Public Safety and the CEC. Raiven Richardson has been a member of PAL for "four or five" years.
"PAL police make me feel safer and more protected because they're always there. When you need something, they'll find out how to get it," Richardson said. "You get to learn about life skills and how to use them when you get older."
Richardson says National Night Out is an opportunity to hang out with her PAL mentors outside of the program. Her favorite part of the event is the video game truck.
UMB Police and Public Safety's Community Outreach and Support Team (COAST) engages with the community year-round through PAL, partnerships with local schools, the comfort K9 program, a collaboration with the University of Maryland School of Social Work, and more. COAST's work speaks to UMB Police and Public Safety's role as a progressive, community-oriented police department. National Night Out is just one more way the department engages with the community it serves.
Sarah Porter, interim assistant director of community engagement programs at the CEC, says National Night Out is a time to celebrate with the community. "UMB loves this neighborhood. We want to provide access to opportunities for our community members and give back," Porter said.
The event is just one small way that UMB gives back. As word spreads each year, the event continues to grow.
Back on the BioPark lot, the smell of fried dough wafts nearby. A neighborhood child licks powdered sugar from her fingers.
"This might be a 'police-y' thing to say," Leone said, "but those donuts are a pretty big hit tonight."
Save the date for the next National Night Out on Tuesday, Aug. 6, 2024.