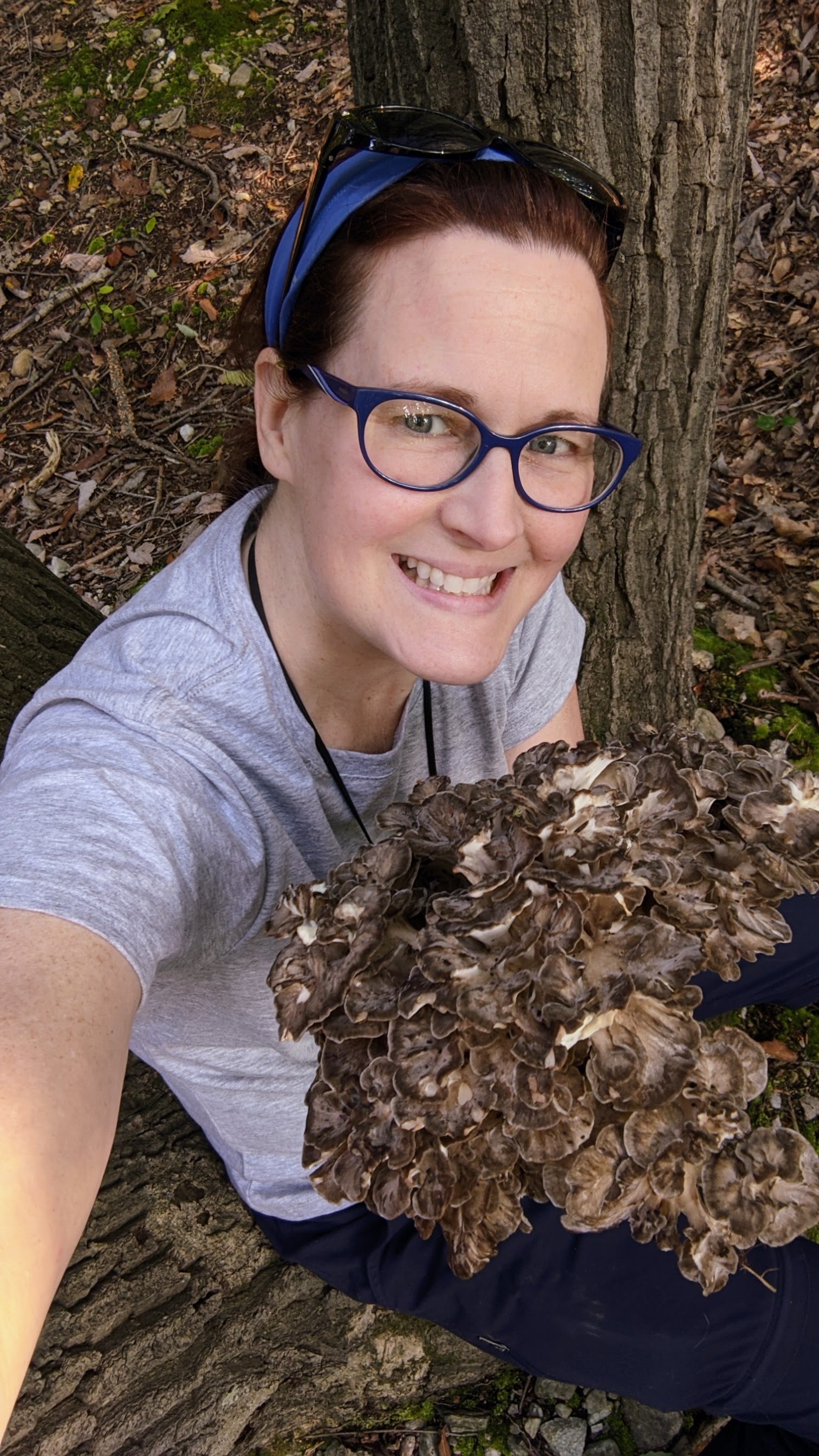 The School of Dentistry assistant director for annual giving gives back to our environment through service and embracing community science.
---
The University of Maryland, Baltimore (UMB) Office of Sustainability would like to recognize Rebecca "Becky" Davis as a Sustainability Champion! Davis is the assistant director of annual giving at the University of Maryland School of Dentistry and has been at UMB's Office of Development and Alumni Relations since October 2022. Davis had 23 years of experience as a professional fundraiser prior to joining UMB. She has worked at organizations such as the Maryland Science Center in Baltimore and Americans United for Separation of Church and State, a national advocacy organization, in Washington, D.C.
Davis has been an advocate for sustainability since she was young. Growing up in northeastern Florida, her mother encouraged and instilled in her and her twin sister an appreciation of plants, animals, and fungi in the environment in which they lived. The girls spent much of their time enjoying the outside, which inspired Davis as an adult to seek related hobbies and ways to protect and preserve outdoor habitats.
Today, Davis is a self-described forest-rambler, tree-hugger, naturalist, forager, and gardener. She loves cultivating native species in her garden — plants that have evolved within the local ecosystem and therefore provide a multitude of benefits to birds, insects, and humans alike.
"I enjoy gardening with and extolling the virtues of native plant species; and (as a fundraiser, this is important to me) I donate to local and national conservation and research organizations," Davis says.
Off campus, Davis serves on the Board of the Directors of Patapsco Heritage Greenway (PHG), a nonprofit managing organization for the Patapsco Valley Heritage Area. PHG's mission is dedicated to preserving, protecting, interpreting, and restoring the environment, history, and culture of Maryland's most dramatic river valley for all. Davis has been on the PHG board for two years and has enjoyed meeting like-minded people and learning about all the efforts done to preserve and protect Patapsco Valley's natural resources and historic landmarks.
Another way Davis does her part to protect our local ecosystems is being an advocate of and contributor for community science. Community science engages non-scientists to collect and report data for monitoring and research efforts. As an advanced open-water SCUBA diver, Davis has conducted nearly 100 fish surveys for the environmental group REEF — identifying different species and counting populations. She also volunteers as a Weed Warrior in Howard County, a program that trains and empowers community members to identify invasive weeds and remove them from public spaces through volunteering efforts.
When asked what students, faculty, and staff at UMB can do to contribute to sustainability efforts, Davis says one easy way is to help collect information through apps like iNaturalist, a community science project and social network for novice and experienced naturalists to collect data on biodiversity. iNaturalist allows you to identify plants and animals in your community and gives you the option to map and share those observations.
"I encourage people to be curious about what's around us and be aware of how we impact the lives and well-being of plants, critters, and the environment in our communities," Davis says. "Familiarity and mindfulness often lead to appreciation, which hopefully leads to a sense of responsibility and a desire to protect."
Do you have a UMB Sustainability Champion you would like to nominate to be featured? Please fill out this form. Self-nominations are welcome.
Subscribe here to the UMB Sustainability newsletter and follow the UMB Sustainability social media channels (Facebook, Twitter, and Instagram).