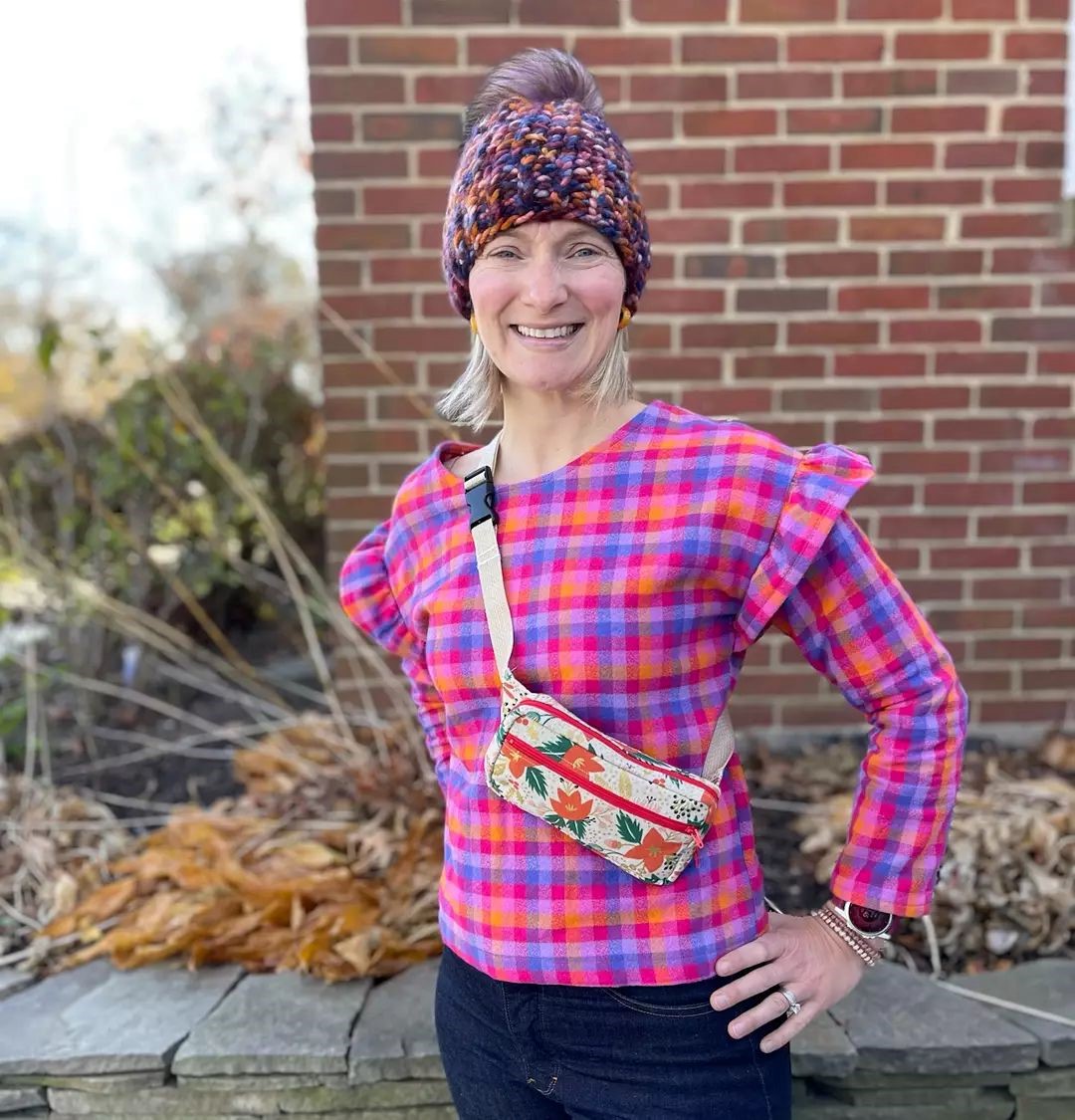 The School of Pharmacy associate professor embraces the concept of slow fashion by making her own clothing.
---
The University of Maryland, Baltimore (UMB) Office of Sustainability would like to recognize Lauren Hynicka, PharmD, BCPS, RYT-200, as a Sustainability Champion! Hynicka is an associate professor of pharmacotherapy at the University of Maryland School of Pharmacy and has been at UMB since August 2009.
As a faculty member, Hynicka has her hands in teaching, service, and research. Her day-to-day responsibilities have evolved considerably over her time at the University, and no two days look quite the same. Within the School of Pharmacy, Hynicka manages a required course called General Patient Management and teaches lectures on numerous topics related to laboratory value interpretation, liver disorder complications, and anemia. She has also developed several elective courses including Post Graduate Training Prep, Introduction to Integrative Medicine, Interprofessional Education (IPE) Culinary Health and Medicine, and Pharmacotherapy Journal Club.
Hynicka's service responsibilities include providing expertise in viral hepatitis C to the Maryland Medicaid Pharmacy Program, assisting in the medication management of ambulatory patients in the THRIVE Program, and providing wellness classes to THRIVE patients. In her clinic, Hynicka precepts both students and residents. On top of her teaching, service, and research responsibilities, she also serves as the co-coordinator for the Pharmacotherapy pathway, represents the School of Pharmacy on UMB's Faculty Senate, and has published more than 25 peer-reviewed papers and presented more than 25 posters at national pharmacy conferences.
While she hasn't been highly involved in sustainability-related topics in her professional life, the IPE Culinary Health and Medicine elective that Hynicka helped to develop does touch on the sustainability of food choices. However, much of the environmental work she has done has been in her personal life. A few years ago, Hynicka's neighbor posted on social media about the change her family was making that year that was focused on sustainability; her neighbor went on to talk about how their family made one change like this every year. "I loved this idea and have tried to embrace it for myself and my family," says Hynicka.
During the pandemic, Hynicka started sewing face masks. One thing led to another and eventually, she decided to buy a sewing machine in the spring of 2021. To justify her purchase, Hynicka decided that over the following year, she would not purchase any clothing. "If there was something new that I wanted, I would make it. That year I made a pair of jeans, numerous tops, several dresses, shorts, joggers, fanny packs, quilts, and several hats. I found making my own clothing to be very rewarding, and I loved the concept of slow fashion." Slow fashion refers to a movement that advocates for environmental and social justice in the fashion industry. In direct contrast to "fast fashion," slow fashion zeroes in on the problems of overproduction and overconsumption in the textile industry.
Even though her year is up, Hynicka continues to make the majority of her clothing. This year, she also decided to make gift bags out of fabric for at least 50 percent of the gifts given by her family during the holidays. "I love the idea of decreasing the amount of wrapping paper that goes into the landfill and giving people a pretty fabric bag that they can use for a future gift they might be giving," she says. In making fabric gift bags, Hynicka also got to support her favorite local fabric shop Domesticity, located in the Lauraville neighborhood of Baltimore.
In addition to her adoption of slow fashion, Hynicka also takes the light rail to work when possible and minimizes the use of single-use plastic bags when packing food for lunches, instead utilizing reusable silicone bags or food containers that can be washed and reused. Hynicka's most recent sustainability purchase was the Lomi, a home kitchen composter that turns organic waste into nutrient-rich plant food in just four hours. When asked what fellow students, staff, and faculty can do to contribute to campus sustainability efforts, Hynicka encourages everyone to take small steps. "I love the idea of picking one thing each year to do and keep doing for sustainability efforts. Maybe your small change is to use a reusable water bottle or to keep reusable silverware at your desk."
Do you have a UMB Sustainability Champion you would like to nominate to be featured? Please fill out this form. Self-nominations are welcome.
Subscribe here to the UMB Sustainability newsletter and follow the UMB Sustainability social media channels (Facebook,  Twitter, and Instagram).