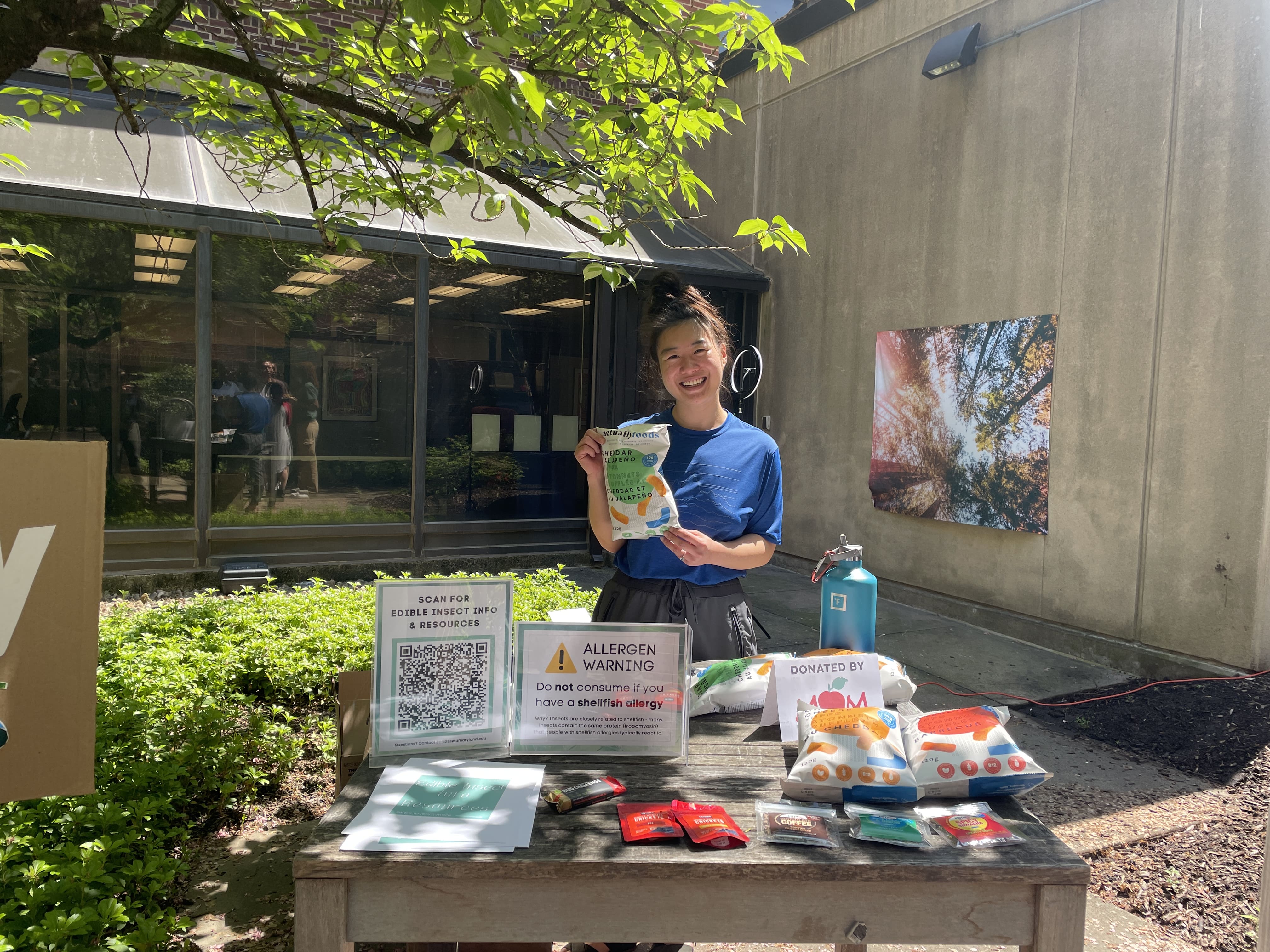 The graduating School of Social Work student has made great strides toward sustainability in her school and Universitywide.
---
The University of Maryland, Baltimore (UMB) Office of Sustainability would like to recognize Lucy Zhao, second-year Master of Social Work (MSW) candidate at the University of Maryland School of Social Work (UMSSW), as a Sustainability Champion! Zhao is a dual-degree student at UMSSW (graduating in May 2023) and Johns Hopkins Bloomberg School of Public Health, where she completed her Master of Public Health degree in 2022. Zhao started her fieldwork placement as a sustainability fellow with UMB's Office of Sustainability in September 2022. During her eight months with the Office of Sustainability, she managed a variety of projects, with a few highlighted below.
Together with another sustainability fellow, Zhao co-led development of UMB FREE (Food Recovery + Environmental Eating), a food recovery program aiming to minimize food waste from events and feed students. She created materials for the program, including event planner training and marketing flyers, assisted in student recruitment and event planner outreach, and assisted in developing an online platform to house the program.
Zhao also did extensive outreach and background research in support of building an Interprofessional Student Climate Leadership Network (ISCLN) at UMB. She looked into existing interprofessional programs at UMB and interviewed 16 people across UMB's seven schools as well as the University of Maryland, Baltimore County to identify current challenges and opportunities. Zhao's research in support of a climate leadership network led to the development of three robust resources that make up the ISCLN Hub — a how-to guide for starting an environmental student group, a communications guide, and a detailed list of local environmental organizations.
In addition to her work to support sustainability at a Universitywide level, Zhao has also been a sustainability champion for UMSSW. This past year, she founded an environmental student group called ECO-Social Work in Action (ECO for short), which is dedicated to amplifying the value of eco-social work and fostering greater knowledge and awareness of the interconnections between climate change, health equity, and the social work profession. ECO has hosted several events throughout its first year as a student organization, culminating in ECO Fest, a large Earth Day celebration organized by Zhao and other members of ECO held on Friday, April 20. The event featured multiple swaps (plant, book, and clothing), a variety of booths and activities from UMB-specific and Greater Baltimore area organizations, plant-based catering from Land of Kush, raffles, and more.
Congratulations on your upcoming graduation, Lucy! We extend our heartfelt gratitude for all of the incredible work you've done to advance sustainability at UMB. Best of luck in your new endeavors, and we can't wait to see what you do next!
Do you have a UMB Sustainability Champion you would like to nominate to be featured? Please fill out this form. Self-nominations are welcome. 
Subscribe here to the UMB Sustainability newsletter and follow the UMB Sustainability social media channels (Facebook,  Twitter, and Instagram).